If you dream of watching out-of-market NFL games from the comfort of your own home and not in some overcrowded sports bar, you've had one option up until now—subscribe to DirecTV and buy into the satellite provider's NFL Sunday Ticket package. DirecTV is calling an audible on that plan for the coming season, but before cord cutters dream of fall Sundays filled with football, understand that DirecTV's new NFLSundayTicket.tv comes with enough catches to challenge Jerry Rice's receiving record.
Here's the gameplan: Starting this September, DirecTV will allow people who do not subscribe to its satellite TV service to buy access to NFL Sunday Ticket games online at NFLSundayTicket.tv. For $200, you'll be able to get a regular season's worth of out-of-market live NFL games on your laptop, desktop PC, and Android or iOS device. The $240 package lets you watch from your gaming console. And for $330, you can see the games on all of these platforms, plus get DirecTV's Red Zone Channel, which features whip-around coverage of every game, and new Fantasy Zone channel.
But wait, there's less!
NFLSundayTicket.tv comes with lots of conditions attached, namely defining who can get this service and who can't.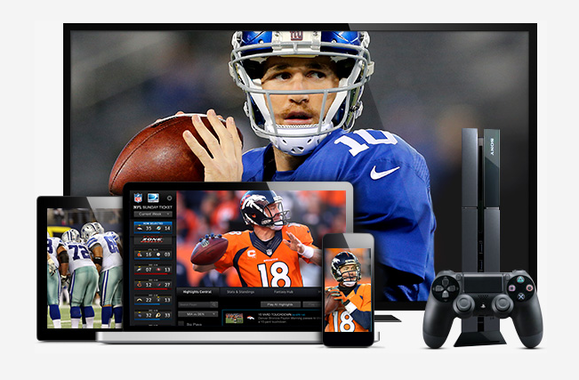 DirecTV understands that online/mobile viewing is growing exponentially, and that NFL football is an incredibly popular product. At the same time, the last thing DirecTV wants to do is to give people a good reason not to subscribe to its full satellite services, and it certainly doesn't want current customers to cancel their service and watch football this way instead. So NFLSundayTicket.tv is only available to non-subscribers who can't receive DirecTV right now. This way, DirecTV can make money from NFLSundayTicket.tv without cutting into potential DirecTV sales.
Specifically, non-subscribers can only sign up for NFLSundayTicket.tv if they live in apartments where DirecTV is not allowed ("no danged satellite dishes here!"); reside in metropolitan New York, Philadelphia or San Francisco; or attend a number of colleges where satellite TV is apparently not available in dormitories.
DirecTV has fairly fluid definitions about what constitutes a metropolitan area. One TechHive editor who dreams of watching Packer games from her home in Oakland wasn't eligible for NFLSundayTicket.tv; another editor—who ironically is indifferent to the charms of the National Football League but lives in a nearby suburb—was eligible to sign up for the package.
If you don't meet DirecTV's standards for NFLSundayTicket.tv, you'll need to subscribe to DirecTV (which requires a two-year commitment) and buy the traditional NFL Sunday Ticket package. At least you'll be able to access games on all NFLSundayTicket.tv-supported platforms for prices staring at $240.