To understand why a music service like Songza is attractive to a company like Google—to the tune of $15 million to $39 million, depending on who's doing the reporting—you first have to understand something about the evolution of radio.
Once upon a time, people tuned into local radio stations not just to hear their favorite songs, but also because they liked a local station's specific music format. In particular, listeners liked the fact that a station's specific music mix made sense to their ears—which was no accident. The playlist was personally and painstakingly crafted by the station's program and music managers. They lived in the same area, knew local tastes and cultural influences, understood the daily economic stresses on their listeners' lives, and programmed the station accordingly.
This local touch was extinguished in the last couple decades when mega-corporations like Clear Channel bought America's radio stations. To save money, the Big Radio mega-corps fired individual program/music directors and their finely-tuned playlists. They replaced them with headquarter-manufactured cookie-cutter formats that paid no attention to individual market quirks and differences. After all, music is music: Who would notice?
Actually, audiences did notice—and they weren't impressed. Big Radio's fast-food approach to music alienated many listeners, particularly the all-important youth market who knew when they were being conned.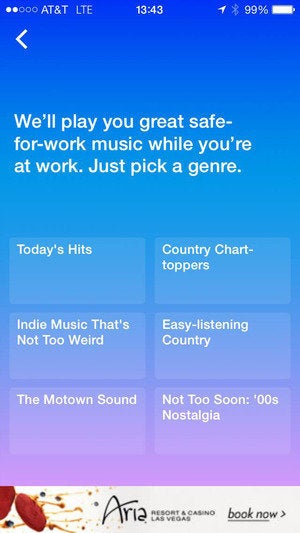 To that end, online music services have risen up to address the shortcomings of terrestrial radio. There's a demand for personally–programmed services—the term used today is "curated"—where a user's playlist can be customized based on the listener's preferences and activities.
And that's why Google is adding Songza to its bag of musical tricks. It's bought a distinctly human-programmed curated service that stands in contrast to Google's own computer-driven music selection process.
Head to Songza to see for yourself. Right from the get-go, you can select music programmed for your activities (whether that's breaking up, getting high, making out, stripping, and even working); genres (whatever your fancy); mood (angsty, cocky, mellow, trippy); and decade (from the 1920s to today).
But that's not all Songza offers. You can also listen into pre-mixed streams like "Indie Music That's Not Too Weird" put together by real program directors, just like in the good old days of over-the-air radio. Or just click on the options on Songza's home page, such as "Working in The Office (SFW)", "Enjoying the Morning" or "Keeping Calm & Mellow." Again, humans who know and track music have put these together for you.
"What Songza specializes in is music curation, a feature that Beats Music used as its primary lure in its purchase by Apple," Forbes's Bobby Owsinski wrote this week. "While Google may be the king of the algorithm, it's been proven time and again that computer generated playlists can't come close to the musical taste of humans."
Apple likely agrees. After all, Beats Music's focus on music curation looks like one of the big reasons Apple decided to pay $3 billion for the music streaming service, not to mention the rest of Beats Electronics and its thriving headphone business.
The desire among music lovers for human-curated music is not lost on Songza CEO Elias Roman. "We're moving to a time when context is king, [and] when people don't have to find things," he told CNET. Translation: Listeners want music that suits their situations and moods, but they don't necessarily want to have to program it all—or discover it all—for themselves.
For anyone who has ever studied music radio's history, this comes as no surprise. After television stole radio's spoken word audiences, music gave people a reason to tune into radio again. But not just any music—radio had featured live orchestras since the 1920s—but music people wanted to hear, namely rock'n'roll and country that suited each local audience's own tastes and lifestyles.
This is the magic that Google is trying to capture by purchasing Songza. It is noteworthy that Google has publicly declared that it's planning no immediate changes to the service. In a Google+ posting, the company says it plans to look for ways to "bring what you love about Songza to Google Play Music. We'll also look for opportunities to bring their great work to the music experience on YouTube and other Google products."
So Big Internet has discovered what Big Radio willfully forgot: Humans like listening to audio programmed for them by other humans, even though it costs money to program it.