It's not quite six seasons and movie just yet, but fans of the TV show Community will surely be happy to get six seasons and a streaming video.
The TV series, canceled by NBC earlier this year when its ratings couldn't match the level of its fans ardor, got a reprieve Monday from Yahoo. The Web company plans to air a 13-episode season of Community on its Yahoo Screen online video service this fall. After five years on NBC, that would give the cult show its sixth season—one step closer to its long-running tongue-in-cheek goal of "six seasons and a movie."
Community's rescue at the hands of Yahoo is being cheered by its fanbase as well as its outspoken creator, Dan Harmon. ("I look forward to bringing our beloved NBC sitcom to a larger audience by moving it online," Harmon said in a statement announcing the Yahoo Stream deal. "I vow to dominate our new competition. Rest easy, Big Bang Theory. Look out, Bang Bus!") But drowned out by all the cheering over another season of Community is just how important the show will be to Yahoo's own online programming ambitions.
Adding Community to its roster of streamed video shows gives Yahoo Screen a known quantity with a built-in audience that could potentially drive viewers to its YouTube rival. That's something the search engine company desperately needs if it wants to put Yahoo Screen in the same company as other online video services from Netflix, Amazon, and Hulu.

It's not as if Yahoo hasn't been trying. Looking to mirror the success that Netflix has enjoyed with its slate of original series such as House of Cards and Orange is the New Black, Yahoo has been trying to beef up the content on Yahoo Screen for more than a year. (Likewise, Amazon and Microsoft are developing their own online programming.) Yahoo's strategy includes adding clips from Saturday Night Live and shows from Comedy Central.
More recently, Yahoo committed to eight 30-minute episodes for two shows—the sci-fi comedy Other Space from Freaks and Geeks creator Paul Feig and Sin City Saints from Smallville production alumnus Mike Tollin. These are content creators whose credibility resonates with the viewers that Yahoo Screen hopes to attract. But those still-to-debut shows don't offer the existing audience that something like Community can bring to Yahoo Screen.
And that's why Yahoo made the deal. RT @sethbirnbaum: Yahoo makes shows?! MT @sepinwall "Community" revived by Yahoo! http://t.co/ZLMZYPgzuW

— Alan Sepinwall (@sepinwall) June 30, 2014
By committing the millions of dollars it will take to produce 13 network-quality Community episodes, Yahoo is putting its money where its mouth is. It sends the signal to would-be viewers that the company is serious about creating broadcast-competitive online content.
At the same time, Yahoo is taking a fast-track approach to building traffic for Yahoo Screen. "Community has an incredibly passionate and loyal fan base who have fought hard to keep this amazing show alive," said Yahoo CMO Kathy Savitt. "The fans spoke and we listened." Translation: They'll come to Yahoo Screen to watch Community, because they're such rabid fans. It's taking a page out of the Netflix playbook; the streaming video service bolstered its original programming by reviving canceled-by-other-network shows such as Arrested Development and The Killing.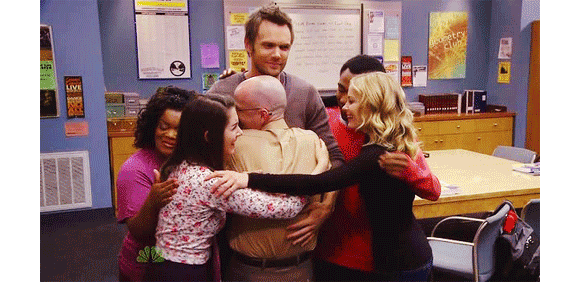 Will Yahoo's Community deal translate into increased traffic for Yahoo Screen, and a chance to up its game against Netflix, Amazon, and Hulu? Undoubtedly. Still, leveraging a network-created TV show's popularity is not quite as potent as creating your own hits, as Netflix has done with House of Cards and Orange Is the New Black.
Nevertheless, by bringing Community to Yahoo Screen, Yahoo mas made a bold and gutsy move that has generated real attention and positive buzz for its video site. What remains to be seen is whether Yahoo can translate this goodwill into a long-term audience for Yahoo Screen's other content.