Every time I walk by a phone charger that I've left plugged in long after I grabbed my phone, I let out an audible groan. Touching the charger and feeling how warm it is only confirms my blunder: I'm wasting energy—and racking up a larger electric bill.
It's called vampire power—the power that all your plugged-in appliances use even when they're not running. Energy Star, the Environment Protection Agency program that promotes energy efficiency, estimates that the average U.S. household spends $100 each year powering devices that are either off or in standby mode. At least if you whipped out a $100 bill and took a match to it, you'd get the fleeting pleasure of watching fire destroy something.
The problem, of course, is that we're not going to go around the home dutifully unplugging unused appliances and hooking them back up again when it's time to put them back in service—not if we want to lead productive lives at any rate. But if it were just a matter of tapping a button and depriving all those sleeping devices of the juice they don't currently need, that would add some simplicity to power management.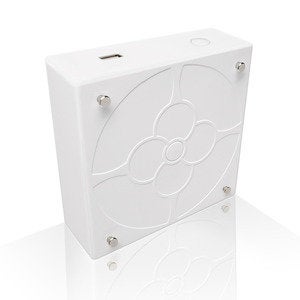 And that's one of the ideas behind Inlet, a new take on the electrical outlet from LivingPlug. "The electric outlet's form factor hasn't changed since 1915," LivingPlug co-founder Samuel Leichman says, with only a moderate amount of exasperation. LivingPlug wants to change that with the Inlet, which raised more than $25,000 in a Kickstarter campaign last year and is making its official debut this week at the Dwell on Design show in Los Angeles.
So what is the Inlet? It's an electrical block that plugs into a standard duplex wall outlet. The Inlet features three tamper-resistant electrical receptacles where you can plug in appliances just as you would with any old outlet—only now you have three of them, plus a USB 2.1 port at the top of Inlet for charging your myriad mobile devices.
It's the Inlet's promised energy conservation benefits that caught my eye when I saw it demoed at LivingPlug's San Francisco offices in advance of the Dwell show this week. Next to that USB port, you'll find what LivingPlug bills as the "Unplug Button." Press it, and you cut the power to any appliances plugged into the outlet. Leichman touts that button as a way to cut down on the 15 percent of your energy bill that's caused by devices sucking down vampire power.
LivingPlug sees other benefits to its Inlet offering as well, such as increased safety in homes with small children. Those plugs on the Inlet base unit require you to stick in two pieces of metal to get a shock—the older outlets in many homes will produce a charge if you simply stick one piece of metal into the outlet. What's more, you can use an optional screw to fasten the Inlet into an existing duplex wall outlet for additional child safety.
LivingPlug also thinks its Inlet offering can bring an aesthetic improvement to the humble electrical outlet. The base unit ships with a faceplate, which you can use to either make the outlet blend in with the rest of the wall or stand out with an eye-catching design. LivingPlug offers a gallery of designs for the Inlet's faceplate that look to help you put your own distinctive stamp on your room's decor. The company also offers more traditional choices like a walnut finish, aimed at helping the outlet blend into the background.
The Inlet costs $25. LivingPlug sells the walnut finish version of the outlet for $30. The company is taking preorders now.
It's not the most technologically sophisticated solution for the connected home true believer. But LivingPlug's Inlet does look to be a promising low-cost option for reducing the amount of power you waste on appliances that aren't even running.