At a Glance
Expert's Rating
Pros
Lots of capacity
Can charge other small devices with its battery
Cons
No app for iOS or Windows Phone
Has issues with some file formats
Very slow write performance over USB 3.0
Our Verdict
Samsung's wireless hard drive holds 1.5TB of files and streams most of them well. But there's no iOS or Windows Phone app, and it choked on our high bit-rate MKV test.
Smartphones, tablets, and laptops with fast but capacity-challenged SSDs often don't have room for all the media you'd like to bring with you. You could rely on the cloud, but stream movies over a 4G connection and you'll hit your data cap in no time. A portable, battery-operated Wi-Fi drive, such as Samsung's sexily-named Wireless Mobile Media Streaming Device, is a far better solution.
The Wireless Mobile Media Streaming Device (WMMSD, or Wims-Dee as I'll call it from here on), streams audio, images, and video via its integrated Wi-Fi hotspot. Stream around the campfire, as it were. Unfortunately, the firmware exhibited some rough edges during my hands-on that need to be smoothed before I can recommend it.
The Wims-Dee is only slightly larger than your typical 2.5-inch portable hard drive, and while it won't quite fit in a breast pocket, it will fit into most others. The minimalist design sports an on/off button with indicator light (green when on, blue when the 802.11 b/g/n is enabled), a USB 3.0 port, and a USB charging port so you can use it as an auxiliary battery.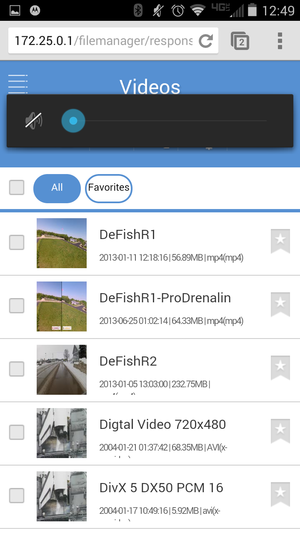 Samsung provides an Android app and only an Android app (there's no support for iOS or Windows Phone), but the app never correctly enumerated the files on the Wims-Dee. It relayed the battery status, and it allowed me to reset the device, but that's it.
Instead, I used the unit's Web portal (http://172.125.0.1 on my test unit) for playback on my Motorola Droid. It plays most popular media file types. There's also a DLNA media server onboard, which I used with Windows 7 (Windows Media Player) and other platforms.
The Wims-Dee streamed most files to Windows fine, but it gave me problems with a full-on 30GB rip of Master and Commander in an MKV container. The pre-production device I tested first made it about 5 seconds in before freezing Windows Media Player. The production unit that replaced it didn't start streaming until I reset it using the Android app. It streamed away merrily until I pressed Media Player's pause button, at which point it froze again. The hardware is obviously capable of streaming the movie, but something in the caching or handshaking is awry.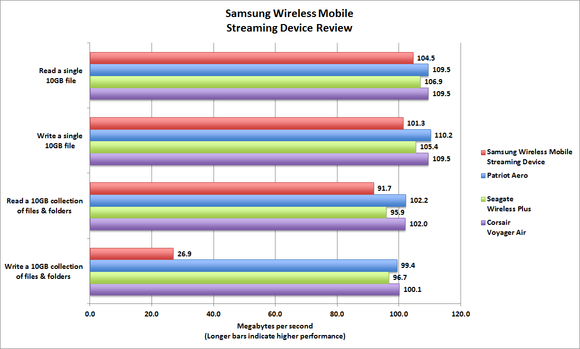 Direct-attached via USB 3.0, the Wims-Dee proved a very good performer—mostly. It read a single large 10TB file at 104.5MBps and wrote it at 101.3MBps. It also read a 10TB mix of files and folders at 91.7MBps. Where it fell off dramatically was writing the mix—at a lethargic 26.9MBps. As the device will most likely be utilized as a multimedia streamer and a repository for large files, I'm assigning the latter result minimal weight.
While it's mildly annoying that Samsung doesn't provide a dedicated app for iOS or Windows Phone, there are ways around that. But there's currently no way around the Wims-Dee's inability to stream high-bandwidth MKV files via Wi-Fi. As of now, I can't recommend it.
As soon as Seagate/Samsung (read this story for an explanation of that conflation) provides fixes, I'll re-rate and annotate this review. A shorter moniker wouldn't hurt either.