School is out and summer is finally here, that time when popcorn blockbusters and irreverent comedies reflect a general sense of lightness and freedom in the air. Even Netflix and Hulu are in the mood for summer, introducing a series of refreshing movies for your lazy viewing pleasure. Check a few of these out while you're taking a break from Orange Is the New Black.
El Dorado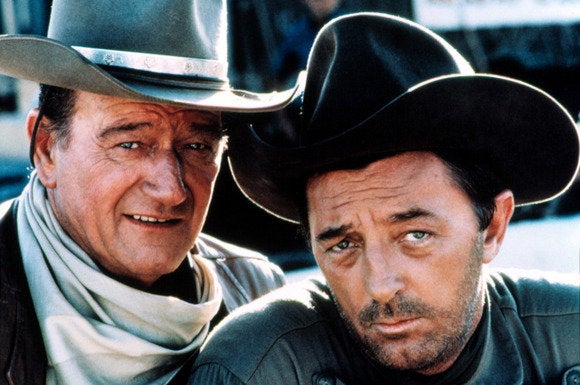 ★★★★☆
El Dorado (1967) may not be the greatest Western ever made, but it's one of the most relaxed and effortless, from the opening shots of old Western paintings to the closing shot of two old friends on crutches. When it opened in June of 1967, it must have been a terrific way to kick off a great, lazy summer. Director Howard Hawks was around 70 at the time and possessed a nearly unmatched skill for moviemaking, sticking by certain masculine codes with splashes of warm humor in every film. Watching him work even at this unhurried pace is a sheer pleasure. Likewise, star John Wayne had grown exceptionally comfortable in front of the camera, performing here with easy grace. He plays an aging gunfighter who gets stuck in a land war between ranchers. At his side are a drunken sheriff (Robert Mitchum) and a cocky young gambler (James Caan). Though it's technically not a remake, it has so much in common with the previous Rio Bravo (1959) and the subsequent Rio Lobo (1970), both also by Hawks, that many have labeled them as a kind of trilogy. Ed Asner costars.
Much Ado About Nothing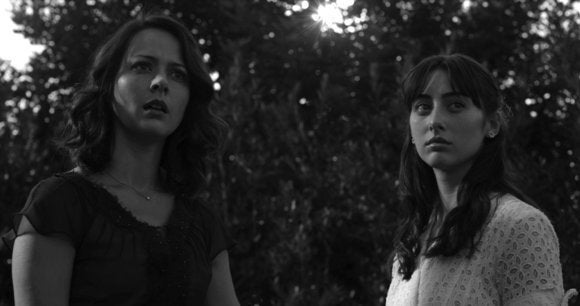 ★★★★☆
One of the pleasures of last summer was watching Joss Whedon's black-and-white Shakespeare comedy Much Ado About Nothing (2013), filmed on a tiny budget with a group of friends at his home. It could be the most accessible and easy-to-follow Shakespeare movie ever made, a perfect introduction for newcomers. Apparently, Shakespeare readings were a frequent occurrence at Whedon's house, and making this movie was how he chose to relax between making multimillion dollar Avengers flicks. The plot, among many other betrayals and misunderstandings, basically concerns Beatrice (Amy Acker) and Benedick (Alexis Denisof) trying not to fall in love with each other. The film feels like a weekend in the country, complete with a lovely new musical arrangement for the song "Sigh No More," which was written into the play. Clark Gregg of The Avengers plays a role, and Nathan Fillion—star of Whedon's Firefly TV series and Serenity movie—performs his first-ever Shakespearian role as policeman Dogberry, and steals the show.
I'll Sleep When I'm Dead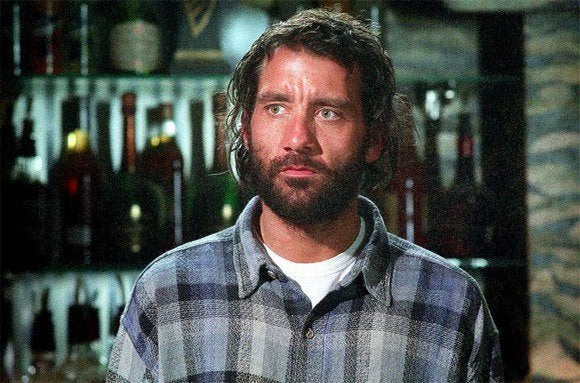 ★★★★☆
Though far from a household name, the English filmmaker Mike Hodges is something of a cult figure, having made the crime films Get Carter (1971) and Croupier (1998), as well as the camp classic Flash Gordon (1980). His most recent film to date is I'll Sleep When I'm Dead (2003), which was made with star Clive Owen after the surprise success of Croupier in 2000. However, lightning did not strike twice, and I'll Sleep When I'm Dead remains an obscure treasure. Owen plays a loner who lives in the woods and returns to London just after his brother, a drug dealer (Jonathan Rhys Meyers), is murdered. There's a femme fatale (Charlotte Rampling), a gangster (Malcolm McDowell), and other assorted thugs. It's the epitome of a nocturnal film noir, far more stylish than logical, and designed to be watched at some ungodly hour by miscellaneous insomniacs.
Out of Sight (Hulu)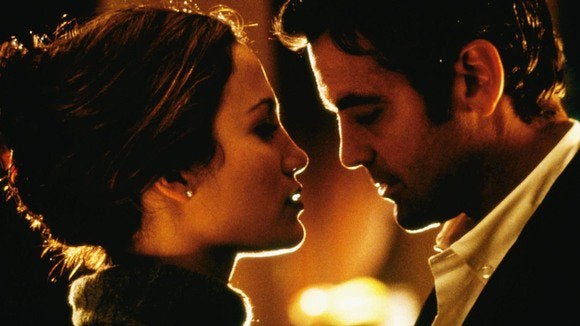 ★★★★★
Released in the summer of 1998 and now streaming on Hulu, Steven Soderbergh's Out of Sight had everything going for it, and yet audiences didn't seem very excited. After a series of duds, George Clooney had his first great role as bank robber Jack Foley, who escapes from prison. He forces a U.S. Marshal, Karen Sisco (Jennifer Lopez), to join him in the escape vehicle's trunk, and there they share one of the most memorable meet-cute scenes in all of cinema. Once free, Karen begins chasing Jack as he prepares to steal a hidden stash of diamonds, but it's not clear whether she's chasing him for her job, or because she's attracted to him. Soderbergh gives the movie a vivid, colorful look, using a blue tint for chilly Detroit and switching to a warmer, orange one for Florida. Scott Frank adapted the Elmore Leonard novel into a sharp, brilliant screenplay. The great supporting cast, including Albert Brooks, Don Cheadle, Ving Rhames, Steve Zahn, Dennis Farina, and Luis Guzmán, is worth its weight in gold. Michael Keaton briefly reprises his role as Ray Nicolette from Quentin Tarantino's Jackie Brown, and watch out for a nifty cameo at the end. In 2003, the Karen Sisco character had her own terrific, short-lived TV series, starring Carla Gugino.
Miss Pettigrew Lives for a Day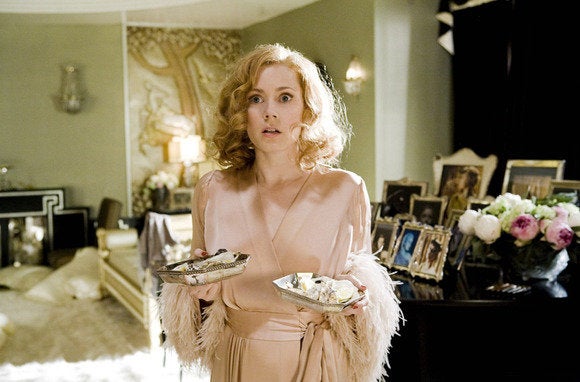 ★★★★☆
The same year that screenwriter Simon Beaufoy won an Oscar for Slumdog Millionaire, he wrote the even better, overlooked Miss Pettigrew Lives for a Day (2008), a whirlwind comedy with subtle, serious overtones. Perpetually unemployed nanny Guinevere Pettigrew (Frances McDormand) manipulates her way into a job working for singer Delysia Lafosse (Amy Adams). However, the job is actually for a social secretary, someone to help Delysia juggle her three male admirers, and navigate the high society world of theater, makeovers and fashion shows. Eventually, Miss Pettigrew begins to have romantic troubles of her own. Director Bharat Nalluri attempts to replicate the feel of a 1930s screwball comedy and largely succeeds, with Adams a capable Carole Lombard type, goofy and cute, and McDormand her perfect foil.
Wayne's World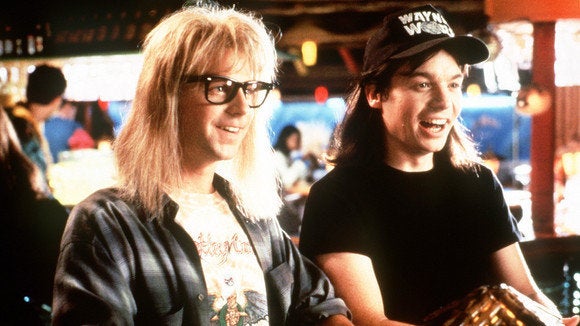 ★★★★☆
Most of the movies derived from Saturday Night Live sketches quickly fell apart from trying to stretch a single joke to feature length. But, as directed by Penelope Spheeris, Wayne's World (1992) was critically acclaimed, a huge hit, and a potential comedy classic. Wayne (Mike Myers) and Garth (Dana Carvey) are two metal-head doofuses who run a cable access show from Wayne's basement. A slick TV executive (Rob Lowe) tries to buy the the show, and Wayne falls in love with a local rocker, Cassandra (Tia Carrere), all of which puts a strain on Wayne and Garth's friendship. The movie constantly plays with storytelling techniques and Hollywood tropes: characters discuss plot turns with the audience and even try out various different endings before deciding on the "mega happy" one. The movie may have aged a bit, but true fans know that it's still "Party Time! Excellent!"
Eddie Murphy: Delirious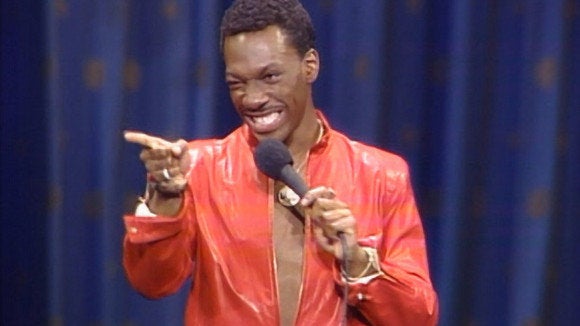 ★★★★☆
Few stand-up comedians ever rocketed onto the scene as quickly and as completely as Eddie Murphy did. In 1983, when he recorded this HBO special, he was 22, already a TV star on Saturday Night Live and a movie star after his debut in 48 Hrs. (1982), but very little could have prepared fans for just how raucous and uncensored his stand-up show could be. To put a point to it, Eddie Murphy: Delirious is not politically correct. He starts off riffing on gay people and AIDS, moves into singers, the ice cream man, the barbecue, his mother throwing shoes, and black people in haunted houses. Murphy's rhythms and language are already expert, and his command of voices and impersonations is highly impressive, rangig from Jackie Gleason and Elvis Presley to Michael Jackson and Stevie Wonder. A comic today couldn't get away with most of it, but most of it is still very funny.
Barbershop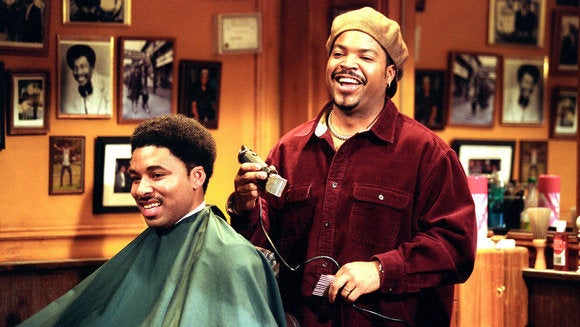 ★★★☆☆
Rather than lowbrow bathroom or sex-related humor, Tim Story's Barbershop (2002) drew from human behavior, resulting in a lovable batch of characters. Former hardcore rapper Ice Cube shows a gentle side as Calvin, the proprietor of a South Chicago barbershop. Though the shop does far from bustling business, kindly Calvin employs more haircutters than he needs: a know-it-all (Sean Patrick Thomas), an immigrant from Nigeria (Leonard Howze), a street-smart tough guy (Michael Ealy), a "black-talking" white guy (Troy Garity), and rapper Eve as the sassy woman ("Who drank my apple juice?"). In age makeup, Cedric the Entertainer plays Eddie, who has apparently occupied a chair at the shop for years and knows all the stories; he's often the instigator of heated conversations. A plot kicks in when Calvin tries to decide whether to sell the shop. The movie hedges its bets with a dumb slapstick subplot about two bumbling thieves trying to open a stolen ATM, but the bulk of the movie is quite touching, smart, and funny.
Popeye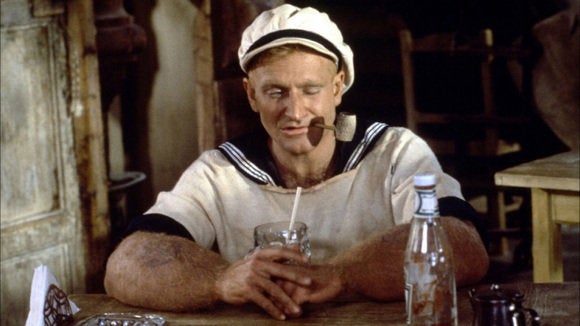 ★★★★☆
After a career as a manic stand-up comedian and a hit TV series, Mork and Mindy, Robin Williams made his big screen starring debut in Popeye (1980), an extremely strange, but completely wonderful musical, based on the comic strip by E.C. Segar, and on the cartoons by Max and Dave Fleischer. Made up with huge forearms and chewing on a pipe, he gives a funny and sometimes touching impersonation of the famous sailor. Popeye goes looking for his lost Pappy, tangling with Bluto and finding a baby, Swee'Pea, who can predict the future! The legendary Robert Altman directed, giving the movie a loose, wandering feel, the camera often exploring some odd corners of the elaborate Sweethaven set. Altman also cast his frequent star Shelley Duvall as Popeye's girl Olive Oyl, and a better match has never been made. The songs were written by Harry Nilsson, and the screenplay, written by another cartoonist, Jules Feiffer. The movie was considered a failure, but it has its devoted fans, including filmmaker Paul Thomas Anderson, who used one of the songs in his Punch-Drunk Love (2002).
The Adventures of Baron Munchausen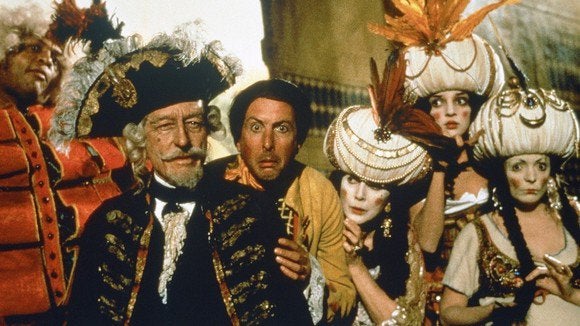 ★★★★☆
Another flop, Terry Gilliam's epic comedy/fantasy The Adventures of Baron Munchausen (1989) began with the idea of a spinner of tall tales, Baron Munchausen (John Neville), and took it in nearly every direction possible. The baron's yarns include a trip to the moon via balloon, aging in reverse, a giant sea monster, dancing on air, and brushes with the Angel of Death. Gilliam's extraordinary visuals are far deeper and more cockeyed than nearly any other filmmaker (except maybe Fellini); a former animator for Monty Python, he seems unaware of any kind of physical limitations in the film medium. It's easy to see how the production spun out of control, going over budget, never able to recoup its costs. Nine-year-old Sarah Polley costars, with Eric Idle, Jonathan Pryce (also in Gilliam's Brazil), Oliver Reed, and uncredited Robin Williams as the King of the Moon. Uma Thurman makes a memorable entrance as the goddess Venus, inside a giant shell.
What's New on Netflix
Annie Hall
Apocalypse Now
Apocalypse Now Redux
Better Than Chocolate
Carrie (1976)
Clear and Present Danger
Cloudy with a Chance of Meatballs 2
Coffee and Cigarettes
Cousin Bette
Dear Mr. Watterson
Emperor
Escape from Tomorrow
Ever After
Five Easy Pieces
Fool for Love
Frozen Ground
Hammett
I.Q.
Iron Monkey
Lady Vengeance
Leviathan (2013)
Like Someone in Love
Machete Kills
Major League
The Man from Snowy River
Night of the Creeps
1941
Oldboy
One from the Heart
Reign Over Me
A River Runs Through It
Smilla's Sense of Snow
Stranger by the Lake
Sympathy for Mr. Vengeance
That Cold Day in the Park
Tetro
The Triplets of Belleville
Two Girls and a Guy
Waking Life