It's not hard to find TV shows to watch these days. But finding good ones to watch amid all the streaming video services fighting for your attention and your eyeballs? That's more of a challenge. Every other week, we'll help you separate a would-be House of Cards from the rest of the pack, as we look at which streaming TV shows are worth your time.
The most important streaming show in the history of show-streaming is ready to stream again. In 2013, Netflix unveiled the first season of Orange Is the New Black, based on the book of the same name by Piper Kiernan. Viewers went batty over the show. And now, they can go batty all over again, as the second season of Orange Is the New Black became available to stream Friday.
You probably don't even need a computer, television, or handheld device to see the new season. You'll probably be able to walk down any street in your town, and every screen will be streaming the show. Although they'll all be at different points in different episodes, so it might be a little confusing. Better consider just watching Orange Is the New Black yourself.
What it's about
Piper Chapman (cleverly changed from "Kiernan") is a lady who goes to jail, where she has to navigate gangs and feuds using the skills she learned as a rich person with no real job. At one point, she has to defuse a feud by employing her knowledge of fancy handmade ointments and unguents. That's something that actually happens. Piper (Taylor Schilling) bumbles around as a fish out of water, making accidental enemies everywhere she goes until she learns how things are done in prison.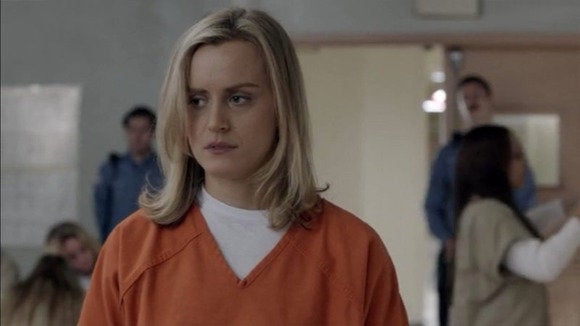 What makes it interesting
It's got a big, diverse cast full of people you'll sort of recognize as "the girl from That '70s Show" and "isn't that the horrible comic from Showgirls?" Not to mention "the woman on the cover of Time magazine recently" and "the woman who's been really funny on the Comedy Bang! Bang! podcast recently." That's Laura Prepon, Lin Tucci, Laverne Cox, and Lauren Lapkus, if you're curious. There are also a number of great actors you might not recognize at all, because this is the first chance that Uzo Adoba and Danielle Brooks have had to make an impact on the viewing public.
And for the most part, there aren't cartoonish villains. There are people who threaten to kill Piper, but they usually have a pretty good reason. People who start seeming extremely dangerous and menacing end up being surprisingly deep characters. And although it's a show set in a women's prison, it's not all about shower scenes. Interesting things happen between characters with interesting motivations. OK, so some of those things take place in showers. And yes, some of the motivations have to do with intercourse. But honestly, it's not always done for exploitative reasons. Although I guess if that's what you're after, there's some of that, too.
What makes it not so great
Piper's fiancé (Jason Biggs) is a drag. Throughout the first season, he and Piper had relationship problems that were understandable—what on account of her incarceration and all—but boring. They broke up, got back together, went through the cycle a few more times, and had misunderstandings that unnecessarily extended things to the point where everything that wasn't happening inside the prison could have been cut out and some of the audience (at least, the part of the audience writing this article) would not have minded.
In fact, Piper is reliably the least interesting character in the show, because we already know pretty much everything about her. It's much more fun to meet the vindictive cook Red (Kate Mulgrew, better known as Captain Janeway from whichever Star Trek series had Captain Janeway in it) and learn about her complicated Russian history and find out why she's so vindictive. But it's not so bad if Piper's not all that interesting—she may be the central character of Orange Is the New Black, but the show's focus has widened to make her only one character among many. And she does get more interesting as the first season goes on, especially once she stops complaining that prison is not exactly like a day spa.
What's the math
Oz plus Cougar Town times The L Word
So how is it?
It's great! It's very compelling television, and it's easy to just keep watching episode after episode. It's so good that on its own, it justifies Netflixes claim that the streaming video service is a real producer of television shows. No offense to Arrested Development, but its lone season on Netflix was kind of a failed experiment while Orange Is the New Black benefits from its more traditional one-episode-after-another format.
How many hours should I watch at once?
All of them! You need to be caught up right now, because everyone else wants to talk about the second season with you. If you haven't watched any of the show, that'll be 26 straight hours of television. But I promise: It will all be worth it when you reap the benefits of your newfound cultural literacy. You'll be able to hold your head up at a theoretical cocktail party that's happening in 27 hours and will be attended by other people that have watched the entire show. You'll probably want to take a 55-minute nap so you'll be fresh for the party.
And of course, if you've already seen the first season, it will only take 13 hours to get caught up. That's practically nothing. Get started!