For a show that throws as many sharp elbows at the excesses of tech culture—and it gets in some good ones, even in the final installment of its eight-episode first season—Silicon Valley is, at its heart, a fairly conventional TV program. No matter how dire the situation gets for the Pied Piper team, you really don't need a truckload of spoiler alerts to prevent you from figuring out that things are probably going to work out in the end.
And make no mistake: Things look especially dire as the Season One finale gets underway. Oh sure, Pied Piper finds itself automatically in the finals of the TechCrunch Disrupt startup contest as a sort of make-good after Bachman (T.J. Miller) was pummeled by the judge he helped cuckold. But what does it profit a company to reach the finals of a startup showcase when Gavin Belson and Hooli have already announced their own version of your product that works even better than your humble offering? Can your compression technology tie into Hooli Mail and Hooli Search? Friend, it cannot. "We're going to be poor," Dinesh (Kumail Nanjiani) wails as Gavin Belson outlines his Google-esque vision for the world. ("We have the speed!" Gavin enthuses. "We have the features. And we have Shakira!")
But they're not going to wind up poor, not right away anyhow. Because I don't think I'm giving away any shocking plot twists when I tell you that Richard (Thomas Middleditch) comes up with a last-second reinvention of Pied Piper that not only saves the company's bacon but wins the day and the riches that come with besting all comers at TechCrunch Disrupt. And all it took was a prolonged, off-topic and vulgar debate between Bachman, Dinesh and Gilfoyle (Martin Starr) about… well, I'd be totally fired if I recounted word for word what it was actually about, but Richard's euphemism of "manipulating data" of the 800 or so TechCrunch Disrupt attendees seems about as gentle a euphemism as we're going to get. It's a hilarious scene involving whiteboards, formulas, and extremely graphic hand gestures, but more to the point, it inspires Richard to do a massive rethink of how Pied Piper is approaching compression and to scrap the existing product and start over, finishing just in the nick of time. If nothing else, it incorporates the most dramatic use of a spinning beachball in the history of scripted television.
"I'm sorry, guys," Richard tells his crew when that spinning beachball first appears. "Gavin won. We lost."
"At least it didn't happen in a public and brutally embarrassing way," Gilfoyle says on stage in front of hundreds of people.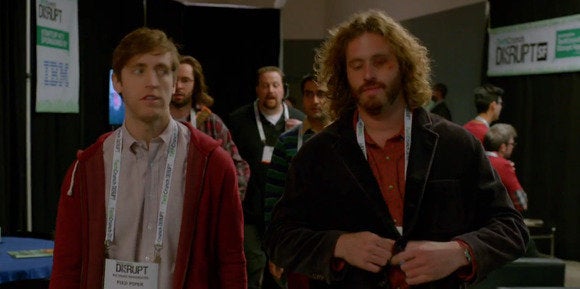 In the end, though, the oversized novelty check is Richard's as are a whole new set of headaches: Pied Piper will have to move out of start-up mode and into a real company free of the growing pains that marked much of Season One. If you're wondering whether Silicon Valley can go an episode without having Richard vomit in terror, the season finale is not that episode. Maybe they're saving that for Season Two.
Jargon Watch: All season long, you've heard talk of Weissman scores; in fact, the final episode turns on the new-and-improved Pied Piper's ability to double the best recorded Weissman score as proof that its compression technology delivers the goods. So what is a Weissman score?
It's something the show invented so viewers could follow Pied Piper's progression over the course of the first season.
But the Weissman score does have its roots in the real world—according to this Wall Street Journal, the producers got Stanford University professor Tsachy Weissman and graduate student Vinith Misra to invent the made-up benchmark. But it might not be made-up for long: The Hollywood Reporter says the Stanford engineers may turn it into a real tool for evaluation compression algorithms. It's not life imitating art, so much as it is life using art as a proof of concept.
Tech World References: Have you ever thought to yourself, "These HBO programs like Game of Thrones and The Wire are decent enough, I suppose, but I really wish they would feature cameos from the likes of TechCrunch's Michael Arrington and Recode's Kara Swisher?" If so, I hope you DVR'd the season finale.
For the rest of us, though, we must merely content ourselves with the lesson from Jared (Zach Woods) on pivoting—how tech companies came to market providing one service before switching to their true calling. Instagram, Jared points out, began life as a location-based check-in service and not a photo-sharing juggernaut while Chatroulette "was social media and then they pivoted to be a playground for the sexually monstrous."
Alas, Jared's efforts to make Pied Piper pivot do not pan out as well—perhaps because he's still not fully recovered from his unplanned trip to a remote island courtesy of a self-driving car. Jared alternately pitches Pied Piper to TechCrunch Disrupt attendees as an app that will help attract rats, a service that well tell you with statistical accuracy whether you're going to heaven or hell, and a GPS device that can track children. ("I can follow your child anywhere and there is nothing you can do to stop me," he cheerfully tells parents of a newborn baby who are understandably not pleased with this technological advance.)
Bachman Behaving Badly: Again, I refer you to the extended conversation Bachman inspires about manipulating… data… and the many detailed whiteboard sketches it ultimately produces. But since going into any more detail involves one of those conversations with HR I'd rather not have, let's instead focus on how Bachman's dalliance with the wife of a TechCrunch Disrupt judge not only get his company a free pass to the finals but also an upgraded hotel suite. "I was just happy you got punched in the face, Erlich," Dinesh tells him. "But now I'm super happy. I feel like I've won twice."
Star of the Episode: It has to be Richard, show-ending vomit attacks aside. He's the one that came up with the idea to reboot Pied Piper's approach to compression, so he's the one that saved the day. Also, he kept out of the impossible-to-recap conversation about data manipulation, which I appreciate as a man who has to keep these write-ups from going too blue.
Notable Quote: "Until then, we need to do what any animal in nature does when it's cornered—act erratically and blindly lash out at everything around us."—Erlich Bachman, rallying the troops.
What Did We Learn: The finale of Silicon Valley was true to the rest of the first season, in that it stuck with that old familiar formula: Introduce a problem in the first act that manages to get resolved by the time the closing credits roll. And you know what? I don't really have a problem with that. Maybe Silicon Valley doesn't re-invent the wheel every Sunday night, but if it offers enough keen insight into the motivation for today's tech movers and shakers, I'm willing to overlook when a TV shows plays it safe otherwise.
At the end of the day, the first season of Silicon Valley offered entertainment along with the occasional bullseye about startup life. And in the parlance of the show, that kind of combination is the sort of the stuff that makes the world a better place, at least for a half-hour of your time every week.