You probably already have accounts for Netflix or Hulu Plus—maybe even both. But if you really love Hollywood movies, foreign art films, or exploitative trash—and all three have their pleasures—you might want to explore some lesser-known motion picture streaming services.
The four services featured here don't offer the huge libraries you get from the big players. But they do provide something else: they're curated. Someone, usually a small group of people, selects films that they believe their target audience might like, even if that audience has never heard of these titles.
In other words, we're not necessarily talking about a vast selection of films. We're talking about films that someone believes are really worth seeing. And when your tastes line up with the people doing the curating, that service should be a good match for you.
Warner Archive Instant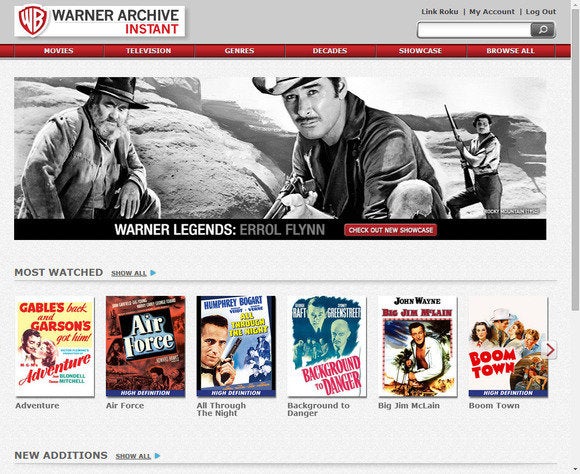 If you cut your cable and found yourself missing Turner Classic Movies, Warner Archive Instant will help ease your withdrawal. Warner Brothers owns the largest library of commercial American films in the world—the products of three major studios. The acknowledged classics, such as Casablanca, Citizen Kane, Singin' in the Rain are readily available everywhere. The $10-a-month Instant service, like the Archive Collection that sells manufactured-on-demand discs, gives us access to lesser-known movies and TV shows.
The offerings change regularly, and you can easily check New Additions and (not so easily) Leaving Soon pages. Some titles are in high definition, and their numbers are growing: As I write this, all 17 New Additions are in HD.
You can browse by genre and decades, or visit the Showcases, which spotlight filmmakers, stars, and types of films, such as Literary Adaptations and Revisionist Westerns. Or you can go to Most Watched section to see what everyone else is looking at.
Among films currently playing, and worth watching, are the anti-Nazi drama Watch on the Rhine, the Lon Chaney silent horror film The Unknown, and The Killing Fields, a truly horrifying drama about Cambodia under the Khmer Rouge.
If you don't like watching movies and TV shows on your computer, Warner has released Warner Archive Instant iPad app and Roku channel.
Fandor
In terms of the breadth and depth of the cinematic experience, it would be hard to beat Fandor. For $10 a month, you get access to hundreds of motion pictures, from rare, serious European features to educational shorts and the silliest exploitation flicks. You'll find almost all of Buster Keaton's major work (presented in HD), classic British science fiction, a large selection from special effects pioneer Georges Méliès, a travelogue that literally changed the shape of cinema, and an environmental documentary with a title I can't spell out on TechHive.com.
Consider just one genre: Westerns. You won't find official masterpieces such as Stagecoach and The Searchers here. But you'll find the original Django and plenty of other "spaghetti" westerns (Fandor prefers to call them Italian westerns), recent independents like Meek's Cutoff, and several B movies starring The Cisco Kid.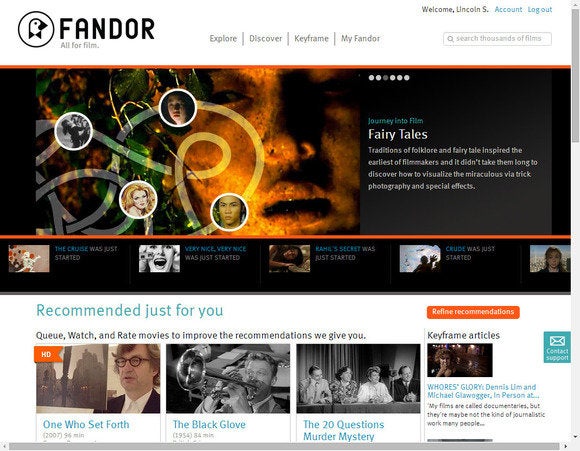 Fandor has a huge and extensive selection, but it's not entirely unique. If you already subscribe to both Hulu Plus and Netflix, there's a good chance that you can already see many of the same things Fandor has to offer, though not all of them. You won't find as many silents, as many shorts, or as many oddball films on the other sites. (And with Hulu, much of what you find will have commercials.)
When it comes to browsing tools, Fandor beats any other streaming service I've tried. You can browse genres, of course, but you can also pick a country, or look for films that played a specific festival. And there are other ways to narrow your search. You can, for instance, look for American-made westerns filmed between 1930 and 1965, running between 70 and 120 minutes.
And if you really can't decide on anything, you can go to the Fandor Channel and see what's playing.
What do I recommend? Buster Keaton's Southern feud comedy, Our Hospitality, the Mexican drama The Violin, and the very dark (and sexually explicit) comedy of over-protective parents, Dogtooth.
For a specialty service, Fandor offers plenty of ways to watch. It has a Roku channel, plus Android and iOS apps that support Chromecast. Some Sony devices support it, as well.
SnagFilms
So far, I've recommend two $10-a-month services. Now for something completely free—well, almost completely.
There's no monthly fee for SnagFilms; a free membership gives you access to the service's large selection of foreign and independent films, plus a smattering of old Hollywood. Here you'll find foreign films that received little or no exposure in the US, many of them part of the respected Global Lens Collection. But you'll also find exploitation movies, sex comedies, and Bollywood productions.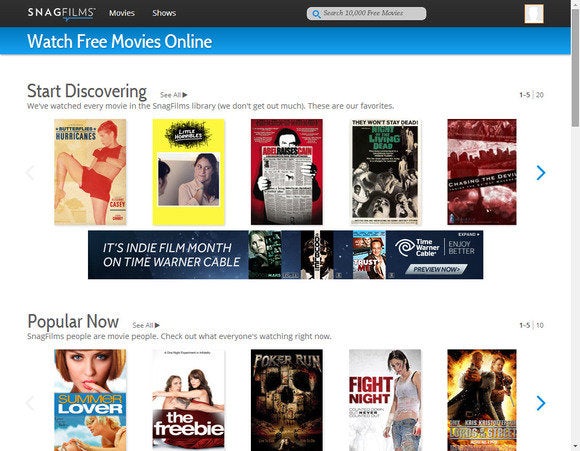 But some of the films available on the SnagFilms website are missing from what the service offers on Roku, Android, and other apps. That's because they're actually streaming from Hulu (the free version) or YouTube. SnagFilms simply embeds the streams on its site. These tend to be better-known independent films like Slackers and The Puffy Chair.
But the real SnagFilms collection plays on the apps as well. These are usually lesser-known, but still worth watching. Check out John Sayles' early science fiction comedy, The Brother from Another Planet. Also consider The White Meadows, an allegory from Iran that got its director arrested. If you want some old-fashioned Hollywood, there's the screwball comedy My Man Godfrey.
The bad news: These films come with advertising. But if you use the Roku app, you'll get an option to pay $1 for the movie and skip the commercials.
More bad news: prepare for mediocre image quality. Nothing is in HD, and the standard definition is far from DVD quality. It's watchable, but everything is a bit soft.
Mubi
Mubi takes the concept of curating very seriously. Every day, it adds one film, and removes the one it added 30 days ago. For $5 a month, you get an ever-changing selection of 30 films.
As I write this, the selection includes vintage noir, four silents, and a great many relatively-recent foreign films that I hadn't yet heard of. They people programming Mubi aren't shy about the personal nature of these choices. Each film comes with an explanation of why it's there, such as "The Cannes Film Festival starts tomorrow, and we're celebrating with a series of our past Cannes favorites!"
Clearly, with such a small selection, there's no point in browsing by genre, country, or decade. Once logged on, the home page shows all of titles currently available. Many of the films are in HD, although you'll have to click the resolution option in the lower-right corner and select 720 to get it.
Mubi has one very serious shortcoming: It lacks most of the apps needed to easily stream to an HDTV. It doesn't support Roku, Chromecast, or any American-sold smart TVs (though it's on some Samsung models in the UK). The current Android app supports tablets but not phones. The iOS app supports AirPlay, so it can be used with the Apple TV. But if you don't have an Apple TV and either an iPad or iPhone, your only option is to plug a computer into your HDTV.
Or you can wait. Mubi is working on Chromecast support and hopes to have it by the third quarter. The company is discussing, but not yet developing, a Roku app.
Of the 30 movies playing as I write this, I'd recommend Lech Majewski's visually stunning The Mill and the Cross (which I've reviewed). You definitely want to watch this one in HD. Broken Blossoms is a real tearjerker.