In last week's episode, our heroes were accepted into the startup competition at TechCrunch Disrupt. They first planned to pull out since they're now a venture-seeded company, but it was too late, and then Hooli's evil CEO Gavin Belson (Matt Ross) took the keynote spot to unveil his competing technology, Nucleus. So now the pressure is on: the Pied Piper boys need to do a live demo of a working product in eight weeks. Fast forward to now, and they have one week left. And they're understandably stressed.
Unfortunately, in this episode, "Third-Party Insourcing," it was one step forward, two steps back, and one stupid sidestep plot that goes nowhere. But at least we got to hear another female character speak.
Jargon watch
Last week, our heroes put a Scrum framework into effect, to be more organized about finishing their software by the TechCrunch demo. That is making it obvious that an outside consultant is needed for the cloud service implementation.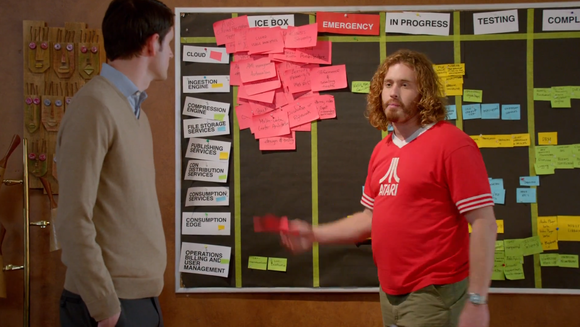 Richard (Thomas Middleditch) resists, but Erlich (T.J. Miller) puts it bluntly: "Richard, you're a f-ing rock star. OK? You just don't know cloud: this tiny, little, sh—y area, which is becoming super important, and in many ways is the future of computing. That went south on me, but you know what I'm saying."
So they get "The Carver," an infamous whizkid who allegedly hacked into Bank of America and took down their entire system. It turns out he's more kid than whiz, just a teen named Kevin, about 17 at the most. But for $20,000, he's willing to help, and the short timeframe is no problem, even with a looming "Model UN…thing" on Monday: "I pound Mello Yello, Oreos, and Adderall, and I don't sleep until it's done." Because kids on drugs are more common in Silicon Valley than women who can actually code. Or speak.
Tech world references
Self-driving cars pop up in this episode—Jared gets a ride home in Peter Gregory's driverless hybrid in lieu of calling himself another Lyft. But what do you do when you're riding in the back, and the car suddenly changes its destination to Peter's manmade island Arallon, which lies in the middle of the mighty Pacific, straddling the International Date Line?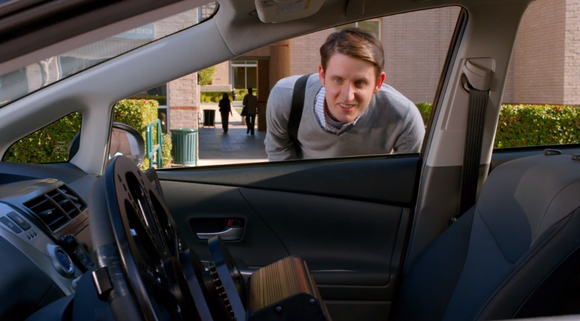 If you're Jared, you stammer "I'm sorry, what? Mister car? Excuse me?" and then freak out as the car drives itself into a shipping container, which is promptly sealed and hoisted onto a ship. Don't worry, he eventualy gets out—only to be faced with an army of self-driving forklifts and not a human in sight. Is he on Google Island?
Bachman behaving badly
Bachman didn't do quite as much in this episode as he did last week, mostly just facilitating the hiring of Kevin the Carver to consult, by offering him a special perk from the CEO. ("Richard will s— the d— right off your pelvis," he claims.)
Then he hears that Gilfoyle's Satan-worshipping girlfriend Tara is into Dinesh, and spends the rest of the episode trying to convince Dinesh that that couldn't possibly be right, then shamelessly throwing himself at Tara. It's not much more exciting than that description, I'm afraid.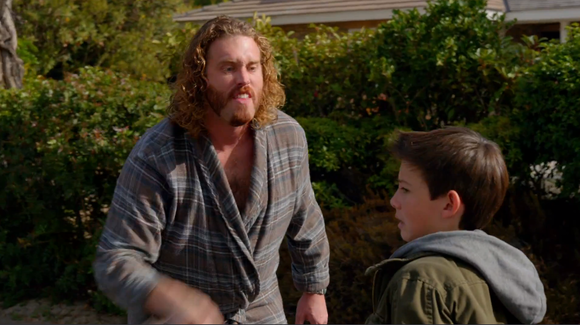 Oh, and later he threatens a group of children, which winds up solving one of the episode's main problems.
Satanists: They're just like us!
Some of the characters visit a Church of Satan. The scene itself is pretty boring, but the funniest part comes after the ceremony, when the announcements sound like any church.
For example, the refreshments are from Chick-Fil-A. "I know they're on the Christian Right," the preacher explains, "but darn if that chicken isn't good. I think the Dark Lord would understand. Also, if you parked in the Save-On parking lot, they do tow."
Star of the episode
This was a pretty weak episode—no Peter Gregory and no Gavin Belson, for starters. We do get a much-needed new female character, Tara, but she's even more one-dimentional than Peter Gregory's assistant Monica—let's say less-than-one dimensional. She's just an object for them to argue about.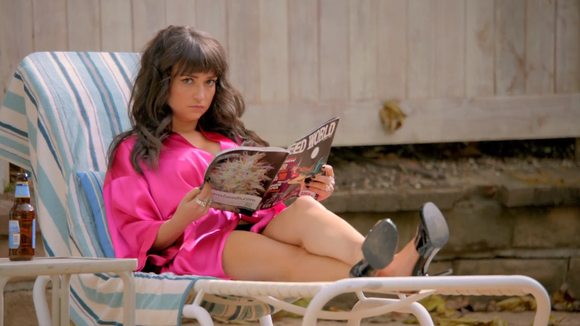 So we have to give this week's gold star to Dinesh for putting so much thought and concern into whether he should sleep with his friend's girlfriend just because he (thinks he) can. He even stands up for himself when Bachman demands a recount, as it were, proclaiming that any woman in the entire world would consider him more attractive than Dinesh, "unless they're completely f—ed up."
"My face is completely symmetrical," Dinesh insists. "Do you know what my nickname was as a kid? Pakistani Denzel!"
Notable quote
Kevin: Are you Richard? Yeah, your algorithm is solid, it's really good schema. I had to think you'd be younger. What are you, like 25?
Richard: I'm 26.
Kevin: … Yikes.
What did we learn?
There's always someone younger than you who can code something you can't. That doesn't mean you're worthless and you definitely shouldn't hand over your whole code base, because maybe that person will totally wreck it. (Or at least back it up first. Don't they back that stuff up?)
You also shouldn't believe a friend when he tells you his girlfriend wants to bang you. And don't try to buy drugs from children, or at least not from children who aren't scared of you.
Hopefully the cliffhanger at the end of the episode will lead to more action next week, as we see if Jared can escape the forklift-populated island in time to get to TechCrunch Disrupt. Maybe there'll be another woman there! (Probably not, though.)