Baseball season is not only a time for catching games. It's also the perfect time to watch some of the huge variety of baseball movies out there, covering different parts of history and different aspects of the game, ranging from funny to touching.
Since Netflix didn't have an entire column's worth of baseball movies available for streaming, we got creative, rounding out the list with semi-related films that are still highly recommended. Play ball!
The Bad News Bears (1976)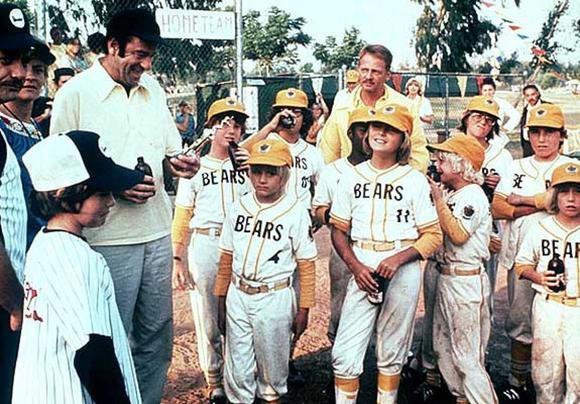 ★★★★☆
This comedy classic is the ultimate example of the crusty, curmudgeonly man behaving badly around children. The Bad News Bears (1976) cheerfully and satisfyingly mixes shocking comedy with warm, feelgood humor. The late, great Walter Matthau stars as Morris Buttermaker, a beer-swilling, ex-minor-league ballplayer. When a lawsuit requires the creation of a new team of outcast and misfit children, Buttermaker becomes their unwilling coach. He recruits two new players, a girl pitcher (Tatum O'Neal) and a juvenile delinquent (Jackie Earle Haley) who can hit. And lo and behold, this team of losers begins winning. Michael Ritchie directs with a loose, unforced style. Two sequels, a TV series, and a remake followed.
The Bingo Long Traveling All-Stars & Motor Kings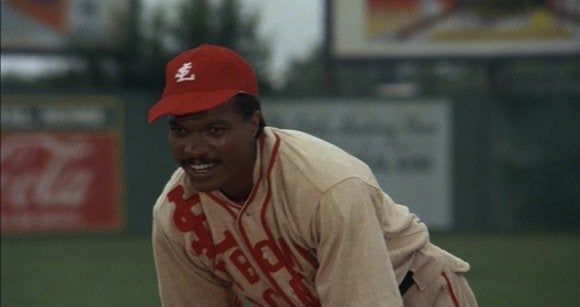 ★★★☆☆
One of the rare movies set in the world of the Negro Leagues of the 1930s, The Bingo Long Traveling All-Stars & Motor Kings (1976) mentions some real players by name (Josh Gibson), but the story is purely fictional. Tired of the awful treatment by team owners, Bingo Long (Billy Dee Williams) decides to form his own team, and recruits pals Leon Carter (James Earl Jones) and Charlie Snow (Richard Pryor) to join him. (Charlie plans to break into the white leagues by pretending to be Cuban.) They end up a "barnstorming" unit, putting on shows of skill with lots of humor, and they become so popular that the legit owners begin to lose out on ticket sales. John Badham's direction is sometimes a bit flabby, but the movie has a lot of spirit.
Bull Durham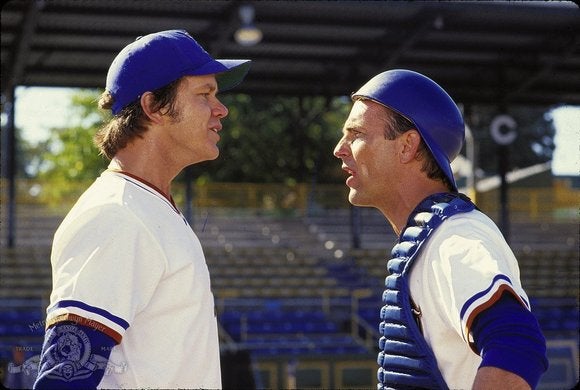 ★★★☆☆
Former minor league ballplayer Ron Shelton made his mark as a filmmaker with a series of good sports movies, including two baseball films, Cobb (1994), and Bull Durham (1988), the latter a knowing, amusing look at the behind-the-scenes of the minor leagues. Kevin Costner stars as Crash, a veteran player who once served 21 days in "The Show" (the big leagues). He is tapped to mentor a new pitcher, Nuke (Tim Robbins), teaching him everything from how to listen to calls to how to speak to the press after a game. Sexy Annie Savoy (Susan Sarandon) chooses to sleep with Nuke during the season, teaching him other important aspects of the sport, but finds herself increasingly drawn to the crusty Crash. Costner was a little too laid-back for the film's sharp comedy, but the movie works well overall.
A League of Their Own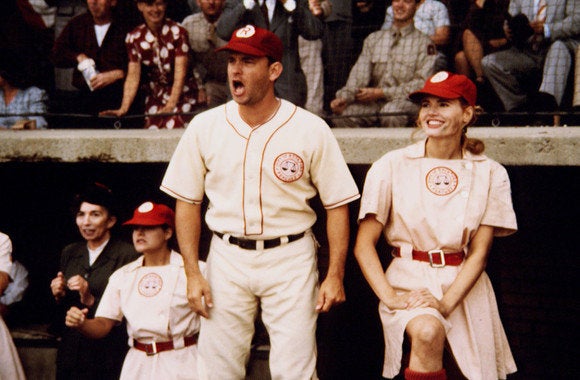 ★★★☆☆
Penny Marshall's A League of Their Own (1992) tells a perky fictional version of a true story: the women's baseball leagues briefly established during WWII to keep folks at home entertained while many of the top male ballplayers were fighting overseas. Geena Davis plays Dottie Hinson, a talented hitter and catcher. She loves her younger sister, Kit (Lori Petty), who is jealous of Dottie and isn't quite as pretty or as talented. Tom Hanks is hilarious in the crusty, burned-out manager role, an injured former pro. Not even the obnoxious pair of Madonna and Rosie O'Donnell can ruin the bright, chirpy fun. A modern-day prologue and epilogue with the old gals reuniting adds an air of seriousness that takes it down a notch, but also garnered the film some extra critical praise.
Bigger, Stronger, Faster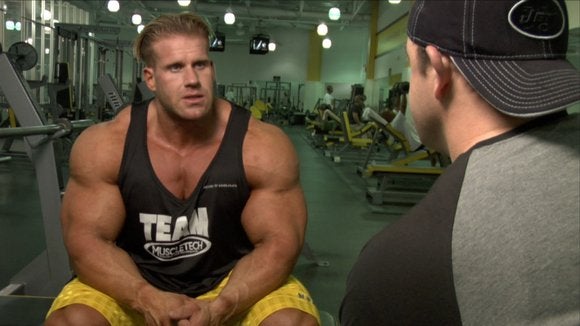 ★★★★☆
For many baseball fans, steroids is a sore subject, but Chris Bell's documentary Bigger, Stronger, Faster (2008) takes a fair and fascinating look at this loaded topic. To begin, Bell and his brothers are all bodybuilders and admitted steroid users, and thus the film immediately avoids judgment. It tells the story of three pudgy kids who, in the 1980s, worshipped heroes like Sylvester Stallone, Hulk Hogan, and Arnold Schwarzenegger, and finally figured out a way to be like them. (It only briefly acknowledges ballplayers like Barry Bonds, Jose Canseco, Sammy Sosa, and Mark McGwire.) The movie doesn't exactly condone steroids, but it acknowledges them as a reality, and as a step in biology that makes true competition possible. As one critic stated, we say we're opposed to steroids, but we're more opposed to losing.
Richard Pryor: Live on the Sunset Strip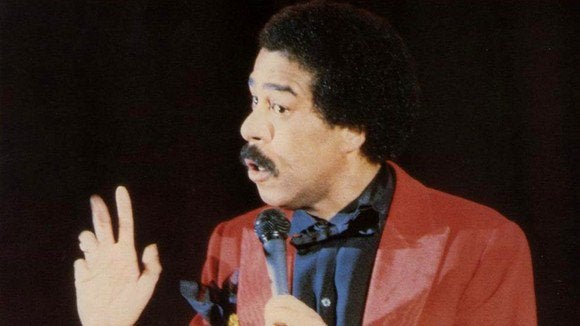 ★★★★★
If you liked Richard Pryor in The Bingo Long Traveling All-Stars & Motor Kings, then you should experience him in his natural element, on stage, as one of the greatest comedians of the 20th century. Released in theaters, Richard Pryor: Live on the Sunset Strip (1982) was filmed after Pryor's 1980 accident in which he set himself on fire while freebasing cocaine and drinking rum. He's here with a new lease on life, not only acknowledging and laughing at the incident, but imbuing his act with new hope, such as his powerful description of a trip to Africa. But make no mistake, Pryor was a genius of rhythm and timing, and no matter what the topic, his storytelling is absolutely hilarious.
Goon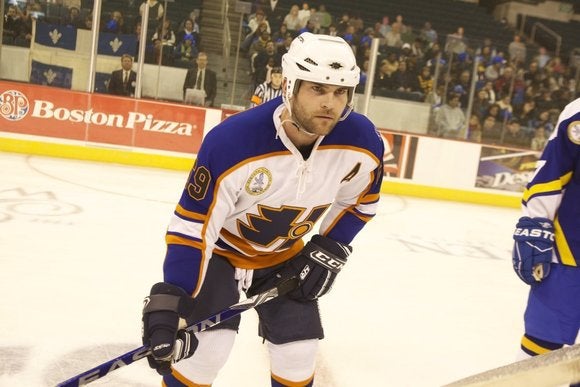 ★★★☆☆
It may be baseball season, but that's no reason not to watch the underrated hockey film Goon (2012). Like the beloved Slap Shot, it's a violent comedy, but with a twist. Goon is centered around a most intriguing character, Doug Glatt (Seann William Scott, at his very best), also known as Thug. Thug is very, very good at beating people up. There's no anger or vengeance involved. When he does it, he's in a very Zen-like place, just concentrating. He sometimes even apologizes to his victims. He's a brilliant comic contradiction. Thug rises from bouncer to hockey star, his job simply to beat people up and then take his spot in the penalty box. The film eventually turns into a love story, with Thug trying to win the pretty Eva (Alison Pill). Jay Baruchel costars and cowrote the screenplay with Evan Goldberg.
Ping Pong Playa
★★★☆☆
Here's another peculiar, underrated sports film, sort of. Christopher "C-Dub" Wang (played by Jimmy Tsai, who cowrote the script) is a suburban layabout who speaks like a hip-hop star. His brother (Roger Fan) is a famous Ping Pong champion, his mother teaches Ping Pong classes, and his father runs a sporting goods store. When both brother and mother are injured in an accident that C-Dub partly causes, he is forced to take over the classes, but he soon decides to enter a big tournament in his brother's place. Ping Pong Playa (2008) has a built-in romance (with the pretty Smith Cho), and a whole batch of clichés, but director Jessica Yu—an Oscar winner for Best Documentary Short—turns in a bright, fleet-footed, featherweight comedy whose pace and charm breezes over the troubled spots.
Metallica: Through the Never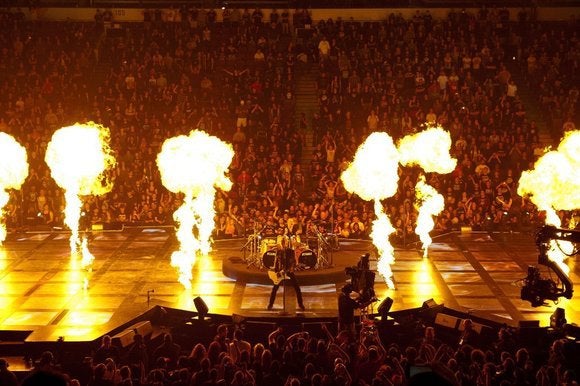 ★★★★☆
If you're a San Francisco Giants fan, you may be familiar with Metallica. The famous metal band comes to the park for "Metallica Night," and has performed the National Anthem before games. The amazing concert film Metallica: Through the Never (2013) has no baseball in it, but it's an astounding combination of live music and fictional horror film. As the band begins to play, a roadie, Trip (Dane DeHaan), is sent on a mysterious mission into the city to find a truck. Inside it is "something the band needs tonight." As the band plays among weird, sinister props, things start to go wrong with the show, such as falling lights, and other accidents. Meanwhile, Trip encounters increasingly unsettling things: first, weirdly empty streets, then the occasional person acting strangely, until things escalate into something truly nightmarish. It's a supercharged horror film backed by adrenaline-fueled music, a genuinely spooky and unsettling experience.
Don Jon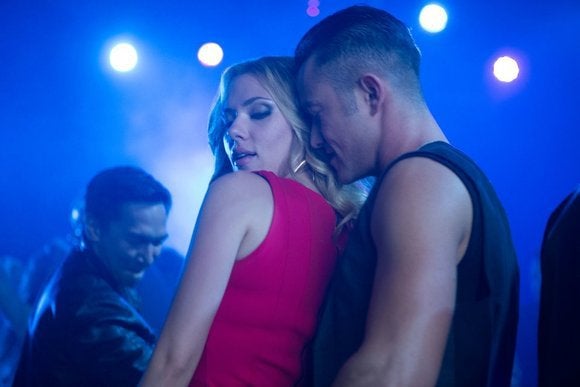 ★★★★☆
OK, Don Jon (2013) is not a sports movie at all, except that characters argue over a football game on TV. But it is a very, very good movie. It's the feature writing and directing debut of actor Joseph Gordon-Levitt, who also stars as Don Jon, so called because of his success with women. Don Jon keeps his apartment clean, hits the gym, and goes to church, and the ladies love him. But he loves internet porn better, where he's in control and can "lose himself." He meets two women, the beautiful Barbara (Scarlett Johansson), who begins trying to change Don Jon, and Esther (Julianne Moore), a laid-back widow who likes porn, but likes human connection better. The movie is consistently rich, funny, and quirky, but best of all, Don Jon is not an addiction movie, and doesn't deal with any social issues. It's just a story about people.
Finally, Netflix also has Headin' Home (1920) available streaming. As a movie, it's not particularly interesting, but historically, it's essential, since it stars the one and only Babe Ruth as a highly fictionalized version of himself.
What's New on Netflix
Backdraft
Boys Don't Cry
The Buddy Holly Story
The Big Chill
Bram Stoker's Dracula
Candyman
The City of Lost Children
Cursed
Encounters at the End of the World
Exit Through the Gift Shop
Fantastic Voyage
Fido
Forrest Gump
For Your Eyes Only
Freedomland
From Russia with Love
Goldfinger
Godzilla: King of the Monsters (1956)
Heavy Metal
Hook
The Human Stain
Ichi the Killer
The Jewel of the Nile
Kill Bill – Vol. 1
Kill Bill – Vol. 2
La Bamba
The Legend of Drunken Master
Live and Let Die
The Living Daylights
Mr. Smith Goes to Washington
Never Say Never Again
Paper Moon
The Prince of Tides
Romancing the Stone
School Daze
Single White Female
Sneakers
St. Elmo's Fire
Starman
Terror of Mechagodzilla
Top Secret!
Winged Migration
You Only Live Twice
A View to a Kill