Smart TVs are sometimes anything but. From setting them up to work with all your devices, to juggling remotes to switch between inputs, to the way the smart TV menus pull you entirely out of whatever you were watching, using a smart TV can make you feel kind of dumb.
We recently got hands-on with LG's new lineup of 2014 Smart+ TVs, running webOS, at the company's Silicon Valley Lab, and it was clear as a sharp 4K picture how much thought has gone into simplifying the whole experience of using a smart TV.
When setting up a TV, you don't want to have to page through the manual to get everything hooked up. LG created a little character called the Bean Bird to walk you through the process onscreen instead. Sure, it's basically a cuter version of Clippy the paper clip who used to want you to want him over in Microsoft Word. But while most people don't need help remembering that "Dear [Name]" goes at the top of a letter, assistance is a little more welcome with adding your new TV to your home network and hooking up set-top boxes, game consoles, antennas, and cable boxes.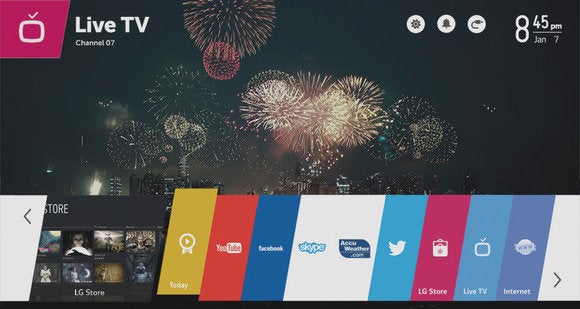 And the animations aren't just there to be adorable: The first screen shows your Bean Bird asleep, and intuitively you wave your Magic Remote at the screen to wake him up. Guess what, you just paired your remote to your TV without even knowing it. If you skip a step that Bean Bird really wants you to complete (like joining your home network), he even throws a little protest complete with picket sign.
Once all your inputs are added and your smart TV apps are installed (think Netflix, Hulu Plus, Amazon Instant, and so on), pressing Home on the remote brings the Smart+ TV's webOS interface—but it only covers the bottom half of the screen. So whatever you were watching is still there. You can go backward in the timeline by pointing the remote's cursor at the left; that's how you'll quickly jump back to whatever you were doing previously. Your nine favorite content sources show up as cards in the "present" section of the timeline, and advancing to the right shows the "future," or your full scrollable list of inputs and apps. Everything's treated the same, whether it's another input like your Xbox, the web browser, the YouTube app, or even your live TV, which gives you just one interface to learn. Even getting used to pointing the remote around the screen like a laser pointer or a Nintendo Wii controller was simple.
And in our demo, switching between inputs was not just easy, but also very fast. We loaded up a 4K episode of House of Cards in the Netflix app, then over to a 1080p music video in YouTube. Then switching back to House of Cards was near instantaneous. The webOS TV let us change apps and inputs like flipping through channels on a cable box.
But what to watch?
LG's Today feature recommends content you can watch across all your sources, from live TV to Amazon, Netflix, Vudu, and Hulu. These recommendations are based on what's popular, not customized for your personal tastes, which might seem odd. But since you share your TV with everyone in your household, personalized recommendations aren't always all they're cracked up to be.
I don't bother using the profile feature in Netflix, for example, so my recommendations there are all kids shows like Thomas the Tank Engine and Curious George, because that's who watches Netflix at our house. It'd be nice to see what other adults are enjoying. Once you scroll through Today's offerings, you can click a movie or show to see all the ways you can see it: subscription streaming, rental, purchase, or just watch it on TV.
LG is releasing 27 Smart+ TV models with webOS, both HD and 4K sets in the mid- to high range of its overall lineup. Some are in stores now, including an entry-level 42-inch HDTV (model 42LB6300) for $650.