In middle school, I was the only kid who joined the track team expecting not to have to run more than 400 meters at a time (I threw discus and shot put). Even at the early age of 11—before I fully understood what working out even was—I knew one thing: I hated cardio.
And I haven't wavered on that position to this day.
Don't get me wrong: For the most part, I love working out. Explosive exercises are my bread and butter. But cardio, especially slow burn, indoor, machine-fueled cardio makes me want to die. I find it that boring. So, trust me when I say that I have tried everything—everything—to make cardio fun. I've brought magazines, work, even handheld consoles to the gym in an effort to improve my attitude toward stair-stepping and elliptical training. I've tried motivating myself with smart pedometers, games, and, of course, apps. And while these apps haven't completely transformed my cardio workouts, they have made them…a little less awful.
Zombies, Run!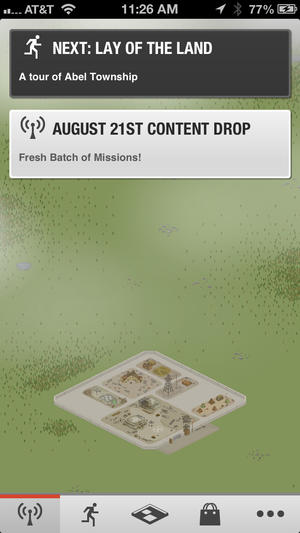 What motivates you to run? Music? Competition? Personal fitness goals? How about a horde of undead staggering after you?
That's the premise of Zombies, Run! 3 ($4; Android and iOS), an immersive running game. The app works like this: You put your headphones on and start playing one of the 60-plus missions. You start walking (or jogging, or running), and then you hear them—zombies, breathing down your neck. There's only one way to get rid of them, and it's not by turning around and hacking off their limbs: Run!
Zombies, Run! is an audio adventure, which means it uses audio cues (like the guttural sound of breathing zombies, as well as narrations) to egg you on as you run through the streets of your city, town, or even on your treadmill. As you run, you automatically collect supplies, such as medicine and ammo, which you can then use to improve your home base in the app's city-building game. If you want to mix things up, you can also turn on "zombie chase" for an intense interval workout.
The app isn't just a way to make cardio sort of fun: It's an excellent predictor of how well you'll be able to outrun a real-life zombie stampede, should that ever happen to be an issue. (Other TechHive editors swear that this app can help transform anyone into a full-on runner, even if they hate running.)
BeatBurn Treadmill/Outdoor Trainer
There's nothing quite like that moment when you're in a cardio groove. You're moving perfectly in sync with your music, and you feel (almost) like cardio isn't a total waste of your time. BeatBurn Treadmill/Outdoor Trainer ($4; iOS) helps you get into, and stay in, said groove.
BeatBurn is a beat-matching app that uses your own music, so you can listen to the songs that motivate you and still hit that perfect, beat-matching pace. The app analyzes your workout as you're working out and chooses the best songs (based on their BPM) to match that pace. So if you're jogging slowly, you'll get songs that are slower and that match your snail-like pace. If you're running faster, you'll get faster tunes. The app also shifts the tempo of songs to match your pace, so you always feel like you're totally in sync with the music that's playing.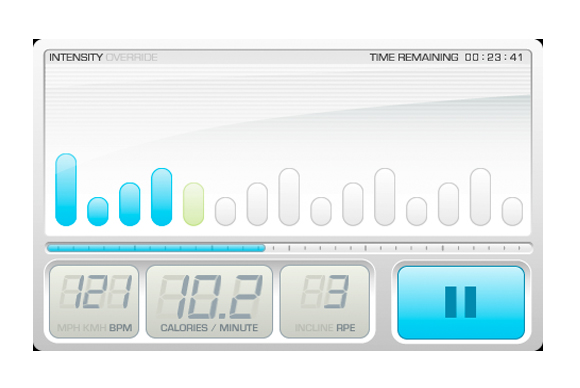 BeatBurn also features an interactive personal trainer to guide you through each workout, so you can adjust your pace accordingly. The app tracks your calories burned based on how intense your workout is, and designs special programs around your personal profile. Lolo, the app's developer, also offers a similar app for the elliptical trainer called BeatBurn Elliptical Trainer and one for the stationary bicycle called BeatBurn Indoor Cycling.
Ghost Race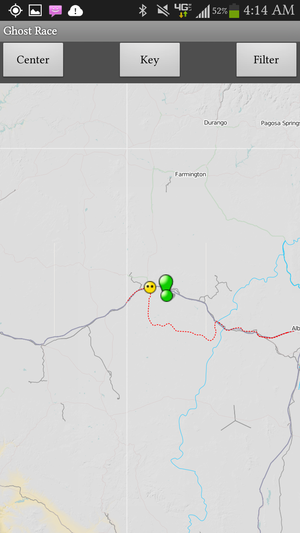 If your biggest competition is yourself, Ghost Race (free; Android) is the app for you. Ghost Race lets you virtually race against yourself in real-time, similar to the way you can race against ghosts of characters in some old-school video games. The free app also lets you race against friends and strangers.
Unlike most of the other apps I've mentioned, Ghost Race isn't an app for indoor use. Because you're racing against yourself or others, you must be racing on a course, be it a course you find on Ghost Race, or a course you create yourself. What's nice is that this means you can see your progress (and your "ghost") on the course's path as you run. You can actually see where you are and where your ghost is at any given time, which helps to motivate you to, well, run faster! The app has three different settings, so you can race people as a runner, a mountain biker, or a road biker.
Ghost Race's ghosting feature is unique: Other apps can't promise a similar experience, because they work both indoors and outdoors.
Cardio Smackdown!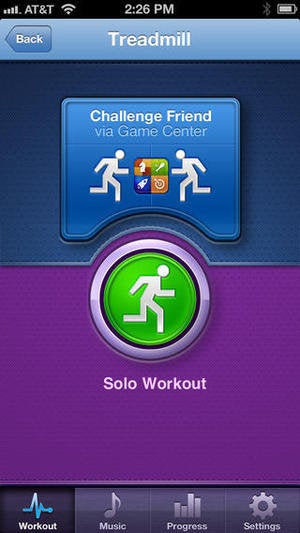 Don't worry, iOS users: Android users aren't the only ones who can race against friends and strangers with an app. Cardio Smackdown! (free; iOS) lets you challenge your buddies to a real-time smack down via Apple's Game Center.
Unlike Ghost Race, Cardio Smackdown works on both a trail and on a treadmill. Just choose your mode—treadmill, elliptical, outdoor run/walk/hike, or outdoor biking—and then challenge a friend to a simultaneous workout. As you run, walk, or hike on your chosen medium, you'll see your friend's progress alongside yours. It won't be a ghost, like in Ghost Race, but you'll see your opponent's time and distance, and that's probably enough. There's nothing like seeing someone else's workout stats to make cardio into a game.
Cardio Smackdown's challenge feature is neat, but you can also workout solo (and you might have to, if none of your friends are up for working out). In this case, you'll see all of your stats: Elevation gain, speed, distance, steps, calories, peak altitude, and time. While a solo workout doesn't exactly make cardio fun, Cardio Smackdown's in-depth stats can be useful.
Get creative with your cardio
Not all cardio-fun-making apps have to be specifically designed for that purpose. In fact, some of my go-to gym apps aren't designed for fitness freaks at all. For example, I love streaming Doctor Who and Law and Order: SVU on Netflix ($8 a month; Android and iOS), or catching up on Saturday Night Live on Hulu Plus ($8 a month; Android and iOS). A movie or a TV episode is often the perfect length for a good cardio workout. I also like to read magazines on my iPad with Zinio (subscription price varies; Android and iOS), and trust me: It's a lot easier to swipe through pages while running than it is to physically turn them.
Finally, if you're willing to spend a little more and tote some hardware with you to the gym, Blue Goji's Goji Play system ($100; hardware paired with an app for iOS) actually makes cardio into a game. Although the system still needs a little work, it's polished enough to keep you distracted from what you're actually doing (running, and sweating like a pig).