At a Glance
Expert's Rating
Pros
Plays nearly every media format including Blu-ray discs
Enhances video
Excellent interface
Cons
No sound enhancement or video FX
No photo or music tag editing
Some bugs in the media collection routine
Our Verdict
Support for Blu-ray, 3D, Ultraviolet, 4K and h.265 make PowerDVD the closest thing to an all-encompassing multimedia center you'll find. But it's still a few features short.
Tired of constantly switching between iTunes, Windows Media Player, VLC, and other programs for different media tasks? I am. Cyberlink's PowerDVD, with its support for Blu-ray and 4K as well as most other types of video, audio, and images has the potential to be that all-in-one media solution we've been searching for. The latest iteration, PowerDVD 14, is close but no cigar due to some missing basics. However, the addition of support for up-and-coming technologies such as h.265 and the UltraViolet media delivery system make it a uniquely powerful player.
PowerDVD 14, which runs on Windows PCs, comes in three flavors—the $50 Standard version, which handles DVD and HD files; the $80 Pro, which adds Blu-ray and 4K support; and the $100 Ultra which throws in 3D and the company's Power Media Player app for iOS, Android and Windows Phone. All three versions include PowerDVD Remote for iOS and Android which allows you to use your mobile devices as—you guessed it—a remote control for PowerDVD.
In terms of what you see on the screen, PowerDVD 14 is the best Blu-ray/DVD/video player out there. Normal playback includes hardware acceleration, but there's also a CPU mode with TrueTheater enhancements which will make a lot of material—primarily DVDs—look more high-def. The interface is handsome and well thought out, with the notably unintuitive exception of having to click on the fast forward icon to slow down a video. There's also a ten-foot interface for use from your couch with the aforementioned remote software.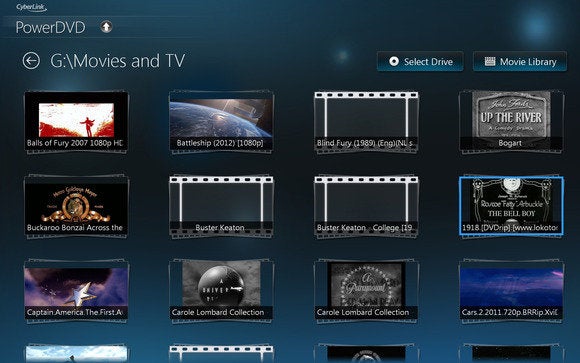 My initial encounters with PowerDVD 14 were frustrating, due to the way it handled background tasks such as media collection and network path scouting. A pre-release update mostly fixed this; however, I still ran into instances where the program would seem to hang, especially at first run. The only other issues I ran into were the inability to drag files from an archive directly to PowerDVD (VLC can handle this), and just the audio portion of certain FLV videos being played.
In my other codec support tests, PowerDVD 14 played AVI/PCM, DivX 5, DivX HD, MPEG 1/2/4, Xvid, most FLV, Quicktime, AVCHD, WMV, h.264, and OGG Theora. Audio track support includes AAC and 5.1 Dolby Digital. PowerDVD 14 now also supports HEVC, the High Efficiency Video Codec—more on that in a bit.
In my music tests, PowerDVD 14 played 5.1 surround, FLAC, WMA, MP3, OGG Vorbis, APE, lossless WMA, Apple lossless (new), M4A, and all types of wave files up to 96kHz/32-bits (the max my system supports). PowerDVD also supports JPEG, BMP, TIFF (compressed and uncompressed), and PNG photos, and it offers some nice fades when you play a group as a slideshow. The photo browser is top-notch and presents your images in calendar style according to the data taken. Alas, there's no tag editing for photos or music files.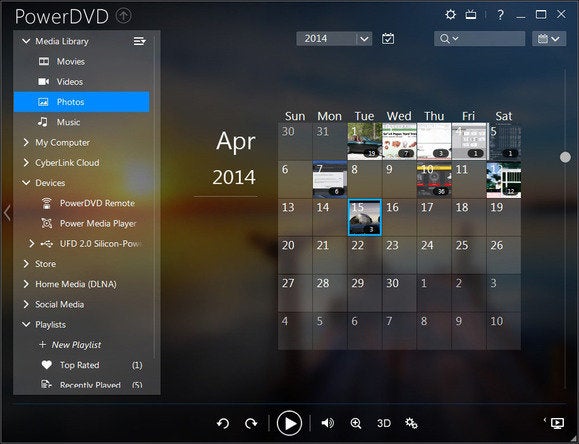 I mentioned support for the HEVC, aka h.265, which seems to be as efficient as advertised. The 1080 HEVC version of Big Buck Bunny I rounded up weighed in at 150MB, compared to 850MB for the h.264 and Ogg Vorbis 1080 versions I already had. Despite being less than one-fifth the size, the picture quality was very, very close. My HEVC sample's playback wasn't quite as smooth as the other two files, and there were occasional anti-aliasing artifacts, but considering the relative file sizes, the tiny flaws were more than tolerable. Based on my admittedly small sample size, you can expect great things from h.265.
While PowerDVD 14 is packed with technology, it's missing some features you would expect from a true all-in-one media playback solution. The first is the aforementioned lack of tag editing, but there's also no support for TV tuners or recording. Also missing is sound enhancement, such as the TruBass and WOW in Windows Media Player or the Sound Enhancer in iTunes. I'm shamefully addicted to both, especially with older songs that didn't have the benefit of modern recording technology. I'd also like the ability to change the speed of audio files (you can alter the speed of most video) and apply video FX à la VLC.
PowerDVD 14 comes with a one-year 10GB subscription to Cyberlink Cloud, which allows you to sync media to the Internet and play it with the Power Media Player app. There's an activation code for the app included in PowerDVD, though you might have to size the player larger to see it. PowerDVD also supports DLNA serving and playback, subtitles, and social media; it lets you play YouTube videos offline as well.
PowerDVD 14 is the best thing going for Blu-ray and DVD movie discs and a very good video file player that supports all the latest technologies and codecs. It's the closest of all the players I'm aware of to being a one-stop solution. Alas, close only counts with horseshoes, so buy it for Blu-ray and keep the freebies handy. You might also want to wait a week or two for Cyberlink to iron out the bugs.