At a Glance
Expert's Rating
Pros
The fastest Wi-Fi router you can buy
Extremely fast file transfers to and from an attached storage device
eSATA, USB 3.0, and USB 2.0 ports
Cons
Limited feature set in firmware
Comparatively slow 2.4GHz Wi-Fi performance
Expensive
Our Verdict
It's expensive and its firmware is a few features short of the competition's, but the Linksys WRT1900AC is the fastest 802.11ac router you can buy today (today being April 16, 2014).
When Linksys first showed me a WRT1900AC prototype last year, I thought to myself, wow: I hope its performance lives up to its audacious looks. The good news is that it does—for the most part. In fact, it's the fastest router I've ever tested. The bad news is that its $280 MSRP marks it as the most expensive router I've ever tested (Linksys launched the router with a $250 sale price).
The Linksys WRT1900AC looks like an overstuffed Linksys WRT54G, and it's sure to stir feelings of nostalgia within anyone familiar with that 2002 classic. The engineers at Linksys, meanwhile, should be feeling justifiably proud of their accomplishment so soon after being freed from the product-development shackles that Cisco had inexorably wrapped around its former division. Under new management at Belkin, Linksys is looking to regain its mojo as a top-tier equipment manufacturer for network-enthusiast consumers and small businesses alike.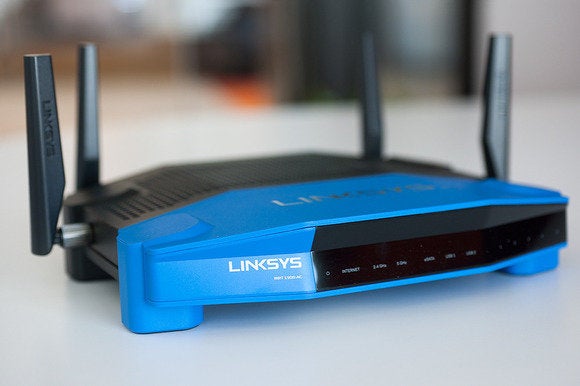 Hardware features
The WRT1900AC is the first step in that initiative, and it's an aggressive move. Powered by a 1.2GHz, dual-core Marvel Armada SoC (system-on-a-chip), 128MB of flash memory, and 256MB of DDR3 RAM, this is the first consumer router I've seen to be outfitted with a cooling fan (it's located at the top of the unit, but it spins up only when it's needed and is very quiet). What's more, the top half and the entire bottom of the router's all-plastic enclosure is perforated with ventilation holes.
Linksys says it's okay to stack the router on top of other gear, but nothing should be placed on top of it. Slots on the WRT1900AC's four feet allow you to hang the device on the wall (an option that's gone missing on too many modern routers). Much of this router's 2.5-pound weight can be attributed to the massive heatsinks mounted to its internal components.
Linksys outfitted the WRT1900AC with four external antennas, but it remains a 3×3 mechanism. In other words, it supports three spatial streams for transmitting and three for receiving. The antennas can be removed and upgraded, and Linksys plans to introduce an optional high-gain upgrade set sometime this summer.Linksys says the Marvel chipset uses both explicit and implicit beam forming to determine which three of the four antennas are delivering optimal range and performance at any given time, and that it can dynamically switch between them.
Explicit beam forming is used with clients that also support beam forming. Together, they can actively shape the best path over which the radio signals should travel. Implicit beam forming is used with clients that don't support beam forming or that don't use the same algorithm. The router can still perform some signal optimization, but it isn't as effective without the client to help. (You can read this story for more information about beam forming.)
A row of LEDs is arrayed across the router's broad face, with small white text labels and symbols printed beneath them to report the status of power, Internet access, the 2.4- and 5GHz radios, eSATA and USB connections, switch ports, and WPS (Wi-Fi Protected Setup).
Around back you'll find a WPS button, a four-port gigabit switch, a WAN port, one USB 3.0 and one eSATA/USB 2.0 combo port (another first), a power switch, and a reset button. The WRT1900AC uses an in-line power supply that's nearly as big as the one for my laptop, but it delivers welcome respite from outlet-hogging wall warts.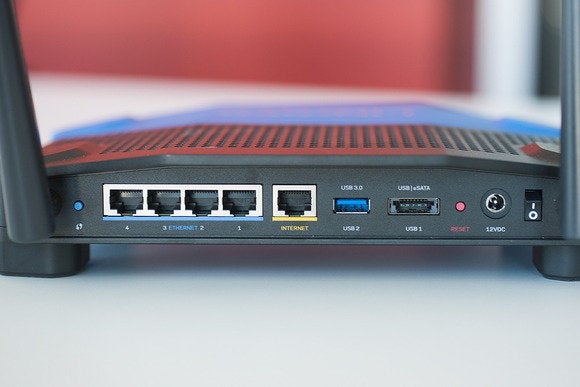 Installation and setup
In the interest of security, Linksys has moved away from assigning its routers easy-to-remember passphrases at the factory. Instead of passwords like "dynamickangeroo800," you'll find preset passwords such as "dt0n0nhvt0." You can reset this, the admin password, and the SSIDs to anything you like during setup, of course, and Linksys provides space on a CD jacket for you to jot down this information. (You don't need the CD to perform the installation; it's just a convenient way for Linksys to provide the router's user manual in case you need it before you get online).
The guest networks—there's one available on each frequency band—do retain easy-to-remember passwords (the one for my eval unit was "pineapple21"), and the same password is used for both guest networks). Guests can access the Internet, but they can't access the rest of your network. You can limit the number of guests from as few as five to as many as 50.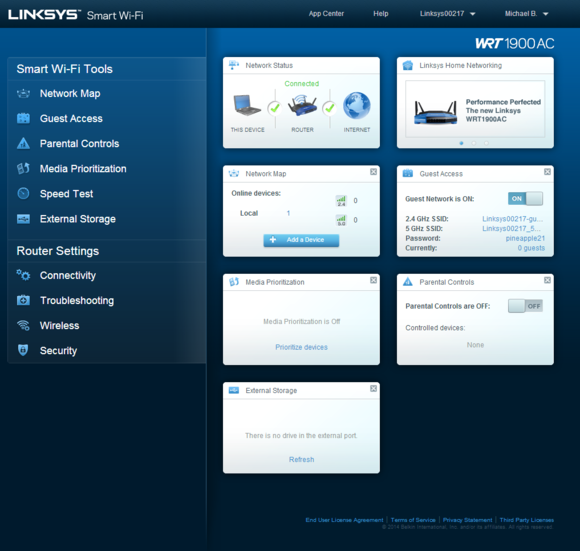 Linksys encourages you to go online and use its Smart Wi-Fi webpage to configure the router, and this is useful for beginners since it steps you through the entire process and ensures that you set up complex passwords for your wireless networks and for administrative access to the router. Experts can easily skip this and configure the router the old-fashioned way, although both methods provide the same sets of options. Complimentary telephone tech support is available to any buyer for the first 90 days, but anyone should be able to get the WRT1900AC up and running within a matter of minutes.
In terms of security, the WRT1900AC supports Wi-Fi Protected Setup (WPS) and all the consumer-level security protocols that go with it (WPA2 Personal et al), but it also supports WPA2-Enterprise with a separate RADIUS server.
Wireless performance
I compared the Linksys WRT1900AC's performance to that of the outstanding Asus RT-AC68U with the help of an AVADirect gaming laptop. The laptop is powered by an Intel Core i5-3210M processor and it has 4GB of DDR3/1600 memory. I use the JPERF benchmarking utility to measure TCP throughput between a server hardwired to the router and a client connected its wireless networks. I placed the client in three different locations inside a single-story, 2800-square-foot ranch-style home (you can see its floor plan below).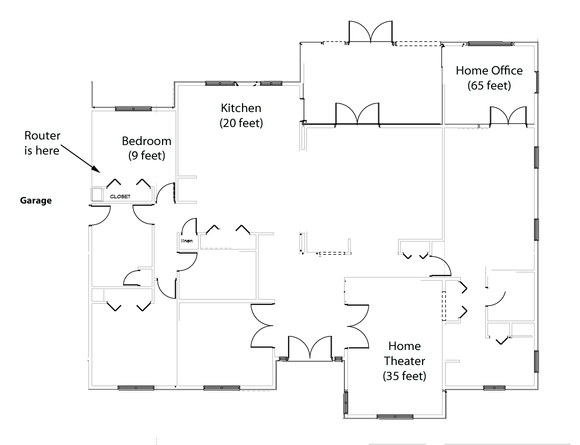 The gaming laptop doesn't have native support for 802.11ac, so I used an Asus USB-AC56 Wi-Fi adapter for one set of tests. If you want top speed in a portable configuration, and your laptop doesn't have a built-in 802.11ac Wi-Fi adapter, a USB model is the way to go. I found the USB-AC56 to be one of the fastest in its class in this recent roundup.
When tested with this adapter, the WRT1900AC proved to be anywhere from 5- to 30-percent faster than Asus's RT-AC68U 802.11ac router with its latest firmware (refer to the performance chart, below). The difference was negligible—just 5 percent—when the client was at close range (in the same room, 9 feet from the router). But it jumped to 18 percent when I moved the client into the kitchen (20 feet from the router, with an insulated wall and plywood cabinets separating the two). Throughput actually went up here—from 390Mbps in the bedroom to 418Mbps in the kitchen.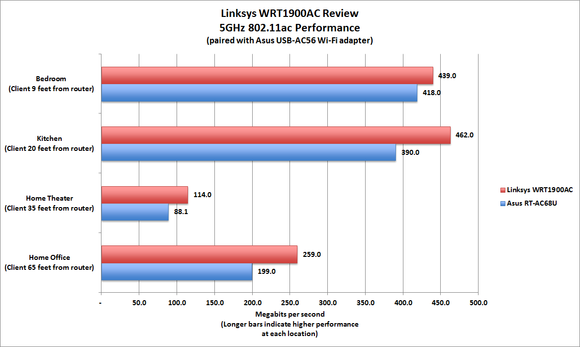 The delta between the Linksys and Asus routers jumped to 29 percent when I moved the client into my home theater. The client is about 35 feet away from the router in this location, but many wireless devices have difficulty penetrating that room because of its construction: It's a room-within-a-room design, with double framing and double layers of drywall, and insulation on the walls and ceiling. It's not soundproof by any means, but it is as acoustically isolated as I could make it on a reasonable budget. With TCP throughput of 114 Mbps, the WRT1900AC had no problem streaming HD video to the HDTV in that room via the laptop.
The Linksys router also performed well when the client was in my home office, 65 feet from the router and separated by two insulated interior walls and an array of plywood cabinets. With TCP throughput of 259Mbps, it was slightly more than 30-percent faster than the Asus RT-AC68U at this location.
If you'd like to connect multiple wired clients in one room to your 802.11ac wireless network, the best solution is to configure a second router of the same make and model as a wireless bridge. This isn't the only way to do it (deploying something like a Linksys WUMC710 is a cheaper solution, but won't be as fast).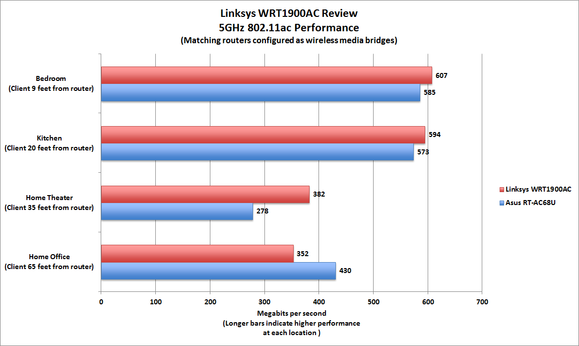 Not every 802.11ac router can be configured this way, but the WRT1900AC can and Linksys provided a second unit so I could test it that way. The Linksys router outperformed the Asus model (when connected to a second RT-AC68U) at three of my four test locations, delivering its most impressive performance—607Mbps—when the router and client were in the same room.
More importantly, the WRT1900AC outperformed the RT-AC68U by more than 37 percent when the client was in my home theater, delivering throughput of 382Mbps. The Linksys didn't perform as well at long range (with the client 65 feet from the router in my home office), delivering throughput of 352Mbps compared to the Asus's 430Mbps. On the other hand, if 352Mbps is too slow for you, you should think about stringing some cable.
Comparatively slow at 2.4GHz, but will you care?
For most people, a router's 2.4GHz, 802.11n performance is important only when connecting legacy hardware. In my home, I use that band for the IP cameras in my home-control system and that's about it. So if you're like me, you won't care that the WRT1900AC is a comparatively slow performer on that band. The Asus RT-AC68 was between 8- and 63-percent faster when I measured TCP throughput using the laptop's onboard Intel Centrino Ultimate-N 6300 Wi-Fi adapter, with the smallest delta occurring when the client was furthest from the router.
But there is an explanation for the WRT1900AC's 2.4GHz performance. If you're familiar with wireless networking, you know that routers can bond multiple channels within a given frequency band to deliver one wider channel with extra bandwidth. On the 2.4GHz band, however, there are only three channels that don't overlap. Any router certified by the Wi-Fi Alliance is supposed to disengage from channel bonding if it detects another 2.4GHz router operating nearby, so it won't degrade that network's performance.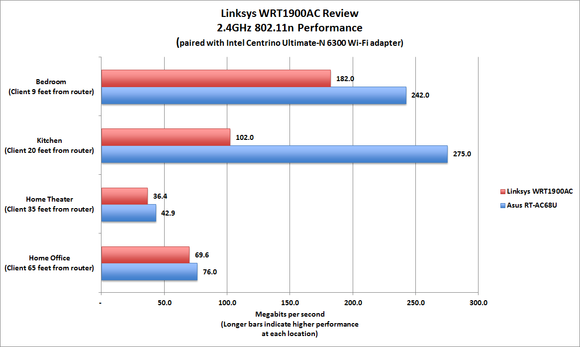 The WRT1900AC offers two options on this front: You can configure it to always use a single 20MHz channel, or you can set the router to "auto" mode, in which case it will bond a second 20MHz channel to deliver 40MHz of bandwidth only if it doesn't detect neighboring 2.4GHz networks.
Asus gives you a third option with its RT-AC68U: You can set it to bond two channels by default. The RT-AC68U is also certified by the Wi-Fi Alliance, so it should back down to single-channel mode in the presence of adjacent 2.4GHz networks. My house is located on the middle of a 10-acre parcel of land, but some Wi-Fi adapters I've used pick up exceedingly weak signals from two other networks that are at least 500 feet away. The Asus router ignored them and barreled right along with channel bonding. The Linksys did not, and its performance suffered accordingly.
File-transfer performance
The WRT1900AC is unparalleled when it comes to transferring files from an attached hard drive: It just screams. You'd likely get the highest performance with an external hard drive that could take advantage of its eSATA port, but USB 3.0 drives are much more common. I used a Western Digital Passport drive with a USB 3.0 interface for my tests.
The Linksys router was particularly impressive when it came to reading a single 10GB file (copying the file from the hard drive attached to the router to the hard drive in a desktop PC hardwired to the router). It performed this task at a whopping 80 megabytes per second (MBps), compared to the Asus RT-AC68U's 19.5MBps performance. It wrote that file back to the portable hard drive at 46.1MBps, 87-percent faster than the Asus managed.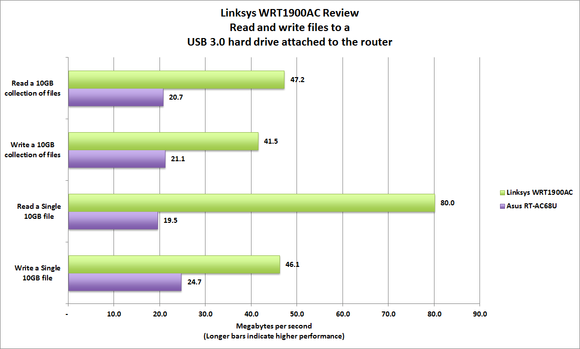 The WRT1900AC was merely more than twice as fast as the Asus RT-AC68U when it came to reading a 10GB collection of small files from the portable hard drive: 47.2MBps compared to 20.7MBps for the Asus. And it was nearly twice as fast writing that collection back to the portable hard drive: 41.5MBps compared to the Asus's 21.1MBps. That's quick.
Limited firmware feature set
And now for the downside. Oh come on, you knew there had to another downside besides the price tag. One of the reasons the WRT1900AC is so easy to set up is because it has so few features to configure. The user interface is well laid out, but this first iteration of its firmware is very much a bare-bones affair. On the bright side, Linksys plans to offer an OpenWRT software developer's kit very soon—perhaps as early as the end of this month.
The open nature of the original WRT54G—and the availability of open-source firmware such as DD-WRT and Tomato—played outsized roles in that router's success. Should those communities embrace the exponentially more powerful WRT1900AC, this could become one of the best routers ever. Linksys says it is"engaged with DD-WRT and expect a firmware to be available," but the company also says it doesn't "have a time frame—it'll be up to them [the DD-WRT community]".
The WRT1900AC has a DLNA media server, but it lacks an iTunes server. You can connect a USB or eSATA storage device (and as pointed out in the performance section, you get wicked-fast network-attached storage), but you'll need to install a third-party app if you want to access attached storage from the cloud.
Mac users, meanwhile, will be disappointed to find there's no support for Time Machine backups. Linksys says it's considering adding these and other features, but the company couldn't provide a timeline.
You do get smb and ftp servers, and there's support for VPN pass-through, but OpenVPN is not supported. There's also no BitTorrent client for unsupervised torrent streaming. And its Quality of Service (QoS) settings are limited to dragging an icon representing your various network clients into a "high priority" box, or choosing applications (iTunes, Skype, Vonage, etc.) and online games from drop-down lists to give their traffic priority handling.
Parental controls are even more basic, although that feature is much less important in my book. You can block specified network clients from accessing the Internet (your choices are "never," "always," or according to day/time calendar), or you can block named network clients from accessing specified sites (good luck knowing every site on the web you don't want your kids to visit). If you consider parental controls a critical feature in the router you buy, take a look at the Skydog Wi-Fi router).
Final thoughts
It could be said that criticizing such a hot-rod router for not having all the latest bells and whistles in firmware is like calling out a drag racer for not having air conditioning. I'm just saying that the WRT1900AC has the horsepower to support those other features without compromising its speed. Linksys might add more features as time goes on, or third-party developer might Smart Wi-Fi apps, but you shouldn't buy one assuming those events will come to pass.
For many users, speed trumps features you might never need anyway. I use a Sonos system for listening to music, for instance, so I couldn't care less if my router has an iTunes server. I crave speed, and the WRT1900AC delivers that in spades. And its performance with network-attached storage blows the doors off the competition.
If speed is your most important consideration when shopping for a router, the WRT1900AC is the router to buy. If features are more important, and you're willing to give up a little speed to get them, consider the Asus RT-AC68U or Netgear's R7000 Nighthawk. The WRT1900AC isn't the most feature-laden router you can buy, but it is the fastest.