If it's a sunny day, we're sweeping the clouds away, on our way to where the air is sweet. But if it's raining, or cold, or I just need some peace and quiet, my toddler gets to watch all the Sesame Street he wants. We're a cord-cutting family, so that usually happens via Netflix, which has a few recent seasons (they're also on Hulu Plus) as well as some old-school Sesame Street Classics. (The Sesame Street channel on YouTube is a gold mine, too.)
But hey kids! Starting today, we can see hundreds more episodes, thanks to new subscription service Sesame Go. After a two-week free trial, the service costs $4 a month or $30 a year. For that, you get 60- and 30-minute episodes of Sesame Street, tons of classic episodes, and even a few dozen half-hour episodes of Sesame Workshop production Pinky Dinky Doo.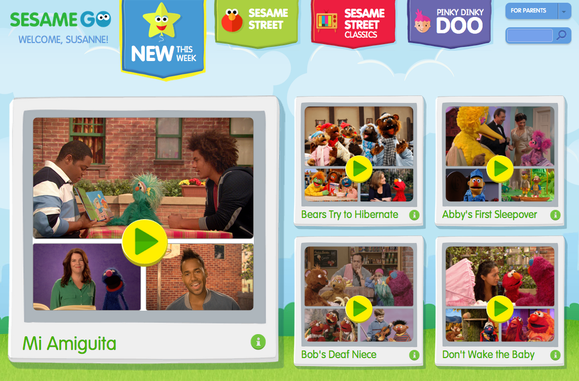 As long as your browser supports HTML5 or Adobe Flash, Sesame Go will work, making it cross-platform across all your computers, tablets, and smartphones. I had no trouble loading up a classic episode on my Mac, my iPhone, and a Kindle Fire HDX. But it's one stream per account, so you can watch on only one device at any given time. Still, it's handy to not have to install a bunch of apps.
Classic episodes aren't in HD, of course, but they still look the same as they do on Netflix. Modern episodes are sharp and clear, in widescreen that adjusts quickly if you resize your browser window.
The service could use a search feature (for easily finding every episode with Mr. Hooper, for example—I still miss you, Mr. Hooper!), and maybe the ability to create playlists, too. And if you pause an episode without finishing it, then click that episode later, it would be nice if you could pick up where you left off instead of starting over. But I appreciate the choice of full-length and shortened versions of modern episodes, for greater scheduling flexibility.
For a free two-week trial, head to SesameGo.com. You'll need a credit card to sign up, but if you cancel before two weeks are up, you won't be charged. See you on the Street.