Though the films of Asia are as varied as anywhere else in the world, there is a strong concentration on action movies: in particular, martial arts movies in Hong Kong, and samurai and yakuza movies in Japan. Happily, these filmmakers learned ways of choreographing the action and filming it in a clear, but kinetic way, which is just the opposite of the way American filmmakers do it, with shaky-cam and simulated chaos. A generous selection of these movies is available on Netflix, in all their thrilling glory, beginning with recent Oscar nominee The Grandmaster.
The Grandmaster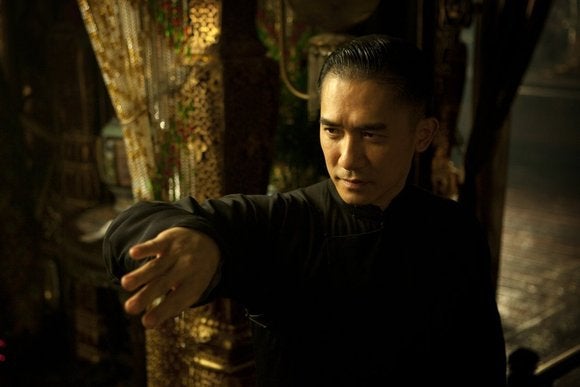 ★★★☆☆
One of the world's most highly acclaimed filmmakers, Hong Kong's Wong Kar-wai, took on this highly artistic biopic of Ip Man (Tony Leung Chiu-Wai), the great martial arts teacher in the school of Wing Chun; Bruce Lee was one of his pupils. During the Sino-Japanese War, Ip Man goes to Hong Kong in the hopes of getting a job as a teacher and supporting his family. Finding himself stuck there, he runs into the daughter of an old rival, Er (Zhang Ziyi), and—in accordance with director Wong's favorite theme—finds a forbidden, unfulfilled romantic connection to her. Wong's work on The Grandmaster (2013) is truly beautiful, with golden hues and hushed tones, and he takes a respectful, poetic approach to the fight scenes. The movie received Oscar nominations for Best Cinematography and Best Costume Design. (Unfortunately, the American distributor, the Weinstein Company, cut about 22 minutes from Wong's 130-minute original, and this edited version is the one that is available on Netflix. Their intent was to focus more on action, but ironically, with less character development, the action is less engaging.)
Ip Man
★★★★☆
Donnie Yen stars in this more straightforward, more mainstream—and ultimately superior—biopic, simply titled Ip Man (2008). It tells roughly the same story, though the fights are more fun, and the forbidden romance has been excised. Instead, Ip Man and his family suffer extreme poverty while living in Japanese-occupied China. Ip Man learns of a Japanese officer who appreciates martial arts and offers bags of rice to any Chinese fighter that can best him in the ring. Of course, Ip Man's honor and dignity are more important to him than victory, and this leads to a huge showdown. Yen's low-key acting approach makes Ip Man hugely appealing and sympathetic. Director Wilson Yip focuses on space and economy of movement, but still manages a good period look.
Ip Man 2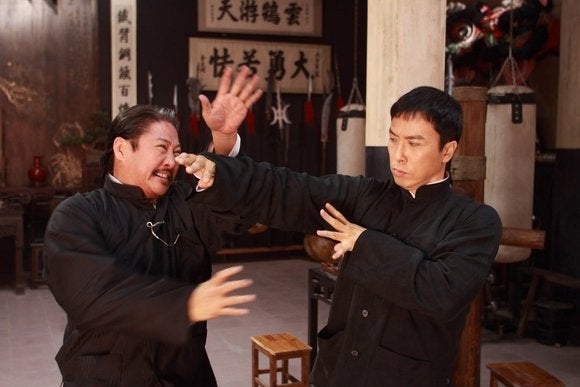 ★★★★☆
The first Ip Man was well received and so a sequel was ordered. Ip Man 2 (2010) may be even better. It's now the 1940s, the war is over, and Ip Man (Donnie Yen) returns to Hong Kong to open a Wing Chun martial arts school. Unfortunately, new rules are in place: Teachers must fight other teachers for the right to open a school, and then dues must be paid to the occupying British. Ip Man tangles with Master Hong Zhen Nan (Sammo Hung, who also provides the fight choreography), which leads to a big showdown. Wilson Yip directs once again with an eye on pacing, clarity, and period detail, and once again Yen's low-key performance earns the protagonist a great deal of sympathy and respect. But the real key to this movie is Hung; though he has had a long and fruitful career, his chubby looks turned him into a buffoonish character actor early on. This time he has a real part, and he gives a great performance in it—he even won an Asian Film Award.
Swordsman II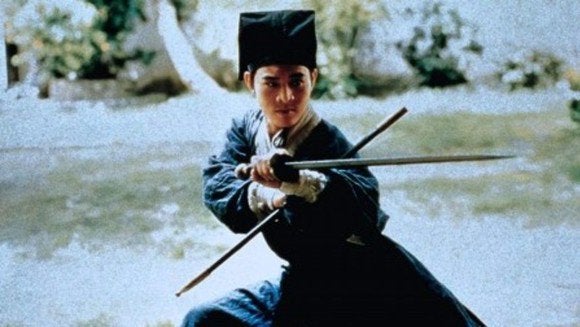 ★★★★★
Ching Siu-tung's Swordsman II (1992) is a strong contender for the greatest martial arts movie ever made, and it's not even necessary to see Part I or Part III. Swordsman Ling Wu-Chung (Jet Li) and his tomboy sidekick Kiddo (Michelle Reis) decide to retire and return to their hometown. Kiddo is in love with Ling, but he doesn't see her as anything other than a pal. Instead, he falls for another woman (Brigitte Lin), who turns out to be Asia the Invisible. Worse, Asia was once a man who castrated himself in exchange for ultimate power. Of course, it all leads to some amazing fights. The movie was a highpoint in the wuxia genre, using wire work and flying stunts to astounding effect. With its bold color palette, the movie is so sensual, fluid, and free-flowing that it almost seems to be in 3D. Stanley Tong codirected, and the legendary Tsui Hark cowrote the screenplay and produced.
Operation Condor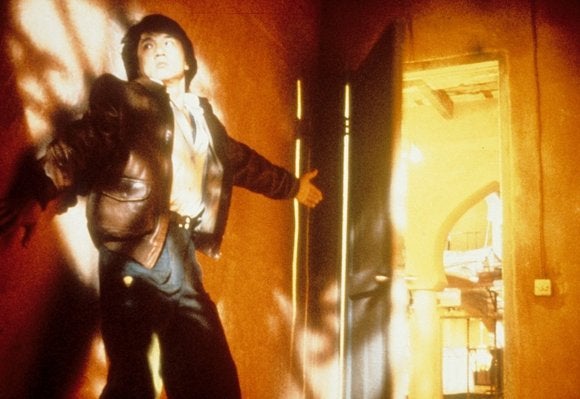 ★★★★☆
In Hong Kong, this was released as Armour of God II: Operation Condor (1991). In 1997, the Weinsteins released it in the United States under their Dimension Films label, retitled Operation Condor (to hide the fact that it's a sequel), dubbed into English and with about 15 minutes of footage excised. This is the version that is streaming on Netflix. (To make matters more confusing, the original film, Armour of God, was re-titled Operation Condor II: The Armour of the Gods.) In any case, Jackie Chan directs and stars as an Indiana Jones-like adventurer on the hunt for a stash of gold, hidden by the Germans in the desert at the end of WWII. It's one of Chan's sunniest, funniest, and most exciting films, even in the short version.
Shaolin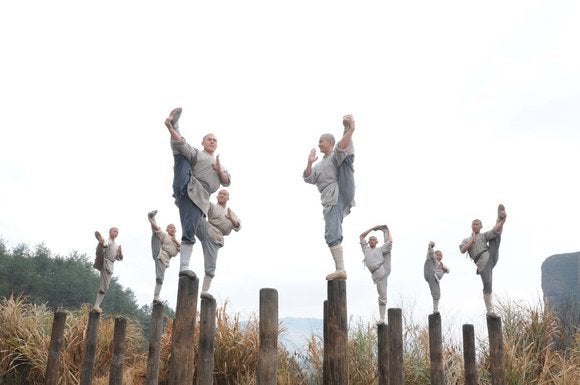 ★★★☆☆
Benny Chan's Shaolin (2011) is one of many recent big costume epics from Hong Kong, and while it's not among the top of the heap, it's certainly entertaining. In the early days of the Chinese Republic, a warlord, General Hou (Andy Lau), and Cao Man (Nicholas Tse) are sworn brothers, stealing, conquering, and slaughtering their way across the land. Lusting for more power, Cao Man betrays Hou and leaves him for dead. A cook (Jackie Chan) at a nearby Shaolin Temple finds Hou, nurses him back to health, and teaches him the ways of Martial Zen. But Hou must still face Cao Man. Tse is a little over the top as the villain, but Lau gives a fine, sturdy performance. However, Jackie Chan is the movie's highlight, shining in a rare, richly colorful supporting role.
Red Cliff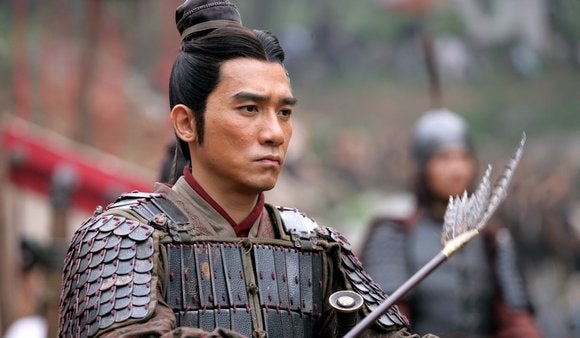 ★★★★☆
John Woo's great battle epic Red Cliff (2009) was one of the finest films of the past few years, but unfortunately, Netflix is only streaming the 148-minute edited version that was released in American theaters. (The full-length, 288-minute version is at least rentable on DVD.) Even so, it contains some glorious, powerful moments that deserve to be seen. During the Han Dynasty, two enemies, strategist Kongming (Takeshi Kaneshiro) and viceroy Zhou Yu (Tony Leung Chiu Wai) team up to battle a greater evil, Chancellor Cao Cao (Zhang Fengyi), using their cunning to outwit the mightier force. One such battle involves the clever use of a fake fleet of ships to collect useable arrows from the enemy. Zhao Wei costars, though her role is significantly cut down in the edited version.
Detective Dee and the Mystery of the Phantom Flame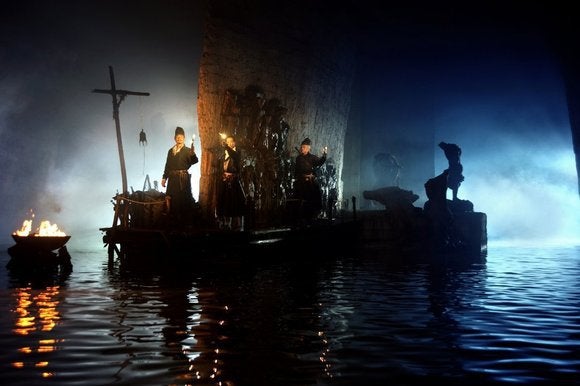 ★★★☆☆
Director Tsui Hark is one of the most prolific and wildly talented of Hong Kong filmmakers; he seems to be able to try just about anything. His Detective Dee and the Mystery of the Phantom Flame (2011) is based on a character in pulp novels, who in turn was based on a real person. Now he's played by Andy Lau, and he has been imprisoned by Empress Wu Zetian (Carina Lau) for speaking his mind. As a new, mammoth Buddhist temple is being constructed and the empress's coronation is not far off, a strange thing begins happening. People begin bursting into flame when exposed to sunlight. Who can the empress call but Detective Dee? Though individual scenes in the movie are spectacular, a certain leaden quality and the movie's overall length keep it from being as entertaining as it could have been, but it's still recommended.
Sonatine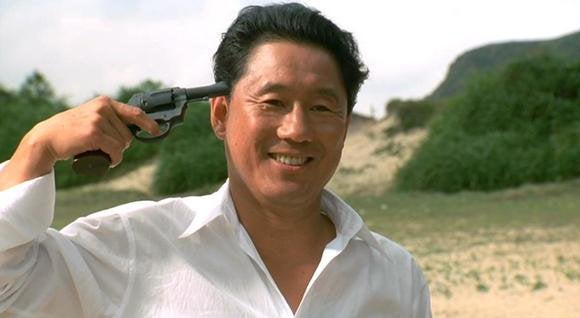 ★★★★★
Though the Chinese were the experts at martial arts and action movies, the Japanese developed a touch for both samurai and gangster movies. Director Takeshi Kitano managed a bit more credibility and prestige than some of his contemporaries, especially for daring and brilliantly constructed movies like Sonatine (1993). Performing under his stage name Beat Takeshi, he plays Murakawa, a yakuza sent to Okinawa to mediate a dispute. However, after an attack, he realizes that something is fishy, so he hides out with his men at a beach house and waits for whatever comes next. The bulk of the movie is about this waiting period, as the men grow restless and play tense games with one another. Takeshi's style perfectly reflects this storytelling: he can be totally still and stoic for very long periods, and then, suddenly, explosive, intense violence. Quentin Tarantino was such a fan of this movie that he released it in the United States in 1998 under his Rolling Thunder label.
Big Trouble in Little China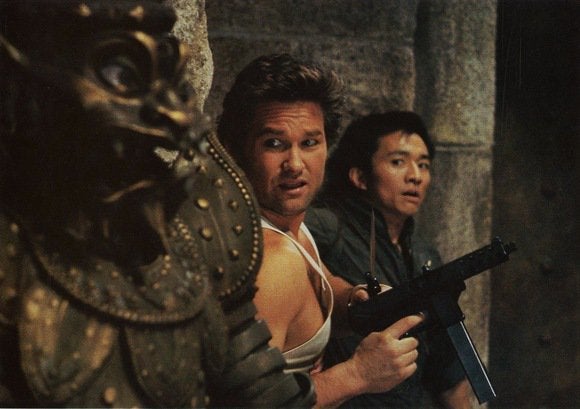 ★★★★☆
Finally, we have a kind of Asian-flavored movie set in the United States, in San Francisco's Chinatown (though it was largely shot in Los Angeles). In Big Trouble in Little China (1986), Kurt Russell stars as truck driver Jack Burton, with a John Wayne-like drawl, who helps his friend Wang Chi (Dennis Dun), rescue his green-eyed fiancée Miao Yin (Suzee Pai) from the underworld of Chinatown. The heroes eventually face all kinds of mysterious, ancient sorcery, though director John Carpenter, working from a screenplay by D.W. Richter, keeps the tone light, comical, and action-packed. And yes, we get some martial arts, though nothing nearly as skillful as the vintage Hong Kong stuff. Kim Cattrall and James Hong co-star. The movie was a financial failure, but became a cult item on home video.
Other streaming Asian action films we recommend