The current movie distribution cycle, which heralds the theatrical movie-watching experience above all else, is long overdue for a change. Services like Netflix and Amazon Instant Video don't get the top movies until well after they're released in theaters and on DVD. But perhaps Popcorn Time, the streaming service which was released, killed, then re-released earlier this month, could provide the engine needed to change this process for the better, with a little help from other players.
Popcorn Time skips the line
Today, nearly all movie releases follow the same basic format. First, the theatrical release, where a full-price ticket costs around $10 per person ($15 for IMAX/3D). Movies stay in theaters for a few months before being released for purchase on DVD, Blu-ray and digital download. Several weeks to months later, they'll finally find their way to streaming services like Netflix and Amazon Instant Video.
Some movies do break from this format. Made-for-TV movies skip the theatrical release cycle altogether, and a handful, like the cult-horror V/H/S, are actually released first on iTunes, Google Play, and Amazon, before hitting theaters. But by and large, the industry does theater first, then disc/digital purchase, then streaming, all under the guise of promoting the bricks-and-mortar theater experience.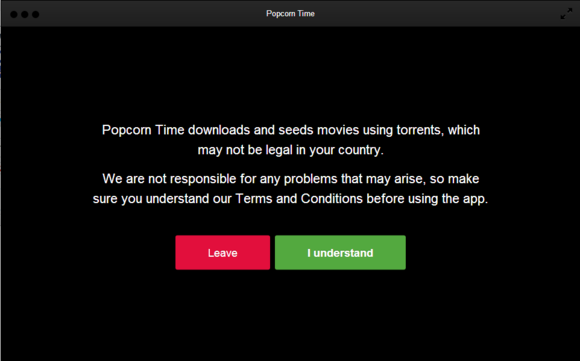 Popcorn Time nullifies the time between a film's DVD release and when it becomes available for streaming. For example, Hunger Games: Catching Fire was just released for purchase on March 7. It's available on the DVD side of Netflix, but still unavailable for streaming, and there's no official word when it will be. But it's available to stream on Popcorn Time.
That's because Popcorn Time provides streaming access to movies that are available on torrents, which pretty much means all the movies. It just does all the torrenty stuff on the backend so you don't have to worry about finding a safe file to download and play. It's also pretty illegal, a fact Popcorn Time warns you about on first launch. But, at the end of the day, if you accept the risk and ignore any moral qualms, Popcorn Time can stream movies much sooner than Netflix or Amazon Instant Video.
Closing the gap
Popcorn Time and torrents themselves are challenging the status quo in the movie release cycle. Ideally, we'd see movies simultaneously released in theaters, physical, and streaming media so users can choose whatever experience works best for them. This would be a huge step for the movie industry, but it's not realistic at this time—movie studios still want the theatrical experience to be first and foremost.
Where we may start to see movement is bridging or eliminating the gap between the physical and streaming availability of new movies. Popcorn Time may very well pave the way for a legitimate streaming service to convince movie companies to make it happen, like the way iTunes built on the work Napster had done in the music industry. In music, albums are released for digital purchase and streaming at the same time, so users can choose to consume music however they want.
Of course, any company looking to get earlier access to movies will likely have to pay for the privilege, which could impact the monthly subscription fees for these services. But still, many people might not mind paying, say, $10 or $12 per month, instead of $8, to get quicker access to the latest and greatest movies, especially if it was offered as an optional tier to the service instead of a replacement.
Of all the services that could go this route, Netflix seems like the most likely candidate because it doesn't really make money on digital media sales, the way Amazon, iTunes, Google Play, and the others do. Netflix has its physical DVD subscription rental product, but it doesn't actually sell movies that users own forever, so it doesn't have to worry about losing that revenue. And Netflix might prefer to pay money to movie studios for an added service, than to, say, pay Comcast to stop throttling data speeds for Netflix subscribers.