It's that time of year again: Spring is coming, love is in the air, and Google has released yet another April Fools' Day prank that showcases faux technology we wish were real. This year it's a Pokemon augmented reality game tied into Google Maps.
For years, Pokemon fans have clamored, "Nintendo, give us a Pokemon MMO! Give us a game where we catch Pokemon just by walking around! Give us anything Pokemon-related so we can throw money at it!" And yet Nintendo has stayed the course, releasing polished-but-familiar updates to the franchise every few years.
So leave it to Google, which already has a hit augmented reality game Ingress. In a characteristically stylish video, Google shows off how incredible it would be to wander around the world, hold your phone out, and see Pokemon appear. Go on your family's boring fishing trip and catch Gyrados! Allow Pikachu to short out your laptop! Go on safari and ignore lions in favor of more Pokemon!
And then you remember that it's time for April Fools' pranks. Your heart is crushed, and you exit the window disappointed that no such Pokemon game actually exists… or is even planned to exist.
But don't worry, valiant Pokemon fan: Google hasn't left you entirely empty-handed. If you boot up Google Maps on either iOS or Android today, Google has hidden 150 Pokemon around the world for you to capture. You even get a primitive Pokedex to catalogue your expanding roster.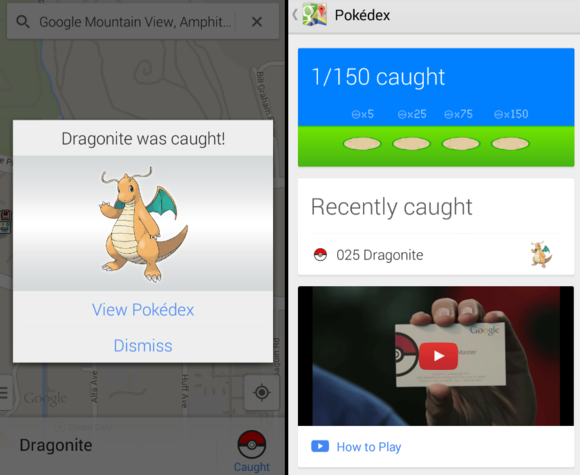 OK, so it's not quite as impressive as a full augmented-reality game—and with Nintendo's reticence to take advantage of mobile platforms, we may never see something that extensive come to pass. But it's still a fun little Easter Egg to mess around with.
I don't know how long this will last, so if you want to be a true Pokemon Master, you'd better get out there and start hunting. I recommend starting in the Pokemon-filled fields around Google's Mountain View complex.