Google's Chromecast may be adding to its array of powers, if talk on an online discussion forum pans out.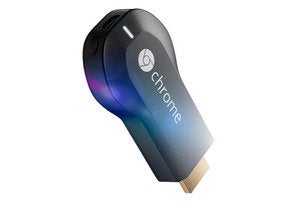 As spotted by TalkAndroid, it all started with a fairly straightforward request on the SlingPlayer for Connected Devices Enhancement Requests forum: Why not bring SlingPlayer support to the Google Chromecast? After checking with Slingbox's engineering team, one of the forum's moderators responded, reporting that Slingbox is already working on Chromecast support, though there were no additional details on when we might see it happen.
So I contacted Slingbox for comment. The company told me that while nothing is official at this time, Slingbox "clearly [is] interested in expanding platform support [and] bringing the home TV experience via Slingbox to more devices." As the Chromecast is one of the best-selling streaming sticks on the market, constantly topping Amazon's charts in that category, it's only a matter of time until Chromecast support is ready to go.
Of all the features slated for Google's $35 streaming stick, Slingbox could well be one of the most noteworthy; its support for the device would certainly make the Chromecast an even more attractive buy. For the uninitiated, a Slingbox is a set-top device you can hook into your cable or satellite TV receiver; it then streams your TV service to a smartphone, tablet, or computer with the SlingPlayer application.
Should Slingbox add Chromecast support, any TV with an HDMI port becomes an avenue you can use to access your TV content. You could essentially bring your cable or satellite service with you wherever you go. It's an ideal setup for frequent travelers who hate trying to figure out new channels wherever they stay, or college students who want to save money by using their parent's TV service while they're away at school.
Until now, the Chromecast was a cool way to push media and streaming services from your Android, iPhone, or computer running Google Chrome to your TV. With Slingbox, Chromecast will also be a great way to access your paid TV content from anywhere, making the small $35 streaming stick an even more compelling buy. The Slingbox 350 sells for $180, and the 500 sells for $300, so there is a hefty upfront cost, but one that's well worth it if you consume a lot of TV content.