A decade after entering the field, Sonos leads the multi-room audio market, thanks in large measure to software controllers that make its hardware exceedingly easy for consumers to install and operate. Now the company is preparing to ship its first from-the-ground-up redesign of those controllers. Most Sonos users will be happy with the changes.
I spent some time with a beta release of the Android and iOS versions last week. If you use an Android device to control your system, you can join the public beta program now by signing into your existing user account and following the instructions. iOS users will have to wait until later this spring, and Sonos won't update its desktop controller software for the Mac and PC until later this year. The new software will eventually be made available for Sono's legacy hardware controllers as well.
Search party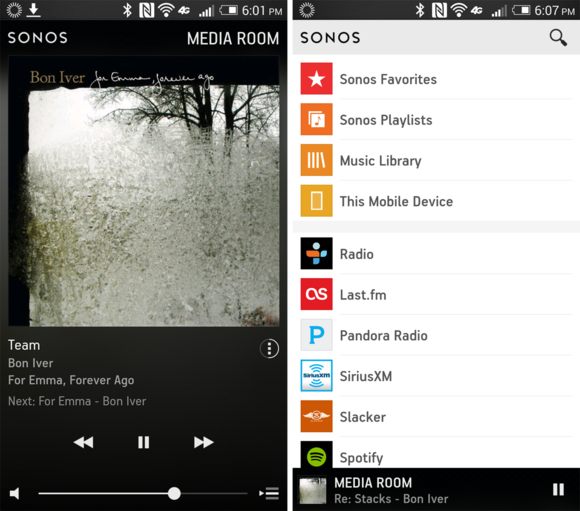 The single biggest change is to the app's search function. With the current controller software, searching for a track, artist, or album examines only your own library. If you want to query a music service you subscribe to—Pandora, Slacker, Spotify, and so on—you must switch to each of those services individually. With the new unified search, you get consolidated results from your own library and all the services you use.
Other changes revolve around the graphical user interface, but you needn't worry about relearning how to control your system. The basic play, pause, skip functions haven't changed much; other elements are now easier to find and use. The new versions also make much better use of the available screen real estate.
I installed the beta software on an HTC One smartphone running Android 4.4.2 (KitKat), as well as an iPod touch and an iPad 2 (both running iOS 7.1). On the iPad, the biggest change involves the Sonos menu (formerly labeled the Music menu) and the Player window (formerly labeled Playing Now); they're now displayed side by side, so that you no longer need to switch between the two. With the Android version running on the smaller screen of a smartphone (as shown above), you can slide the now-playing screen down to reveal the Sonos menu. (A small transport-control bar appears at the bottom of that screen.)
Clearing a few things up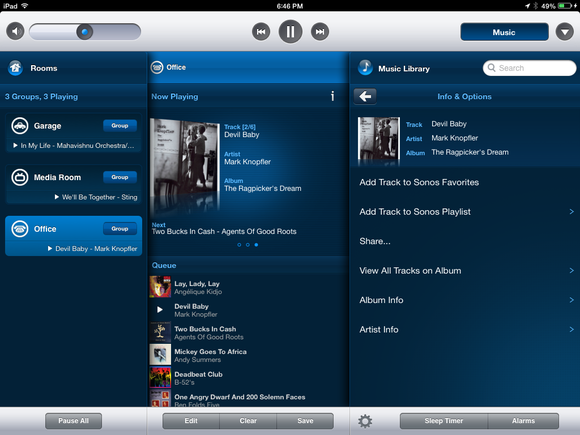 Several important functions that were essentially hidden in the old app are now much easier to find—once you know where to look, that is. On the current apps, tapping the name of the next track in your queue reveals an overlay that displays the minutes the current track has played and how many minutes remain. Buttons for repeating the current track, toggling shuffle mode, and toggling crossfade mode are also located in this overlay. I'm sure many Sonos users never discovered these functions, because it's entirely unintuitive to expose them by tapping a song you're not even listening to.
In the new versions, buttons for displaying your current song queue as well as toggling the shuffle and repeat-track modes show up beneath the volume control. An animated circle with three dots in its center delivers a graphical display of how much of the current track has played and how much remains.
Tap the circle, and the menu changes to a list of actions you can perform with the current track: Play Now, Play Next, Add to Queue, Replace Queue, Add Track to Sonos Favorites, Add Track to Sonos Playlist, View All Tracks on Album, Browse the Artist, and Share This Track.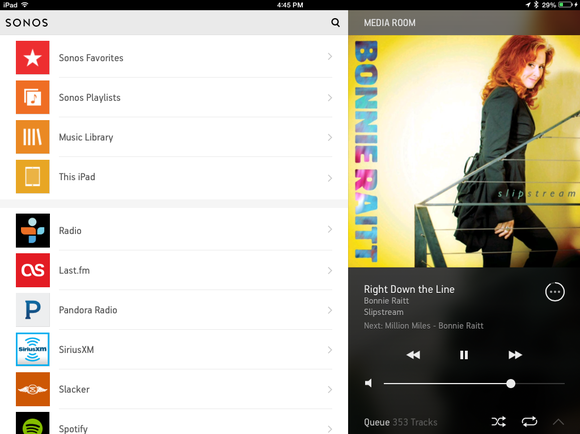 That last function doesn't allow you to actually share the file containing the music; rather, you can compose a message about the track and send it via instant message or email on the iOS version. With the Android version, you can generate a message on Facebook, Twitter, and many other services. You'll also find buttons for crossfade toggling and activating the sleep timer here. (It's not exactly an intuitive location for those functions, but linking them to a button anywhere is better than than linking them to a song title.)
If you want to add an entire album to your favorites list or to a Sonos playlist, you'll need to tap View All Tracks on Album, and then tap an icon to the right of the album title. This will call up an overlay window with those menu choices. (There is no option for sharing an entire album.) Here again, that's not as intuitive as the rest of the app, but I suspect fewer people treat entire albums the way they do individual songs.
Another element of the current Sonos app that consistently bugs me is that tapping the name of the room for a given Sonos player doesn't display a list of Sonos players in my other rooms, which would let me group them or otherwise control what they're playing. In fact, tapping those labels doesn't do anything at all.
In the new versions, tapping a room name brings up a list of all my Sonos players, with animated icons next to each one to indicate that they're currently playing something. These boxes also display the artist and track name along with a thumbnail of the album cover. (The whimsical icons that representing the rooms in the original apps have disappeared.)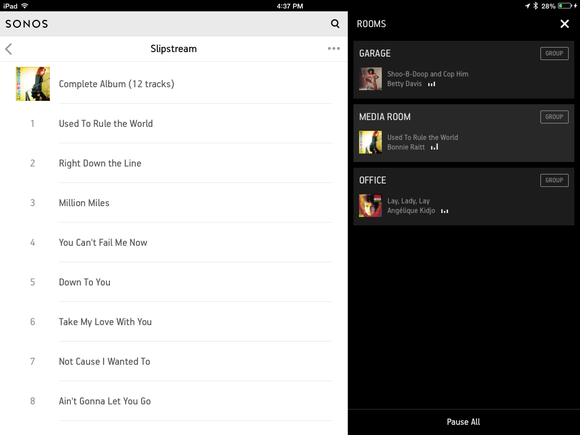 Final thoughts
The new controller software looks nice and it does a much better job of exposing features. Aside from the new search functionality, though, I didn't find a lot of new features in either the Android or iOS versions. Don't expect to find improved AirPlay support, for instance—that would require hardware changes to be genuinely effective. Sonos says the new software will be available this spring, and I found both versions to be quite stable during the eight-plus hours I used them.
If you're an Android user, the new software is definitely worth a look. (And you can switch back to the old version if you don't like it.) Here's hoping the wait for the iOS version won't be long.