A new Chromecast app from Google can turn televisions into an interactive photo galleries for parties and special events.
Photowall creates a collage of photos on the big screen; anyone can add their own images via their phones and tablets. Users must visit g.co/photowall from their browser and enter the access code shown on the TV set. They can then pick a photo or take a new one, doodling or writing a caption on the photo before uploading.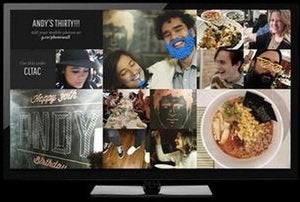 Photowall currently requires an iPhone or an iPad to set up, but anyone can contribute to the gallery once the app is running. To set up the app, you must sign in with a Google account. The app also provides an option to download a video of all uploaded photos after the event is over.
Although no Android app is available for setting up Photowall, that'll likely change soon. A non-working Google Play Store link appears when you access the Photowall Website from an Android device.
It's an interesting use for Chromecast, though it is a bit rudimentary. Users can remove their own uploaded photos, and the Photowall creator can remove other peoples' photos, but there's no way to block certain users or otherwise manage who has access. That could be a problem for larger gatherings if not everyone can be trusted to upload appropriate images. The Web-based interface is also a bit laggy, and can run into glitches if you try to move through the upload process too quickly.
Overall, though, Photowall is a handy tool for Chromecast users to have in their arsenal. It's an example of how Google's Web-based TV dongle can do more than beam content from a single device.