It seems like there's a new anniversary of some pop culture event just about every week, but it's hard to beat this one: one hundred years ago, a young actor called Charlie Chaplin made his movie debut. His first comedy short was called Making a Living, but he did not develop his famous "Little Tramp" persona until his second film, the remarkable Kid Auto Races at Venice. He was an immediate success and rose quickly through the ranks, making his directorial debut later the same year. His films grew more sophisticated in a short time, such as the brilliant one-man One A.M. (1916) and the socially conscious The Immigrant (1917). In 1921 he directed his first feature film, and the rest is history.
Working until 1967 not only as actor and director, but also as writer and composer, Chaplin's simple, precise images resulted in a kind of direct poetry unequalled in the years since. His work appealed to the most high-minded of scholars, who spent pages analyzing his genius, and the simplest of filmgoers, who only knew a good laugh when they saw one. He was an inspiration to many international filmmakers such as Bresson, Bunuel, Fellini, Tarkovsky, and Welles. He made more great films, and fewer bad ones, than arguably any other filmmaker in history. And you can stream a huge selection of his work on Hulu Plus.
The Kid (1921)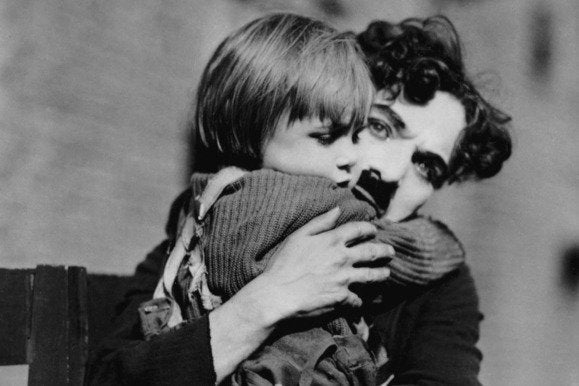 ★★★★★
The Kid (1921) was a huge breakthrough for Chaplin, not only in its scope—six reels rather than the standard two or three—but also for its delicate melding of laughs and tears. Chaplin's tramp discovers "the kid" as a baby and winds up raising him to boyhood. Together they work a scheme in which the kid breaks neighborhood windows, and then the Tramp conveniently happens by selling panes of glass. Unfortunately, the authorities arrive and try to take the boy away, resulting in one of the most heartbreaking scenes ever filmed. The movie also includes an amazing, bizarre dream sequence unlike anything else Chaplin ever made. As the kid, child actor Jackie Coogan also became a star, working with Lon Chaney the following year on Oliver Twist, and eventually playing Uncle Fester on The Addams Family TV series.
A Woman of Paris (1923)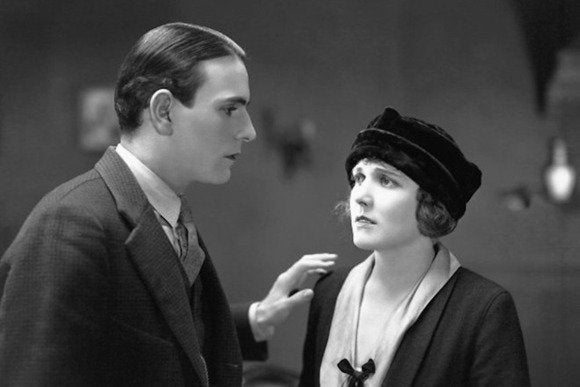 ★★★★★
At the height of his fame, Chaplin chose to make a totally dramatic film, and to not star in it. It was a controversial choice, and A Woman of Paris (1923) did not perform well with fans, though it did receive strong reviews. Chaplin wrote it for his longtime leading lady, Edna Purviance. She plays Marie St. Clair, who falls in love with a young artist (Carl Miller), but through a series of unfortunate circumstances, she winds up living in Paris, the mistress of the wealthy Pierre Revel (Adolphe Menjou). Eventually she must decide between riches and comfort but no family, or true love and poverty. The movie is surprisingly subtle, with strong performances and a gentle flow. Of course, Chaplin does appear, in a cameo, as a porter in a train station.
The Gold Rush (1925)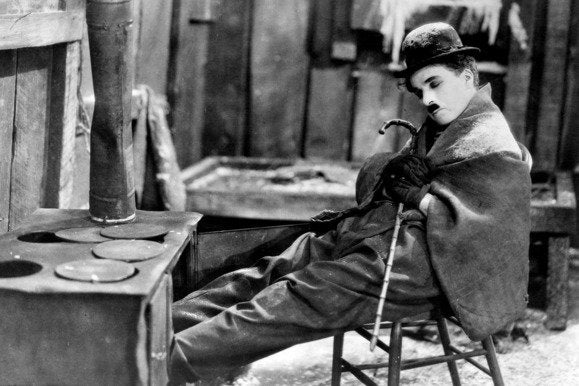 ★★★★★
With a handful of complex visual gags, The Gold Rush (1925) was a monumental success, a genuine phenomenon, and is still ranked as one of the greatest films ever made. Chaplin's Tramp is a prospector in the Yukon who waits out a storm in a cabin with Big Jim McKay (Mack Swain). Big Jim has discovered a large gold deposit, but loses his memory. Meanwhile, the Tramp falls for a dance hall girl, Georgia (Georgia Hale), and believes that she returns his affections. In one heartbreaking scene, he throws a New Year's party for her and waits for her to show up. The film is mainly remembered for Chaplin turning into a chicken, and the cabin sliding dangerously close to the edge of a cliff, as well as for smaller moments, such as the eating of the shoe, and the "dance of the dinner rolls." In 1942, Chaplin re-edited the film, and added his own spoken narration in place of the intertitles, as well as a brand-new score. This was his preferred version, but Hulu has both versions available. (Click here for the original 1925 version.)
The Circus (1928)
★★★★★
For some reason, The Circus (1928) is not considered one of Chaplin's major films, though it was a hit, and it's one of his flat-out funniest pure comedies. Perhaps this is because it runs only 69 minutes, or because the subject matter feels relatively slight. In a typically heartbreaking love triangle, Chaplin's Tramp falls in love with the ringmaster's stepdaughter, but she falls in love with a handsome tightrope walker. In any case, among its great moments is Chaplin's high-wire act, interrupted by a band of escaped monkeys. But the key to the movie is his comic transformation: when Charlie first appears in the circus, he makes the audience laugh without even trying. Then he must try to make them laugh, and then, finally, he is too heartbroken to succeed at all.
City Lights (1931)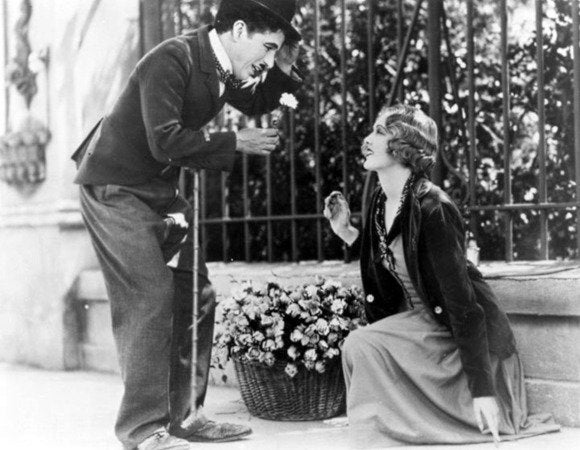 ★★★★★
As per the most recent Sight & Sound poll, City Lights (1931) is considered the greatest of Chaplin's films. It's a highly sophisticated blend of comedy and drama, with some incredible sets and intricately designed sequences. In the story, the Tramp saves a drunken, suicidal millionaire (Harry Myers) and becomes his pal. Unfortunately, when the millionaire sobers up, he doesn't remember Charlie (his memory returns with the application of more alcohol). Meanwhile, Charlie falls for a blind flower girl (Virginia Cherrill), and manages to use the millionaire's influence to make her believe that he's wealthy. The movie is remembered for its hilarious boxing sequence, but more so for its incredibly poetic ending, wherein the flower girl, her sight restored, lays eyes on Charlie for the first time and realizes who he is. The production of City Lights was long and expensive, and even though sound film had been fully implemented at the time, Chaplin made the conscious decision to release his movie silent, albeit with a score and some sound effects.
Modern Times (1936)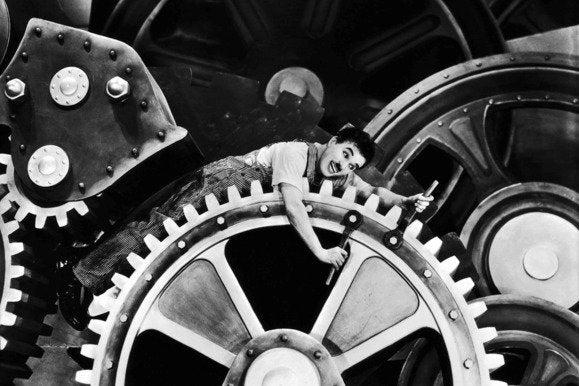 ★★★★★
Another masterpiece, Modern Times (1936) showed Chaplin hilariously poking fun at progress, starting the film with a shot of a crowd of rushing people fading into an image of sheep. Working in a sterile factory, Chaplin becomes a guinea pig for a "feeding machine." Losing that job, he falls for a beautiful gamine (Paulette Goddard) and attempts to build a new life with her. He gets a job as a night watchman in a department store, which doesn't last. He also gets caught in the gears of his old factory, and later sings a nonsensical song at a café, which proves to be a hit; these are the only spoken words in the film. It's fairly clear that Chaplin was commenting on how progress—including talking pictures—wasn't necessarily a good thing, and that simple things could be great too. It's his most hopeful picture, with the Tramp walking off into the sunset, for once, with the girl.
The Great Dictator (1940)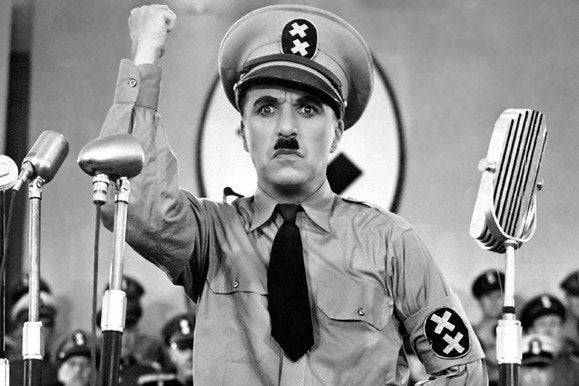 ★★★★★
A decade after the dawn of sound, Chaplin made his first full talkie, The Great Dictator (1940). It's an incredibly brave and ahead-of-its-time political act, but still very funny. Chaplin plays a character not unlike the Tramp, a Jewish barber who comically cuts hair in time to Brahms, like a sublime dancer. Astoundingly, he also plays Adenoid Hynkel, a thinly disguised version of a real-life dictator, who wishes to persecute all Jewish citizens in his (fictional) country of Tomainia. (Chaplin and Hitler were born just a week apart.) Of course, at one point, the barber is mistaken for Hynkel and gives a powerful speech. A highlight of the film, though, is the dialogue-free sequence in which Hynkel performs a kind of ballet with a huge inflatable globe. Jack Oakie steals his scenes, and earned a Best Supporting Actor Oscar nomination, as the Musolini-like Benzino Napaloni. Paulette Goddard returns as Hannah, the barber's helpful neighbor. Chaplin himself received his one and only Best Actor Oscar nomination, but lost.
Monsieur Verdoux (1947)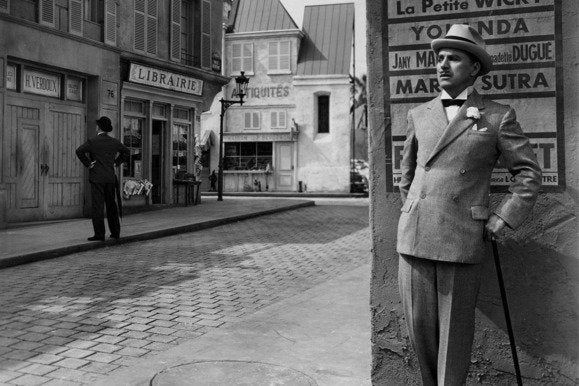 ★★★★★
With Monsieur Verdoux (1947), Chaplin said goodbye to the Tramp forever, and ushered in his first bit of controversy. He plays Henri Verdoux, a longtime banker who is suddenly laid off and takes to marrying and murdering wealthy women to support his wife and child. With effortless grace and style, he travels all over—the frequent, frantic spinning train wheels become a motif—working his schemes and covering his tracks. He's always playing a part, even, sadly, on those rare occasions that he returns home to see his real family. When he's finally caught, he compares his dilemma to that of soldiers at war. It's a superb, slyly complex achievement, which many at the time found morally repugnant. Film critic James Agee devoted three weekly columns in The Nation to defending it, and Chaplin eventually received an Oscar nomination for Best Screenplay. Orson Welles gets credit for suggesting the story (and had originally wanted to direct). The wonderful Martha Raye steals her scenes as one of Chaplin's potential victims—an unusually lucky one.
Limelight (1952)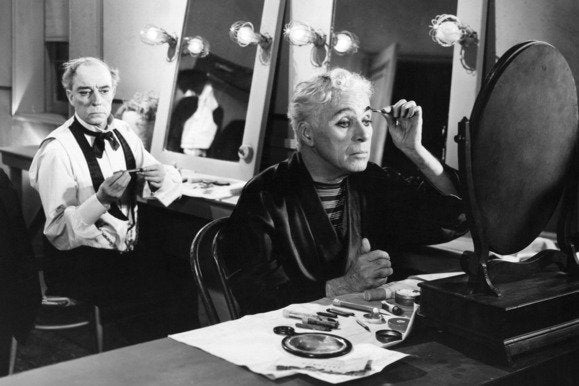 ★★★★★
Chaplin's touching quasi-autobiographical Limelight (1952) was released amid more controversy; it was around this time that Chaplin was barred from re-entering the U.S. due to claims that he was a Communist sympathizer. Years later, however, it can be seen as the painfully wonderful film it is. Chaplin plays Calvero, an aging, drunken clown who saves a suicidal young dancer (Claire Bloom) and nurses her back to health. As she resumes her career, he also tries for a comeback, which does not go as well as hoped. The great silent comedian Buster Keaton co-stars with Chaplin in a highly memorable sequence, both funny and bittersweet. Many of Chaplin's children, including Sydney and Geraldine, also appear. When the film was officially re-released in the United States in 1972, Chaplin won an Oscar for Best Score.
A King in New York (1957)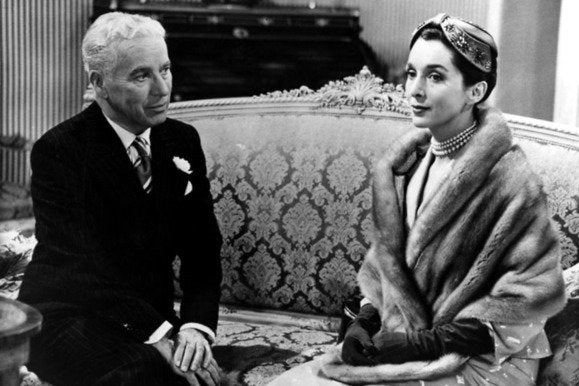 ★★★★☆
Today, A King in New York (1957) is Chaplin's most troublesome and dividing movie. It was clearly meant as a biting satire against the policies of the United States that had resulted in his ejection, and many still see the movie as flatly anti-American. However, as with anything Chaplin did, it's not that simple. The movie cleverly pokes fun at advertising, television, and the House Un-American Activities Committee (he sprays the committee down with a fire hose), and though these things do not generate big laughs, they tend to evoke something else: perhaps a sense of freedom. The film is not bitter, and despite some awkwardness, remains daringly alive. Chaplin made only one more film, the universally despised (but actually not bad) A Countess from Hong Kong (1967).
Additionally, many of the earlier shorts are available to stream for free at Archive.org. And Hulu has a selection of Chaplin's First National shorts, the last, most expensive, and most elaborate shorts of his career: A Dog's Life (1918), Shoulder Arms (1918), Sunnyside (1919), A Day's Pleasure (1919), The Idle Class (1921), Pay Day (1922), and The Pilgrim (1923).