iMD said late Tuesday that it has added a network interface to an environmental controller designed for hydroponic marijuana farms, and is readying an app specifically designed to monitor large-scale pot farms.
iMD and R-Quest Hydroponics said that its EMC-5000 controller already controls 8,000 watts' worth of lights, plus cooling fans, nutrient pumps, CO2 monitoring, and system shutdown functions if the temperature gets too high. The controller is already Web-accessible, and a smartphone app is in the works.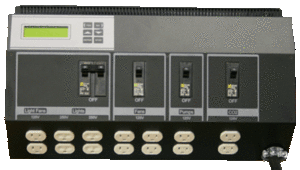 "This is a huge advancement to our flagship product, the EMC-5000," said Jim Filkins, the company's vice president of sales, in a statement. "The network interface allows for peace of mind, which is priceless in this industry. Further, it opens the door for many other important capabilities, such as security, including cameras and alarms. Can you imagine being able to log on and actually view your room, no matter where you might be, at any given time of the day? This is a significant breakthrough for our company and my hat goes off to our engineering team."
The app will run on both Android phones and Apple iPhones, the company said. When reached for comment, a company representative was disconnected. Subsequent calls were directed to voice mail.
Larry Robinson, the company's president, said that his company was currently working on a network function that will allow multiple EMC-5000s to be accessed simultaneously and changes to be made in unison. "This will allow a large facility, with multiple controllers, to be controlled from one monitor," he said in a statement.
The EMC-5000 costs $2,495.
Marijuana sales in the United States are still illegal by federal law, and subject to the Controlled Substances Act. However, twenty states and the District of Columbia have passed medical marijuana laws legalizing the use and production of medical marijuana for qualifying patients under state law.