With the iTunes Music Store, Apple proved that you could compete with piracy by offering a better product, but what happens when the pirates up their game? That's what online video providers may soon be asking thanks to Popcorn Time, a new app for streaming movies from torrent files.
The idea of streaming movies from torrent files is nothing new. Some torrent apps—such as Vuze—already offer the feature for premium users. But unlike Vuze, Popcorn Time is free and aims to make it as simple as possible to start watching movies from torrents.
Think of it as Netflix for torrents—just without any legal standing.
Popcorn Time's desktop app is available for Windows (7 and up), Mac, and Linux and is seriously dead simple to use. All an interested viewer has to do is download and install the app, choose a movie, and click "Watch It Now." If available, the app will even let you choose between 720p and 1080p resolutions and offers subtitles in a variety of languages (once again, if available).
Popcorn Time is a much simpler option than traditional torrent clients that inevitably require at least a little bit of tweaking to be effective. With Popcorn Time there are no settings to change, no need to figure out what port forwarding is, and no troubleshooting NAT problems. You just click go and you're watching a movie in no time—assuming your ISP doesn't block torrents, that is. The movie selection comes from YIFY, a popular torrent provider prominent on third-party torrent sites like Kickass Torrents.
Since it relies on popular torrents instead of streaming deals with major movie studios, Popcorn Time inevitably has a catalog that services like Amazon or Netflix could only dream of. At this writing, the movies topping Popcorn Time at this writing included Oscar favorites such as 12 Years A Slave, Dallas Buyers Club, Frozen, and Gravity.
Seeds of ignorance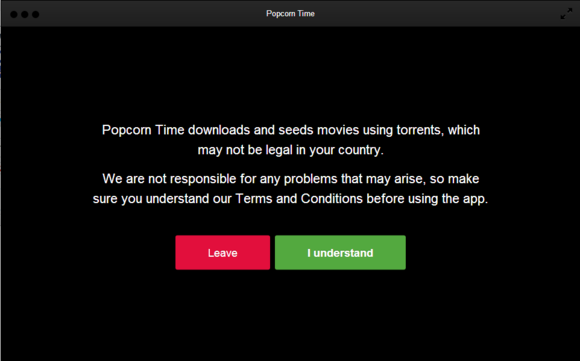 One problem with Popcorn Time's simplicity is that users may not realize they are participating in online file sharing while streaming the movie. While the user watches their movie, Popcorn Time uploads bits of the file to share with other torrent users. Seeding is the magic behind torrents and is why they are such an effective means of distributing content.
The other problem with Popcorn Time is that since it freely distributes copyrighted content, it's entirely illegal—at least in the United States. When you first fire up Popcorn Time, you are reminded of its questionable status with a warning that advises you that downloading and seeding torrents in your country may not be legal. The app then gives you the choice to continue using it or walk away.
As Popcorn Time continues it will inevitably have to deal with Hollywood and potential shutdowns. Popcorn Time has a public website and exists as an open source project on GitHub, albeit without a public members list. It's only a matter of time until the lawyers start trying to shut the service down.
Whether the lawyers will be successful is another matter. Popcorn Time has about 20 developers working on it from all over the world, according to a Torrent Freak interview with Popcorn Time creator "Sebastian."
Sebastian, who says he hails from Argentina, figures he'll be safe from the long arm of Hollywood. "We don't host anything…There are no ads…or anything like that. It's an experiment to learn and share," he told Torrent Freak.
Popcorn Time may be not have any revenue, but it's unlikely the same industry that sues individual file sharers is going to tolerate this experiment for too long, great idea or no.