One of the joys of being a movie buff is experiencing the honor of "discovering" an overlooked movie or a hidden gem. Of course, you're not really discovering anything—the filmmakers knew about it before anyone else—but if you're the one that gets to introduce this treasure to a new fan, it's a great feeling. Here's a selection of new releases on Netflix that you may or may not have seen or may have never even heard of. But all of them are worth checking out, and some of them may become someone's new favorites someday.
Blue Is the Warmest Color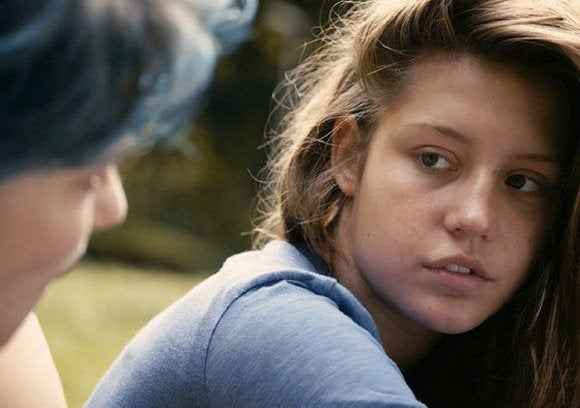 ★★★★☆
Abdel Kechiche's Blue Is the Warmest Color (2013)—otherwise known as the three-hour, French, lesbian sex movie—was one of the most highly acclaimed movies of last year, and surely would have snagged an Oscar for Best Foreign Language film if the Academy's silly rules hadn't disqualified it. Adèle Exarchopoulos stars as a young, toothy beauty who doesn't quite know what she wants in the world. On her way to a date with a boy, she spots a tough-looking blue-haired girl (Léa Seydoux), and it's destiny. With supreme patience, and attention to sensual details like sex and food, music, and noises, the movie charts their relationship and its rises and falls. That ever-elusive "happily-ever-after" is not a factor, only life.
Below
★★★☆☆
Screenwriter Darren Aronofsky and director David Twohy came together for this chilling little haunted submarine movie that, if you'll pardon the pun, slipped under the radar. Set during WWII, Below (2002) tells the story of an American sub that rescues three survivors from a sinking British hospital ship. The captain of the sub has mysteriously disappeared, the men have grown spooked and restless, and strange things begin happening, such as a Benny Goodman record that suddenly plays when the acting captain orders silent running. This is one of those rare horror movies that relies on mood and character rather than intensity and jump-shocks, and it's an underrated gem.
Das Boot: Director's Cut
★★★★☆
This German movie is well known in some circles but deserves a second look, or—if you don't know it—a first look. Das Boot (1981) tells the story of a German sub during WWII, whose crew is not particularly aligned with the ideals of Hitler. They endure harsh weather, various attacks, and sheer boredom within the sub's cramped, claustrophobic, and sometimes disgusting corridors; it's both intense and intelligent. Jurgen Prochnow plays the captain, and Wolfgang Petersen directed; they both went onto successful Hollywood careers. The movie received six Oscar nominations, and is currently listed on the IMDB's top 250 films list. It was originally released in U.S. theaters in a 149-minute cut, but Netflix has the 209-minute director's cut.
Devil in a Blue Dress
★★★★☆
Devil in a Blue Dress (1995) should have been huge, but it somehow fell between the cracks. Denzel Washington stars as the unemployed Easy Rawlins, who decides to become a private eye in the Los Angeles of 1948. He's hired to find a missing white woman (Jennifer Beals), and enlists the aid of his loose cannon pal, "Mouse" (Don Cheadle). Of course, trouble comes from every direction. Atmospheric, suspenseful, intelligent, and with great performances, it was adapted from Walter Mosley's novel, and, if it had caught on, could have been the first in a long series of Easy Rawlins movies. The talented director Carl Franklin had previously made the critical hit One False Move. Elmer Bernstein provided the moody score, and Tak Fujimoto was the cinematographer.
Dirty Pretty Things
★★★☆☆
The recent Oscar nominee Chiwetel Ejiofor gives one of his best early performances in Dirty Pretty Things (2003). He plays Okwe, an immigrant in London who works two jobs, as a cab driver, and a hotel desk clerk, though back in his home of Nigeria, he was a surgeon. He shares a room with another immigrant, the pretty Senay (Audrey Tautou); she also works at the hotel, and they try to stay out of each other's way. While plunging a stuffed-up toilet, Okwe finds a human heart. He discovers that the hotel is fronting a black-market organ operation, in which hard-up immigrants subject themselves to backroom operations for cash. The tidy script relies on certain coincidences to get through the story, but director Stephen Frears brings life to the movie, reveling in a sense of place, desperation, and exhaustion.
El Mariachi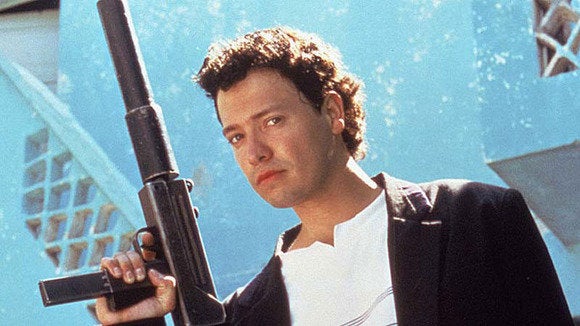 ★★★★☆
Today's young filmmakers may have forgotten about Robert Rodriguez's audacious attempt to break into the movie business, shooting this Spanish-language action movie on 16mm film for a mere $7000. Of course, the distributor provided "clean-up" and advertising, so the final budget was more, but the movie was already legendary. In El Mariachi (1993), Carlos Gallardo stars as the title character, a wandering, out-of-work musician dressed in black, who is mistaken for a killer. Rodriguez ramps up the film with such style and energy that the silly plot almost doesn't matter; it's told enthusiastically. Rodriguez had originally intended this movie to go to the Mexican home video market, but with its success, he finished his trilogy with Antonio Banderas taking over the lead.
How to Lose Friends and Alienate People
★★★☆☆
In How to Lose Friends and Alienate People (2008), Simon Pegg stars as an entertainment journalist who loves to poke holes in Hollywood and celebrity culture. His stories in a small-time rag land him a job at a giant New York publication, run by the relentless Clayton Harding (Jeff Bridges). There, he begins trying to sleep with rising starlet Sophie Maes (Megan Fox), while slowly, unexpectedly falling in love with his humble co-worker, Alison (Kirsten Dunst). (Alison's favorite movie is La Dolce Vita, which was clearly a huge influence here.) Based on British journalist Toby Young's memoir, the movie manages to be funny without being too sweet. The performances are terrific, and even the gorgeous Fox shows a penchant for comedy. Gillian Anderson and Danny Huston co-star.
The Long Goodbye
★★★★★
In the 1970s, legendary director Robert Altman was known for deconstructing movie genres, pulling them inside-out. His take on the detective movie, The Long Goodbye (1973), was a masterpiece, but not as well received as his hits M*A*S*H and Nashville. Elliot Gould stars as Raymond Chandler's fictional detective Philip Marlowe, now living in 1970s Los Angeles among hippies and film buffs. Marlowe receives a visit from an old pal who may have killed his wife and needs a ride. He is then hired by Eileen Wade (Nina Van Pallandt) to find her drunken, Hemingway-like husband Roger (Sterling Hayden). It's not long before Marlowe finds a connection between the two cases. Altman keeps the mood shambling and offbeat, and John Williams' score—which repeats the same song in different styles—helps. Arnold Schwarzenegger has a small role as a thug. Van Pallandt was the real-life lover of Clifford Irving, who famously wrote a fake biography of Howard Hughes.
Mysteries of Lisbon (HuluPlus)
★★★★☆
Mysteries of Lisbon (2011) was one of the final films by the late, prolific Chilean director Raúl Ruiz. It's an extraordinary 4-1/2 hour work, a soap opera of magnificent proportions. It follows many characters through many interconnected sections, fluidly dipping in and out of different compartments, though how things are connected may not be clear at first; the movie has the power to lose even the most astute and intelligent viewers. But it's also wonderfully frothy, and Ruiz's camera itself seems to be in tune with all the outsized passions, affairs, revenge, lifelong secrets, and confessions that occur at every moment. Léa Seydoux (of Blue Is the Warmest Color from above) is the movie's most recognizable star.
Valkyrie
★★★☆☆
Director Bryan Singer and Oscar-winning screenwriter Christopher McQuarrie re-teamed for the first time since their 1995 hit The Usual Suspects on Valkyrie (2008), a war movie that put a little bit of a thrill back into a tired genre. Tom Cruise plays a wounded German soldier who realizes that Hitler is insane and wants to stop him. He teams with a task force that has the ability to take power in the event of an assassination. Then, they try to make that assassination happen. Of course, anyone with a rudimentary knowledge of history knows the outcome of the story, but director Singer makes it suspenseful anyway, and Cruise's bravado go a long way in helping the movie's energy. The rest of the excellent cast includes Kenneth Branagh, Bill Nighy, Tom Wilkinson, Terence Stamp, Eddie Izzard and Tom Hollander.
What's New on Netflix
About Last Night… (1986)
American Dreamz (coming 3/16)
Arthur and the Invisibles
As Good as It Gets
The Bad News Bears
Bigger, Stronger, Faster
The Blair Witch Project
Bugsy
Capote
The Delinquents
Desperado
Dirty Dancing
Dogtown and Z-Boys
Donnie Brasco
Dr. Strangelove
Easy Rider
The Fisher King
Fright Night (1985)
Girl, Interrupted
The Hard Word
The Ice Storm
Inequality for All
It Could Happen to You
Look Who's Talking
The Mothman Prophecies
Night of the Comet (coming 3/15)
Night of the Living Dead (1968)
Panic Room
Rachel Getting Married
Robin Hood: Men in Tights
Roman Holiday
Seems Like Old Times
Serpico
The Silence of the Lambs
Silverado
Something's Gotta Give
Spider-Man (2002)
The Station Agent
Steel Magnolias
Stir Crazy (coming 3/15)
Streamers
Stuart Little
The Sweetest Thing
Taxi Driver
Thieves Like Us
True Grit (1969)
Vanilla Sky
Vincent & Theo
While You Were Sleeping
Wild Things
With a Friend Like Harry
The Wood
What's New on HuluPlus
Basket Case 2
The Girl Who Kicked the Hornets' Nest
The Girl Who Played with Fire
The Girl with the Dragon Tattoo
A Guide to Recognizing Your Saints
Mr. Death: The Rise and Fall of Fred A. Leuchter, Jr.
Starlet
Stevie