Severing your ties to cable can be liberating, particularly around the time of the month when that bill from your cable provider used to arrive. But cable cutters have to give up some luxuries in the name of freedom, like those onscreen programming guides that let you see at a glance what's airing on what channel. Without an onscreen guide, you're reduced to consulting printed TV listings or aimlessly channel surfing, just like they did in pioneer times.
Mohu wants to change that. And the company, which specializes in building HDTV antennas for picking up over-the-air TV channels, has the crowd-funded backing to fulfill its ambitions.
The company has come up with Mohu Channels, a tuner that plugs into your TV and generates a programming grid for all those channels your antenna is plucking out of the airwaves. But Mohu Channels also lets you add streaming apps like Netflix and Hulu into your programming grid as well as Web content like Facebook and YouTube. With Channels, you'll be able to switch between broadcast TV, streaming apps, and the Web without having to mess around with changing the input source on your TV.
"Internally, we talk about it as a cord cutter's dream machine," said Randy Drawas, Mohu's chief marketing officer, as he demoed Mohu Channels in the TechHive office this week.
Mohu's customers seem to agree. The company launched a Kickstarter campaign on Monday to help partially fund Mohu Channels and get feedback from users on the product's firmware. Within two days, Mohu Channels had already blown by its $35,000 goal. As of this writing, the Kickstarter project has more than 500 backers who've pledged a little more than $51,000. And there are still 40 days to go before the Kickstarter campaign ends.
The popularity of the Kickstarter campaign suggets that there's a pent-up demand among cable-ditching TV watchers for a smoother channel-surfing and show-streaming experience. And Mohu certainly has a big customer base to draw from—since it started producing omnidirectional HD antennas five years ago, the company has sold about 1.5 million antennas, according to Drawas.
"People want us to enhance the [over-the-air] experience," he added.
Mohu Channels connects to an antenna via coaxial cable; the device hooks into your TV via HDMI port. Other ports on Mohu Channels include ones for Ethernet and USB, as well as a power cable. At 4.8 by 2.6 inches, the Channels tuner tucks in nicely behind a TV set if you'd prefer that wiring remain well out of view.
Setting up the programming guide is a simple matter of running a quick scan; Mohu Channels features a full database of available channels by zip code. For apps, the device accesses the Google Play store, allowing you to download streaming apps just like you would on any Android-powered device. You can also enter Web addresses using the Mohu Channels remote—basically a QWERTY keyboard with volume and channel controls—and bookmark the Web page to create a channel that will appear in your programming grid alongside those Android apps and over-the-air channels. (A column in the programming guide indicates whether something is a channel, app, or website.)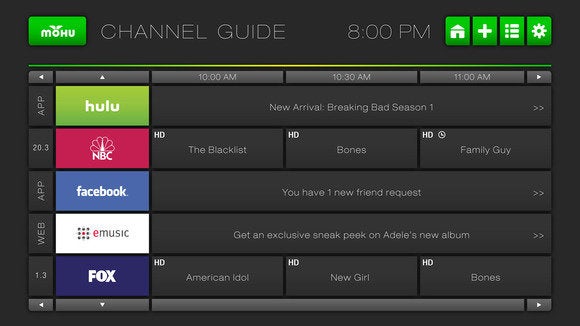 You have some control over the look of your grid. You can discard the channels you don't want—goodbye, channel that airs nothing but standard-definition informercials!—and move the ones you access more frequently to the top of the guide. "The whole concept is a single-source unified guide," Drawas said. "You design it how you want."
During my demo time with Mohu Channels, I spotted plenty of features that should appeal to the cord-cutting crowd. Start with that remote—the QWERTY keyboard makes it much easier to type in Web addresses and search terms than using a standard remote to tap in things with on-screen keys, and at 2.5-by-5.5 inches, it's easy to hold for two-thumb typing. (The keyboard runs on four AAA batteries.) Mohu Channels can also display signal strength for over-the-air channels, indicating if you need to move your antenna for better reception. And you can set up on-screen reminders to let you know when your favorite show is about to come on the air.
That said, there are still some areas to work out. Mohu hasn't quite figured out how many hours or days of programming information to include in its guide or how frequently it wants to scan the airwaves for programming information. During my demo, some channels would require you to flip over to that specific channel before programming data would be added to the on-screen schedule. That's a process Mohu should smooth out before the final version ships.
Hence, the Kickstarter campaign, which is generating something just about as valuable as funding as far as Mohu is concerned—as much user feedback about Mohu Channels as possible, according to Mohu's Drawas. "The feedback we've gotten so far has been beyond our wildest dreams," he added.
Retail pricing for Mohu Channels hasn't been set, though Mohu is offering pricing levels to the project's backers on Kickstarter. Early-bird pricing for both the Mohu Channels device and the keyboard remote was set at $79; when early-bird orders are filled, that same package costs $89. If you don't already own an HDTV antenna, Mohu would be happy to throw in one along with the Mohu Channels device and remote for an early-bird price of $99; the same package is available for $119 once the early-bird orders are all claimed. Mohu is also offering Kickstarter backers a package that includes the Mohu Leaf indoor antenna and an amplifier to boost signal strength (early bird pricing, $129; $149 for orders after that).
Mohu has finished the hardware work on its Channels offering; all that's left to do now is fine-tune the firmware before the product hits the market. Drawas says that Mohu is on track to ship the final product in June.