The Beatles may have last released a studio album 44 years ago, but the band can claim something beyond the grasp of modern-day singers still cranking out records—an Apple TV channel of its very own.
The Beatles channel sprung up on Apple TV Monday, wedged between the Watch ABC and NBA icons on my home screen. (The Beatles channel may be in a different spot for you if you're the sort to customize your Apple TV home screen.) The channel commemorates the 50th anniversary of the band's landmark appearance on The Ed Sullivan Show and lets you stream a 14-minute performance from the show that includes "All My Loving," "She Loves You," and "I Want to Hold Your Hand." That performance will be available for a limited time. If that doesn't fill your Fab Four fix, you can also buy The Beatles' US albums from within the Apple TV channel, including Rubber Soul, A Hard Day's Night, and Beatles '65. (And here the strategy behind the Beatles channel on Apple TV is laid bare: it's essentially a marketing tool for the recently released 13-disc box set The U.S. Albums.)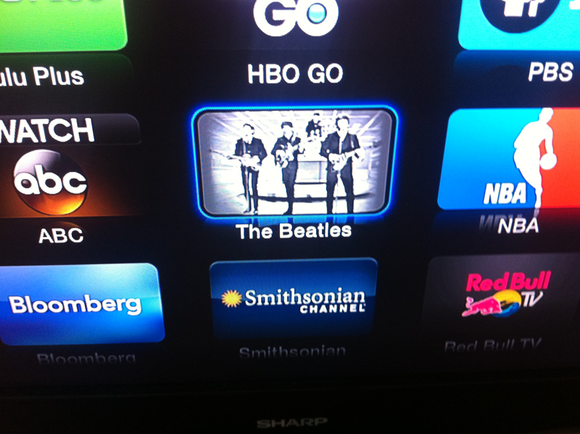 You could be forgiven if you chalk this up to another instance of Apple's ongoing Beatlemania—after all, we are talking about the company that heralded the arrival of Beatles song on the iTunes Store as a day "you'll never forget." But there's something more interesting at play than the hold four lads from Liverpool might have on the hearts and minds of Apple executives.
Apple has put event-specific channels on the Apple TV before—the iTunes Festival channel streams live performances from the monthlong series of concerts and an Apple Events channel carries live coverage of Apple product launches. But the Beatles channel stands out among Apple TV's assortment of news, sports, and entertainment channels by the fact that it's focused on just one specific group. It wouldn't take much squinting to see Apple striking deals with other acts for similar channels, or even expanding this dedicated channel approach to promote specific movies and TV shows. The Beatles' heyday may have been Yesterday, but the arrival of a channel dedicated to the band suggests an intriguing future for the kinds of content you'll find on Apple's set-top box.