Twitter dominates the second-screen experience—if you tweeted while tuned into the Grammys on Sunday, you witnessed its power—but other TV apps are chomping at the bit. GetGlue was one of the more popular services, a Foursquare-style app that let you check in to shows you were watching and chat about them with friends. GetGlue went underground after getting bought out by rival i.TV last November, but is returning to the iOS App Store on Tuesday with a new look, new features, and a new name: TVTag.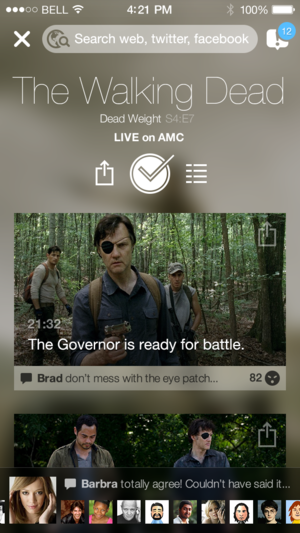 TVTag wants you to remain immersed in whatever show or event you're watching, not get caught up in the distractions of Twitter or Facebook. Your feed changes depending on what you're watching—as with GetGlue, you check into a show that you're watching and see the most buzzworthy clips as picked by TVTag's staff of curators. The app lets you comment on those television moments, create memes out of them, even doodle on them (a feature Snapchat fans will love). You can share your work on other social networks, but TVTag doesn't want you to switch apps.
No, really. It really, really doesn't want you to switch apps. TVTag lets you conduct in-app searches across the Web, Twitter, Facebook, and IMDB.com for your favorite shows to see what other people are saying or ask questions about characters and plot points. The app takes advantage of Twitter Cards, so when you share a favorite TV moment from TVTag on Twitter, an in-line screencap will point back to TVTag.
And just in time for the Super Bowl, TVTag plans to present big sports moments, too—along with some programming around the commercials you're really tuning in for on Sunday.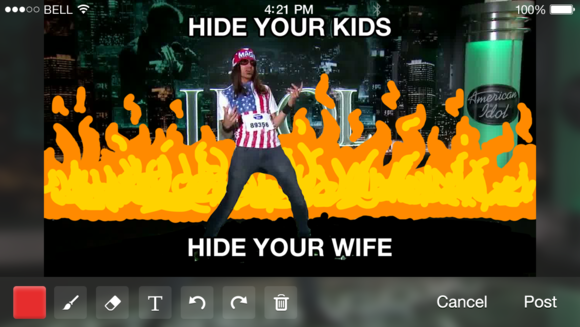 Competing with Twitter
TVTag isn't burying its head in the sand when it comes to the power Twitter yields over the second-screen experience.
"We would agree that Twitter is the largest community of people who share comments about what they're watching on TV," i.TV CEO Brad Pelo told TechHive.
Pelo compared TVTag to Instagram: People still text each other photos, just like people will still tweet, but Instagram has capabilities that MMS doesn't offer, and Pelo believes the same is true of TVTag and Twitter. In fact, he doesn't even consider TVTag and Twitter competitors.
Other second-screen apps have struggled to take off because they're starting at the bottom of the heap. TVTag has an advantage—not just because GetGlue was so popular, but because i.TV also powers DirecTV's second-screen app, CoPilot, and Nintendo TV on the Wii U. TVTag combines those three communities into one. Not to mention the 70 broadcast TV partners who have signed on to actively promote TVTag. Pelo says the app will launch with altogether 1 billion social impressions.
TVTag is available for iOS users on Tuesday with an Android app coming in the next 2-3 weeks.