At a Glance
Expert's Rating
Pros
Very good long-range performance
Excellent industrial design
USB cradle
Cons
Much slower than the Asus USB-AC56 at close range
Our Verdict
Review updated 1/29/2013: If you need to connect just a single client, such as a laptop or a home-theater PC, to your 802.11ac network, a Wi-Fi client USB adapter is much cheaper than a wireless bridge. Netgear's A6200 is one of the best.
So you just bought a new 802.11ac router (after reading our grueling roundup, of course). Great! What kind of wireless adapter are you using to connect your client PC to that router? If the client doesn't incorporate an 802.11ac adapter—relatively few machines do—you won't get the maximum benefit from that new router. I just finished benchmarking six of the newest 802.11ac Wi-Fi USB adapters and found striking differences in performance.
As you know, the 802.11ac draft standard can deliver a physical link rate up to 1300 megabits per second (with a router that supports three spatial streams for sending and three for receiving). Products in the current batch of 802.11ac Wi-Fi USB adapters, however, support only two spatial streams and deliver a physical link rate of 867 mbps.
To find the top-performing adapter, I tested each adapter in four spots inside my 2800-square-foot single-story home, using only the 802.11ac protocol. I sequentially installed each product in an AVADirect gaming notebook powered by an Intel Core i5-3210M processor and 4GB of DDR3/1600 memory. I then created a wireless network using an Asus RT-AC68U 802.11ac Wi-Fi router. Using the JPERF benchmarking utility, I measured TCP throughput between the wireless laptop client and a server that was hardwired to the router.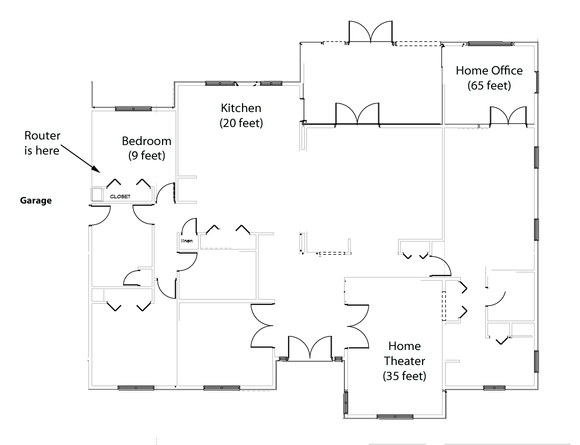 Some of the adapters come with a tethered USB cradle, which offers added flexibility as to where to place the adapter. In my tests, if the adapter had such a cradle, that's how I evaluated it. Other models are designed to plug directly into the client's USB port, and that's how I tested those. A couple of models have articulated USB connectors that enable the adapters to be oriented either straight out or at a 90-degree angle to the client. In those cases I selected the angled option if it was available—unless the vendor also provided a cradle.
I was surprised to discover that the type of USB interface seemed to have no impact on the adapter's performance. The Asus USB-AC56, which has a USB 3.0 interface, turned in the highest throughput overall, but the Netgear A6200 placed second, despite its USB 2.0 interface. And the Trendnet TEW-805UB, which has a USB 3.0 interface, was the slowest overall performer by a wide margin.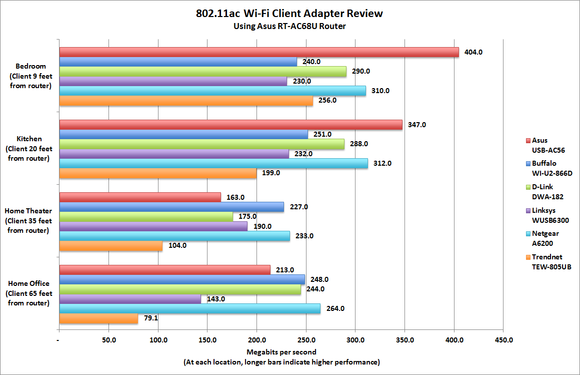 You should read each of my reviews for all the details, but here's a quick recap of how the adapters performed. The Asus USB-AC56 was the best overall performer, taking a first-place finish when the client was located in the bedroom (9 feet from the router) and in the kitchen (20 feet from the router). The Asus didn't perform quite as well at longer distances, but even so it claimed first place when I computed the average performances of all the adapters.
Netgear's A6200 delivered a strong second-place finish overall. In fact, it was just 2 mbps slower than the Asus, and it performed particularly well at longer distances. The D-Link DWA-182 finished third overall, with Buffalo's AirStation WI-U2-866D close behind.
I will no longer rely on the Linksys WUSB6300 for testing 802.11ac routers, because it finished in fifth place in this field of six adapters. And then there's the Trendnet TEW-805UB, which produced the slowest performance in three of my four test locations. Finishing dead last overall, it was 39 mbps slower than the fifth-place Linksys adapter, and 122 mbps behind the first-place Asus product. I could cut Trendnet some slack because its adapter is street-priced at just $40, but I found Buffalo's far-faster WI-U2-866D selling for the same price online.
Click the links below to read more details about each Wi-Fi adapter's performance.