Beats Music, the subscription music service from Beats Electronics, is finally live. Like Spotify, Rhapsody, and Rdio before it, Beats Music is an on-demand streaming service that provides subscribers access to a library of millions of tracks, covering just about any musical genre you can imagine. These are my first impressions after spending a little time with the mobile app and site.
Getting to know you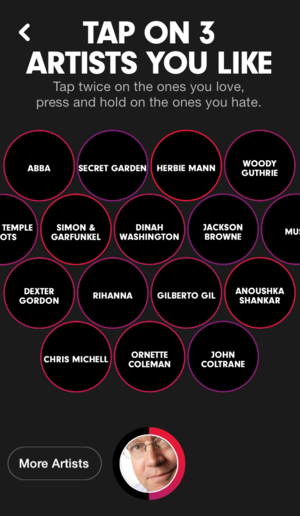 From the get go, it's clear that Beats wants to learn your musical tastes so that it can serve up the music you'll love. During the sign up process, you're presented with an animated series of bubbles, each bearing a different genre. You're asked to tap on the genres you like and tap-and-hold on those you don't. The are 20 genres in all including the ones you'd expect—Alternative, Country, Latin, Pop, Dance, Classical/Opera, Jazz, Rap/Hip-Hop, Classic Rock, Metal, World, and Folk/Blues.
You're then presented with a similar group of bubbles that display artists' names, based on the genres you just chose. Tap on three artists you love and press and hold on those you hate. You can also tap on a More Artists button to feed in a new set of bubbles. Tap Finish when you're ready to move on.
Exploring the interface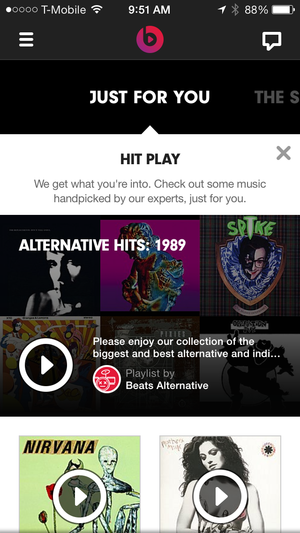 The purpose of this early and amusing exercise is to get a broad idea of how to populate the Just For You screen, the first thing you see when you're logged on. For some it may be spot on, but after entering Neil Young, Curtis Mayfield, and Al Green as three favored artists I longed for a do-over. Young's "Tonight's The Night"—a low point in Young's career as far as I'm concerned—appeared as a recommendation. I also saw listings for the Best of 70s Soul Vol 3, a solid Al Green album, Soul Hits 1971, Marvin Gaye Message Songs, The Cars, Robert Palmer, and Brotherhood albums.
Thankfully you have far more ways to explore music than this screen. On an iOS device just swipe to the left to get to The Sentence. This is where you complete the sentence "I'm ___ and feel like ___ with ___ to ___." For me, it defaulted to "I'm on the subway and feel like making bad choices with my entourage to pop latino." Just tap the suggestions to choose a different option and when you're ready, tap on Play the Sentence. The resulting music is based not just on the choices you've made but also your original genre and artist choices. So, if you've chosen modern genres and artists, no matter how you've completed The Sentence, you're not going to get a load of recordings made famous by Bing Crosby and The Shirelles.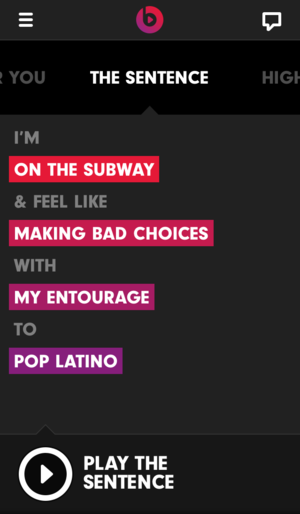 The next screen over is Highlights, where you see the not-so-subtle hand of the curators. On launch day this screen delivered a Dr. Dre collection, the Talking Heads' Remain in Light album, Lorde's Influences, a Black Sabbath album, and Best of 60s Soul. The last entry offered four options you get to by swiping. Among the choices were a Bob Dylan live collection, Reasonable Doubt by Jay Z, and Nothing But the Beat by David Guetta.
Move to the Find It screen and you can check out playlists based on genre, activities, and curators. Genres and curators have some great playlists but I found activities the most interesting. You can choose playlists based on what you're doing or how you're feeling. I found entries for Drinking, Feeling Blue, Starting a Riot, Studying, and Punching Walls. These aren't just random assortments chosen by algorithm, but playlists that seem created with a lot of thought behind them.
Curation and exploration
And that's the vibe that you get from Beats Music: The playlists feel like they were human-generated. Not just by someone tasked with churning out 50 lists a day, but by the crusty dude behind the counter of your favorite music shop—the guy who obsesses about music from morning to midnight. He knows what you like and what you don't and he's going to make sure you hear just the good stuff. (Although Beats lacks a feature that sneers at you when you bring a Barry Gibb album to the counter.)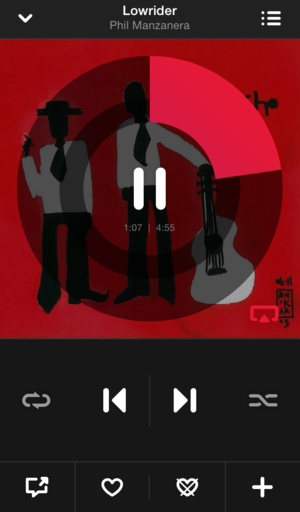 But maybe you're one of those record store customers who prefers to shuffle through the bins, because you're that crusty dude. That's possible too. Tap on the Menu button in the screen's top-left corner and a Search field appears so you can quickly find artists, albums, tracks, playlists, and other users. Tap an entry and you're taken to that item's screen.
For example, enter David Bowie and tap on his name. In the resulting screen you see his picture and, when tapping on the arrow next to his name, his bio. Below are entries for similar artists. You can follow Bowie (meaning that you can more easily navigate to their work, not that you're going to chat with them), see his latest release, top songs, essential albums, and playlists based on his work. Tap the play button next to each musical entry and that thing starts playing. Tap an elipsis (…) to the right of an entry and you can share it to your Beats followers (of course there's a social networking component), mark it as something you love or hate, or tap a plus button that lets you add it to your library or a playlist. Once you've added something you can easily access it via My Playlists and My Library entries in the menu.
And then there's that social aspect. It's been tried with other services and Beats is having a shot at it as well. The theory is that your friends are another avenue for exposing you to great music. Follow the right people, look at what they're listening to and recommending, and you'll discover music that you like just as much. If you put in the time to find the right people to follow and create playlists of your own that best expose your impeccable taste (and therefore help you attract more followers), new musical landscapes could be opened to you.
Liner notes
Beats is playable via iOS and Android devices, web browsers on your computer, and within Sonos systems. My explorations of its library showed that it seems to have the same kind of selection as Spotify and Rhapsody, though it doesn't have The Beatles, Led Zeppelin, or AC/DC. Unlike other music subscription services I've used, there's no radio feature where you can create channels around a particular artist or track. The sound quality—through headphones on my iPhone as well as channeled through a Sonos system—is good.
You're welcome to try it for seven days free, but after that you must subscribe for $10 a month for a single account or $120 for the year. If you're an AT&T wireless subscriber you may qualify for up to three months of Beats Music for free. After that you pay $15 a month for a family plan, which makes the service available to up to five users on your AT&T account. I signed up for such a trial and it was a breeze. Just enter your wireless number, click a Check My Availability button, you're approved, and a verification number is sent to your mobile phone. Enter that PIN and you're in.
Unfortunately, there's no free tier, no ad-supported version. Once your trial is up, you have to pay. Beats is taking a gamble by making its service open only to paid subscribers, but if it can convince the world to pay $200 for headphones that sound like they should cost $100, they may have the brand clout to pull it off.
On its first day, Beats Music looks very promising. The interface is polished, the curation seems solid, social networking is well thought-out, and the library nicely stocked. It's entirely worth your while to give the seven day trial a spin.
Updated January 23 with a video report.