There's a new kid on the music-streaming block taking on popular incumbents such as Pandora, Rhapsody, and Spotify. Beats Music went live for U.S. users Tuesday, with apps available for both Android and iOS. A Windows Phone app is also in the works—but the new service's life comes with a blood sacrifice from MOG, another Beats-held streaming music service.
Beats Music promises a musical experience based partly on computer algorithms as well as human curators. In other words, Beats hopes to do with its service what Spotify has been trying to do with its Browse and Discover features.
Instead of offering just a straight catalog of music that you can stream on demand, Beats will try to deliver to you an appropriate selection of music based on what you're doing or what your mood is. "We made it simple so all you need to do is open the app and hit play to hear something excellent you're likely to dig," the company said on a recent blog post.
Beats will be free for all users for the first 7 days and priced at $10 per month after that. Unlike most services, Beats will not offer an ad-supported version.
Hitting the right notes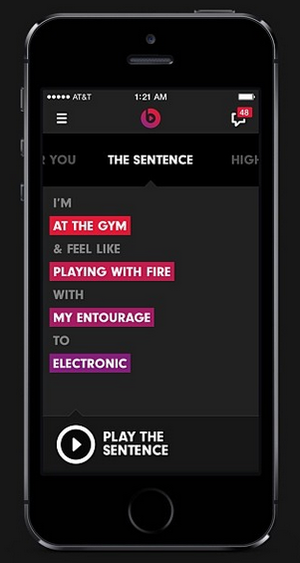 While the market for streaming music is already chock-full of competitors, few have the musical pedigree of Beats. As with Beats Electronics, Beats Music's co-founders include legendary rap artist and producer Dr. Dre and Jimmy Iovine, Chairman of Interscope Geffen A&M Records. (Say that three times fast!) The company recruited Nine Inch Nails creator Trent Reznor as chief creative officer, and the service has also seen promotional support from major performers including will.i.am and Pearl Jam.
Beats Music is entering a market thick with competitors, but with no clear front-runner. Pandora had 76 million active users at last count, but the service's radio-style format limits its usefulness. Spotify claims just six million premium subscribers worldwide, while Rhapsody's user count is just over one million.
The big challenge for Beats, however, is whether the quality of its service can woo over users who are used to getting their music for free from sources such as Pandora, Spotify, and YouTube. TechHive has already identified the seven things Beats Music must do if it hopes to topple Spotify.
MOG down
The coming of Beats also spells the end for MOG, a wonderful, yet struggling music streaming service that Beats Electronics—the parent company of Beats Music—purchased in August 2012. MOG will officially shut down on April 15, according to a notice on the Beats Music Website.
Current MOG users will see their last charge for the MOG service hit their credit cards in March, and users who have paid up for a yearly subscription will get a prorated refund. All MOG users will also get a free one-month trial of Beats Music starting March 15. "Our goal is to convert as many MOG subscribers to Beats Music as possible," Beats Music said on its site.