Way back when 3D HDTVs were still in vogue at CES and 4K was just a twinkle in Samsung's eye, OLED (organic light-emitting diode) was the up and coming TV tech being raved about in Las Vegas. OLED sets produce their own light and promise more vivid colors, sharper images, and better response times than LCD.
Despite the potential, however, OLED TVs are still priced far out of reach for most of us—and that state of affairs isn't likely to change until at least 2017 or 2018, according to one Samsung executive.
USA Today recently published an article with HS Kim, Samsung's visual display chief, who says OLED TVs at reasonable prices are still at least three to four years off. Kim blames the high prices for OLED related on the expensive manufacturing process—a longstanding problem for TV-sized OLED displays.
The tech isn't ready for mass production
Since OLED is an entirely different technology from traditional backlit LCD panels, manufacturers are still working out the kinks to improve efficiency and mass production. LCDs, which companies have been making for years, have a far more efficient pipeline and are easily mass produced for everything from 4-inch smartphones all the way up to massive flat screen displays.
That's at least one reason why LCD-based Ultra HD TVs are already dropping below $1,000 even though 4K's big coming out party was only held a year ago, at CES 2013.
For TV makers the quick Ultra HD ramp up is a good thing, since 4K can breathe new life into the LCD market while manufacturers work on making OLED TVs a mainstream option.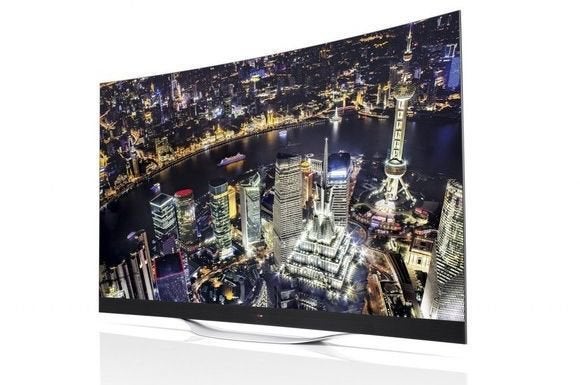 That's not to stay OLED has disappeared from CES—not by a longshot. One of the OLED highlights this January was LG's curved 77-inch 4K OLED set. But with a reported $30,000 price tag, it's not just the HDTV's picture that will stun you.
Pushing back lower prices
More modest OLED sets aren't priced much better. LG and Samsung are the only companies to put OLED sets on the market so far, with separate 55-inch 1080p 3D OLED TVs. Both were priced around $9,000 on Amazon at this writing.
So if you're holding out for a cheaper OLED set, you've still got a long wait ahead of you. And keep in mind that we've been playing the "OLEDs will get cheaper game" for several years now. In May 2012, NPD DisplaySearch predicted (while noting a "great deal of uncertainty") that a 55-inch OLED TV could drop to as low as $2,500 by the second half of 2014.
By November 2012, however, NPD's panel prognosticators backtracked, saying you shouldn't get your hopes up for an OLED TV price drop until at least 2016. Now, according to Samsung, we're looking at 2017 at the earliest.
Oh well. In the meantime at least we'll have some 4K content to go with our 4K LCD TVs.