LAS VEGAS—Welcome to The Living Room of the Future. Your kitchen table is a giant widget display! Your vanity mirror can also show you the latest issue of Vanity Fair! And the ceiling? Well, you can program it to look like the actual sky outside.
Sony showed off its concept of a high tech living room at CES this year. Dubbed the Sony Life Space UX, show attendees walked into a functioning living room space and were treated to a demonstration of what could possibly be in store for us in the not-so-distant future.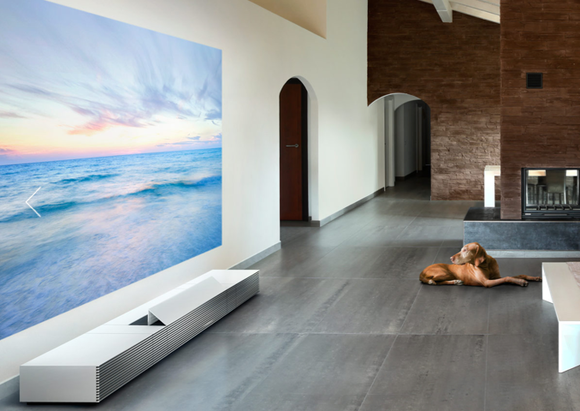 This fully connected concept showed off how we can interact with various entertainment content in an unobtrusive way, without any other devices necessary, like a remote or a mobile app. A combination of projectors, lights, sensors, displays, and speakers were carefully hidden around the room and worked together to illuminate the space.
It all starts with the kitchen table. A projector embedded in the room's overhead kitchen lamp displayed widgets onto the table below. In theory, you could check your calendar, leave a virtual sticky note for your roommate, read the newspaper, or browse through photos directly from this projector. Each widget was touch-friendly, as the host used drag and drop gestures to move content around the table.
A long mirror mounted on the wall opposite from the kitchen table had another surprise: It was actually a display that turned on as the host approached it. The mirror housed digital magazines and other media content, so you could flip through articles while brushing your teeth or fixing your hair.
Lights, speakers, and projectors embedded into the ceiling sconces added extra ambiance to the room. The ceiling could be made to mirror the sky outside, or create the effect of being underwater.
But the main entertainment hub of the room is a something that will actually be available as a product to purchase this summer: The 4K Ultra Short Throw Projector. This projector blends right into the living room, as it looks like a long, low coffee table, and can fill a blank wall space with a 147-inch 4K image or movie. (We watched a trailer for Elysium, and man, did it look awesome.) Of course, this modern piece of furniture comes with a hefty price tag: Sony estimates it will retail for between $30,000 and $40,000.

Together, these designs can create a fully themed experience throughout the whole living room. We were taken on a deep-sea expedition, with the sun beaming down through the ocean's surface from above and fish swimming all around, paired with ambient light and music. Sony also showed off a sunset theme and an evening in Paris theme.
Sure, the Life Space UX is a little gimmicky— I don't know when I'd ever want to make my house look like the inside of a fish tank—but it's fun to get a glimpse of what it would be like to live in Tony Stark's house, even if it's just for a few minutes.