LAS VEGAS—Admit it: You know you want to make your own life-sized, wearable Storm Trooper helmet at home. And now you (somewhat) easily can. MakerBot, the biggest name in 3D printing, announced a new trio of desktop 3D printers during a press conference on Monday at CES: an updated MakerBot Replicator, the Replicator Mini, and the Replicator Z18. These models represent an entire ecosystem of printers with something to appeal to all interests and skill levels.
"With this latest generation of Replicators, the question is not 'are you going to buy one,' but 'which one are you going to get?'" said MakerBot CEO Bre Pettis during MakerBot's CES press conference.
Together, this triple threat makes up the MakerBot Replicator 3D Printing Platform, and all share some new under-the-hood upgrades over their predecessors. All three sport an on-board camera that captures the build process, a new extruder (called the Smart Extruder) attaches using high-powered magnets, and wireless connectivity that can send a notification message to your mobile devices when a print is finished or if you're low on filament.
Replicator Mini: 3D printing for the masses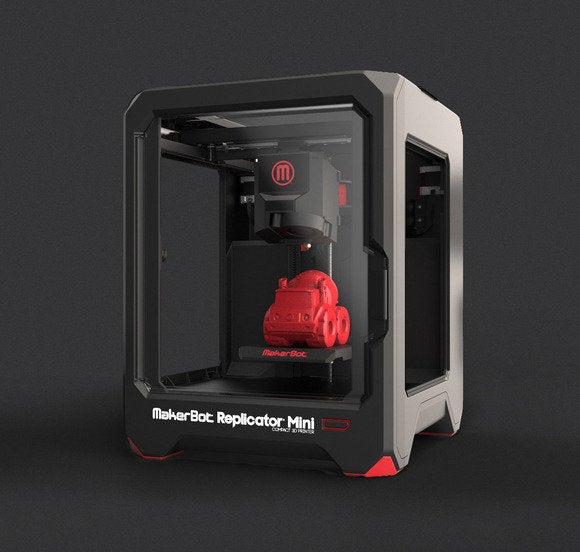 The entry-level printer, which Pettis dubbed the "point-and-shoot" of the group, is the Replicator Mini, which MakerBot designed with consumers in mind. It's compact and easy to use, and only has one button, showing off MakerBot's new one-touch printing solution. It's already optimized for speed and doesn't require any leveling, so it's pretty much good to go as soon as you open the box. The Replicator Mini costs $1375 and ships this spring.
A next-generation Replicator
Next in size is the MakerBot Replicator, the next generation of the Replicator family that follows the Replicator 2. (Pettis noted that new Replicator models will no longer have number associations, and instead are just next generations of the same streamlined model.)
Made for "prosumers," this printer has a build area that is 11 percent larger than its predecessor's and can handle 8-by-10-by-6-inch prints. It also has a 3.5-inch navigation display that shows the status of the print and how long you have to wait for the print to finish.
It also includes assisted build-plate leveling for speedier printing, which greatly helps the calibration process. The Replicator is available for pre-order today for $2899 and ships in February.
Replicator Z18: Serious 3D-printing business
MakerBot's pièce de résistance is the Replicator Z18, a massive machine that can handle massive builds. It can print objects that are 12-by-12-by-18-inches—"epic," Pettis said, as he showed off that Storm Trooper helmet that the Z18 made—and will be especially helpful in making extra large prototypes for industrial companies. (Pettis is thinking NASA, Lockheed Martin, and design firms.)
Aside from big objects, the Z18 can print multiple things at once, and prints are kept dimensionally stable (that is, they won't warp) thanks to its enclosed and heated build chamber. The Z18 costs a cool $6499 and ships this spring.
Yep, there's an app for that
Pettis also announced new desktop and mobile companion apps for MakerBot owners to monitor their builds while at home or on-the-go. The Smart Extruder can tell when the printers are low on filament, and will send you a notification so you can refill it.
Apart from filament levels, you'll get notifications when your projects are finished printing and when there's activity on your Thingiverse account (Thingiverse, of course, is MakerBot's online marketplace). You can sync your build files between your computer and mobile devices as well, and start new prints right from the apps.
The apps are free, and are available for Mac, Windows, and Linux. An iOS version is coming this spring and an Android version will follow later this year.
More than just knick-knacks
As Pettis pointed out, MakerBot machines are "not just for tchotchkes"—the company has paved the way for affordable prosthetics, research prototypes, and ambitious education plans—but that doesn't mean they can't handle toys, too.
The company has launched MakerBot Entertainment, a new digital store with complex, full models of small toys available for purchase. Assembly requires no additional supports or glue: All you need to do is buy the file and print it. There are six different collections to start, including sets with trucks, animals, and rocket ships. Toys can be purchased individually starting at $1, or as complete sets that start at $10.
"We're excited to see how these toys take off and which ones do well," said Pettis.
With three machines, a set of apps, and a new online toy marketplace, MakerBot's momentum continues to make 3D printing more accessible for the masses.