LAS VEGAS—You can have the prettiest 4K TV sets in the world. But that higher resolution screen will garner only so many oohs and aahs if there's not enough native content to display on it.
It's a problem that's bedeviled TV makers as they pour their efforts into making 4K and Ultra HD TVs that the public has yet to embrace. And that's probably why Sony decided to tackle the issue head on during a Monday press event kicking off its appearance at this year's International CES.
Yes, the company introduced even more 4K TVs on Monday. But rather than dwell on the merits of the XBR-X950B series and its high-resolution brethren, Sony executives devoted the bulk of their 4K talk on Monday to a more pressing issue for consumers: Just what exactly can you watch on these crystal-clear TV sets?
"We all know content is king," Sony Electronics president Mike Fasulo told the assembled press at CES 2014. "We've made advances there as well."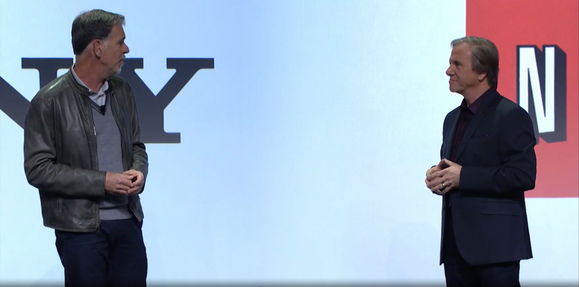 To that end, Sony touted its Video Unlimited 4K offering, a download service for 4K programming first announced at last year's CES and launching in September. Sony says it boosted the number of movies and TV shows available through Video Unlimited 4K to more than 140 titles, with plans to add additional releases like American Hustle and Captain Phillips.
Movies and TV shows don't necessarily have to be in a native 4K format for you to watch them on a 4K set, but upconverting lower-resolution content means filling in pixels, which can detract from an otherwise crystal-clear picture. When done right, watching a 4K TV can be, as Fasulo describes it, like looking out a window—hence Sony's push for native content.
That push includes lining up partners who can supply 4K content that supplements Sony's own library of programming. And Sony brought out the big guns on Monday, having Netflix CEO Reed Hastings join Fasulo onstage to talk about his video streaming service's 4K efforts.
That includes programming, certainly—Hastings noted that the second season of its original series House of Cards will be shown natively in 4K when it debuts next month, and Netflix is also working to convert the entire run of Breaking Bad into a format for higher-resolution sets. (Indeed, all of Netflix's original programming will be available in native 4K resolution going forward, Hastings announced Monday.) But Netflix has also focused on the process of streaming 4K content, so that the high-resolution format doesn't choke users' bandwidth. On Monday, Hastings said viewers would be able to stream 4K content from Netflix with broadband speeds of 15Mbps.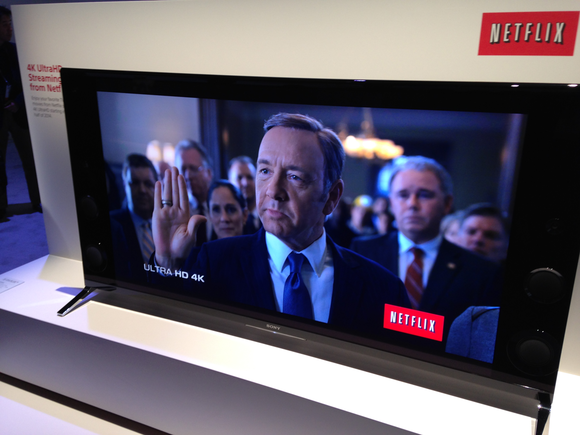 Sony touted other 4K partnerships during Monday's press event as well. Fasulo noted Sony's support for Google's VP9 4K video format, which will let companies like Sony stream online 4K video with less bandwidth and buffering. Sony also has a partnership with 500px, an online photo-sharing service, that will let consumers display high-resolution photos on their Ultra HD TVs.
Besides touting a number of big events like this summer's FIFA World Cup Final that will be shot in 4K, Fasulo also ran down a litany of movies and TV programs shot with 4K cameras such as Oblivion, After Earth, and Smurfs 2. (That's not exactly a trio people are clamoring to see in any format, let alone 4K.) And while you may not necessarily care about the cameras being used to produce the TV program The Blacklist, if you own a 4K set—or if you're thinking about buying one, Sony hopes—you'll appreciate that the show is available to you in a native format.
Sony's message Monday was clear: If you're paying a few thousand dollars for one of its Ultra HD TVs, you'll have programming to watch on it. And more will be on the way in 2014.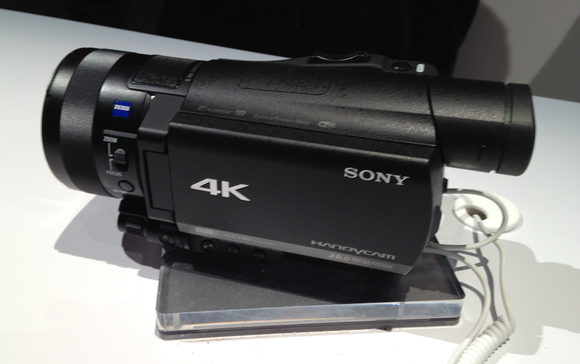 You'll also have the equipment to produce your own 4K video. On Monday, Sony introduced a new version of its 4K handicam, this one much more compact than last year's model. The price has been compacted as well to around $2000—"4K for 2K," is how Fasulo put it. Available in March, the FDR-AX100 camcorder could certainly be used by aspiring video makers, but it's also the sort of thing that wouldn't be out of place at a wedding or kids recital. Sony also introduced a new still camera, the Alpha 5000, a $600 20.7-megapixel camera aimed at the point-and-shoot crowd looking to step up to a lightweight interchangeable lens camera that can produce photos worthy of display on a 4K set.