It went by quickly amid the surge of announcements during Sony's press event at the Consumer Electronics Show on Monday, but Netflix CEO Reed Hastings made a brief appearance on Sony's stage to say that all new Netflix original programming will be available in 4K resolution (also known as Ultra High Definition) going forward
Netflix is one of several content producers working on making more 4K content available as television manufacturers look to UHD as the next great selling point of HDTVs. UHD typically means 3840-by-2160 pixel resolution, which is four times the resolution of 1080p.
While TV makers are more than willing to sell high priced 4K sets—witness the flood of 4K TV announcements at CES 2014—the value for early adopters is still pretty minimal since very little 4K content is available to take advantage of all those pixels.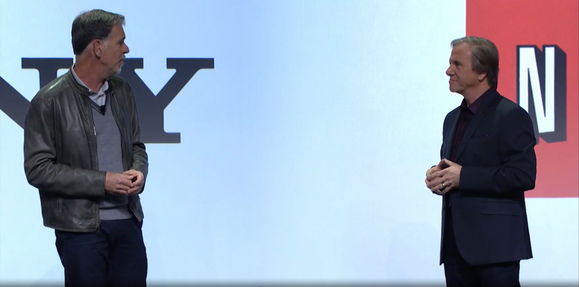 We already knew that Netflix had big plans for 4K since company executives have been talking about how House of Cards Season 2 will be available in UHD for several months. But it appears that Netflix is going all-in on 4K in 2014. (Google/YouTube is also working to increase the amount of available 4K content.)
During Sony's event, Hastings also said streaming Netflix in 4K wouldn't be as bandwidth intensive as you might think. The Netflix CEO said the company could deliver UHD content to a television using less than 15 Megabits per second. "If you've got a cable or fiber plan that's rated at 20 [Mb/s] or above…[4K streaming] is very practical. This is over Wi-Fi if you want to," Hastings said.
In other words, you'll definitely need a broadband connection to get Netflix in 4K, but Google Fiber-type speeds won't be a prerequisite.
Sony wasn't the only company to earn a visit from the Netflix chief on Monday. Hastings also appeared at LG's press event where the Korea-based electronics maker introduced its WebOS-based HDTV. New 4K TVs from both LG and Sony will be able to stream 4K content from Netflix, as will the new crop of flatscreens from Samsung and Vizio.