LAS VEGAS—The CES show floor is crammed with kitchen gear that claims to make cooking a breeze, but few smart appliances can actually do it all. Instant Pot's new iPot is one of the most ambitious pressure cookers to hit the market—just don't call it a crockpot.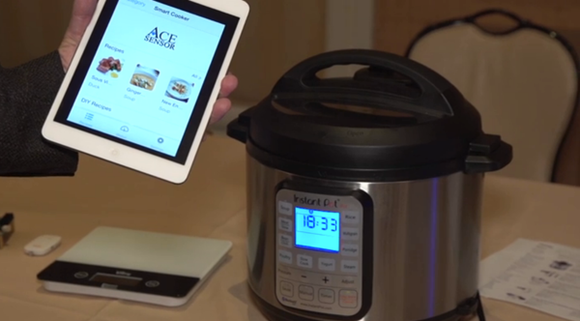 The iPot takes its cues from the iPhone (hence the name) with a microprocessor and a range of sensors: a thermal sensor, pressure sensors, and electro-magnetic sensors that allow the smart cooker to cook an entire meal evenly and thoroughly. The iPot is controlled with a smartphone, which tells the cooker exactly what to make, what cooking style to use, and how long to cook it for. You can choose from the iPot's pre-programmed recipes, like brown rice or stew, or you can program the iPot app with your own recipe.
[Related: Belkin turns up the heat at CES with high-tech crockpot]
The cooker also uses your location to determine if it needs to adjust the cooking time—at higher altitudes, for instance, where water's boiling point is lower and a few minutes can change the outcome of a meal.
The iPot isn't on the market just yet, but is expected to hit store shelves early this year with a price tag of $220 to $250.