LAS VEGAS—There's a lot to pay attention to at CES, the annual tech convention. And some people, companies, and things are better at grabbing our attention than others.
We've already previewed some of the potential storylines for the 2014 edition of International CES, including closer looks at the abundance of wearables and the slew of PC releases. But now that we've landed in Las Vegas and are counting down the hours until CES officially opens its doors on Tuesday, we're taking an even closer look at our calendar for the coming week. Here are the four people and events we don't want to miss.
T-Mobile's John Legere
We were already anticipating T-Mobile's scheduled press event Wednesday, where it's anticipated the company will offer to pay early termination fees for wireless customers switching over to its service. Then last Friday, AT&T upped the ante with a special offer aimed at T-Mobile customers (and no one else): Ditch T-Mobile for AT&T's service, and it'll shell out a $200 credit.
John Legere, T-Mobile's outspoken CEO, responded immediately. "This is a desperate move by AT&T on the heels of what must have been a terrible Q4 and holiday for them," said Legere in a statement, promising more moves in the vein of subsidy-free pricing plans and free international texting and data. Expect more details—and AT&T-skewering barbs—from Legere at the Wednesday afternoon event.
Sony and the future of 4K
TV makers are desperate to convince you that you want to pony up for a 4K or Ultra HD TV set. And believe me, the sets we'll see at CES this week will be pretty eye-popping.
But a central problem remains beyond size and price of these higher-resolution sets: There needs to be more content that looks good on a 4K display.
Solving that problem figures to be a recurring theme at any CES presentation from a TV manufacturer, but nowhere more so than at Sony's press event. After a 4K OLED set took center stage at last year's CES, Sony now plans to make 4K products a focal point of its presence at this year's show.
With Sony among the many TV makers to pledge support for Google's VP9 4K video format, hopefully Monday night's Sony press event will tackle the issue of just what you should expect to watch on that fancy new TV Sony CEO Kazuo Hirai wants you to buy.
Marissa Mayer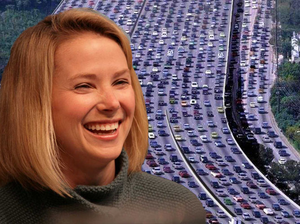 Take it from someone who cut his tech-reporting teeth covering Macworld Expos headlined by Steve Jobs: CES of late has lacked a certain amount of star power. Since Bill Gates's 2008 swan song, CES has struggled to find someone who can command the spotlight. (No offense to Paul Jacobs, who kicked off last year's CES, but when you're upstaged by both Steve Ballmer and muppets, you probably weren't the best choice for a headliner.)
That figures to change when Marissa Mayer takes the stage Tuesday afternoon at CES. No, the Yahoo CEO is not giving the event's keynote speech; she's simply another speaker in the show's Tech Titans series that also includes executives from Cisco, Audi, and Sony. But Mayer draws attention from beyond the bubble of tech reporters ensconced in Las Vegas for the week. It will be interesting to see if she uses that stage time to make some headlines.
Intel and the world of wearables

The actual task of giving CES's Monday night keynote falls to Intel's Brian Krzanich, making his first appearance at CES since becoming the chipmaker's CEO.
In a preview of his remarks, Krzanich told Recode that wearable technology will be very much a part of Intel's message at CES 2014. And that's appropriate since it will be very difficult to walk down the aisles of the Las Vegas Convention Center without stumbling into someone trying to promote a wristwatch, eyeglass, or wristband that will monitor the movements of you or everyone around you. With Krzanich promising to show off "innovative wearables," it will be interesting to see how Monday night's keynote defines what other wearable news comes out of CES.