LAS VEGAS—Everyone's been waiting for Apple to presto-change-o its Apple TV set-top box into an actual Apple television set for years. Well, Roku just beat Apple to the punch.
On Sunday at the Consumer Electronics Show, Roku announced Roku TV, which is the Roku streaming service built right into smart TVs, starting with a range of 32- to 55-inch models from TCL and Hisense.
These sets will have the all the same streaming content as a Roku set-top box—more than 31,000 movies and 1200 channels. Users can navigate the whole thing with a simplified 20-button remote control, or use the Roku apps for iOS and Android.
"We don't expect these TVs to be expensive," Roku CEO Anthony Wood told IDG News Service in an interview, although final prices, specs, and release dates are still unannounced. Both Hisense and TCL will show the models at CES starting Monday, and the TVs are expected to ship in fall 2014 in the United States and Canada. Wood also said that six manufacturers would release Roku TV models; TCL and Hisense are the first two to be announced.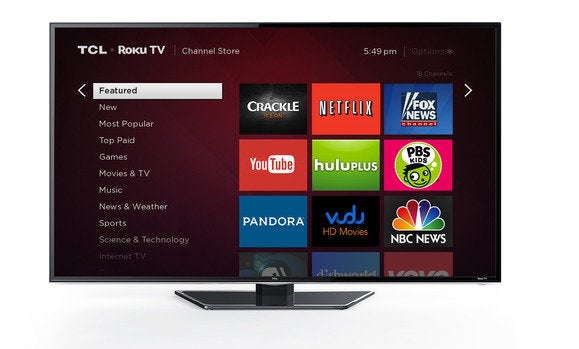 While turning on a Roku TV will bring you right to the familiar Roku home screen, the TVs will have the usual connectors like HDMI to connect to cable boxes and game consoles. The remote will resemble a Roku set-top box remote, with additional buttons for things like channel and volume up/down.
The stream goes on
Last year Roku shipped about 8 million set-top boxes, Wood said, and the company doens't plan on stopping. But rolling out smart TVs with TCL and Hisense is a win-win-win: Customers are already familiar with the Roku interface and service, plenty of content creators already use the Roku platform (from Netflix and Hulu down to smaller niche channels), and TCL and Hisense aren't already invested in their own smart TV ecosystems, unlike bigger players such as Samsung and Sony.
Now it's up to Apple to make its push. Roku's platform already has more content, and Roku's partnerships with these particular companies could make it tough for Apple to compete on price. Apple is known for high-quality displays, from the Retina screens on its MacBook Pro line to the $999 27-inch (non-Retina) Thunderbolt display, while Hisense and TCL's current TVs generally fall in the sub-$1000 price range. The comparison isn't Apples to oranges since Apple dosn't make an actual TV set (yet), but the fight for the living room just got more interesting. Pass the popcorn.