Christmastime is here, which means joyous excitement for some, and worry and dread for others. Fortunately, there's a whole roster of streaming Christmas movies available to either enhance or counter your mood. These range from sweet, beloved classics to much darker, more modern movies, all the way to the simply bizarre. Enjoy, and happy holidays!
Meet John Doe (Hulu Plus)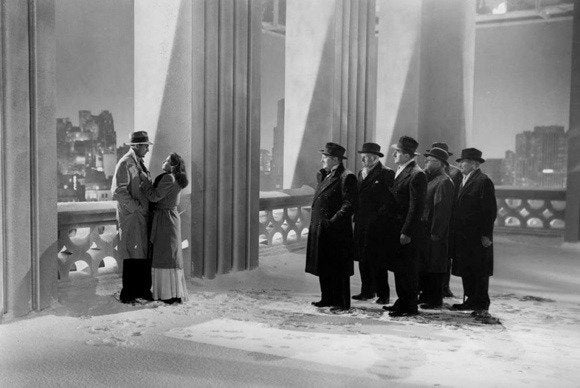 ★★★★☆
Frank Capra's cornball classic Meet John Doe (1941) still works because it's totally heartfelt, and its message still feels like it could apply today. Barbara Stanwyck plays a big city reporter who loses her job after a big company buys her newspaper. As a parting shot, she writes a column about a fictitious John Doe who is fed up with the way the elite few treat the working masses, and plans to commit suicide on Christmas Eve. The column is a hit and she gets her job back, but she realizes she needs to hire a real-life John Doe. Enter Gary Cooper, in his best "aw shucks" hayseed mode. And, of course, they fall in love. The movie is equal parts funny and heartwarming, with support from Walter Brennan and a lovely Christmastime finale. (The movie is available on Hulu Plus, but it's also in the public domain and can be found just about anywhere.)
White Christmas (Netflix)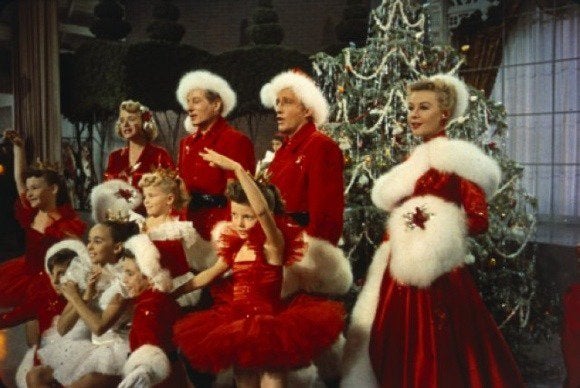 ★★★★☆
In 1942, Bing Crosby released one of the biggest recorded hits of all time, "White Christmas," and 12 years later came the official movie, White Christmas (1954), filmed in color and "Vistavision." Crosby plays a popular singer, Bob Wallace, who is stationed overseas during WWII. During an attack, songwriter Phil Davis (Danny Kaye) saves Bob's life, and they become partners in peacetime. Teaming up with sister singers Betty (Rosemary Clooney) and Judy Haynes (Vera-Ellen), they decide to put on a show to save their old major general's struggling Vermont hotel. Director Michael Curtiz's approach seems a little lethargic at times, the plot relies a bit too much on a ridiculous misunderstanding, and the movie isn't actually all that Christmasy. But it does have a lovely laid-back simplicity that fits in with what the holiday season ought to feel like.
Santa Claus Conquers the Martians (Netflix, Hulu Plus, etc.)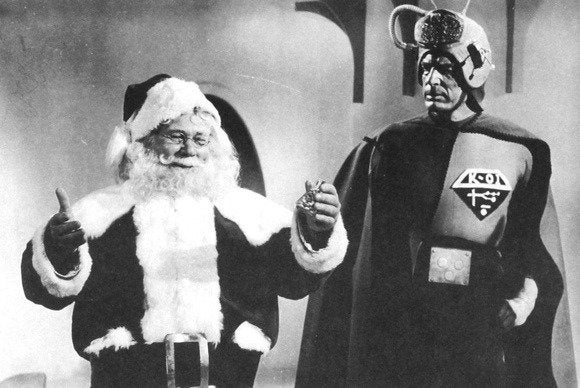 ★★★☆☆
Considered one of the worst movies of all time, this made-for-kids classic might appeal to families with a specific sense of humor. Santa Claus Conquers the Martians (1964) tells the story of what happens when Martian children, after watching too much Earth television, dream of having a Christmas of their own. So the Martian leader kidnaps Santa Claus and two Earth children and forces them to make Christmas on Mars. Fortunately, Santa (John Call) and a friendly Martian named Dropo (Bill McCutcheon) set things right. The movie features atrocious acting and situations that range from stupid to annoying, but it's all worth laughing with (or at). The movie's simple, naive quality makes it rather joyous in its own way. Pia Zadora plays one of the Martian children (named GirMar… get it?). Once you hear the song "Hooray for Santy Claus," you will never forget it. (The movie is in the public domain and can be found just about anywhere.)
Trading Places (Netflix)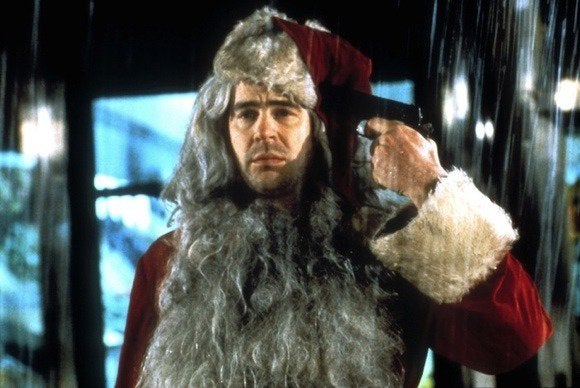 ★★★★☆
Set over Christmas and New Year's, Trading Places (1983) makes terrific use of grimy, wintry Philadelphia locations. Two wealthy brothers, Randolph (Ralph Bellamy) and Mortimer Duke (Don Ameche) make a wager that they can turn their star employee, Louis Winthorpe III (Dan Aykroyd) into a homeless criminal, and a homeless criminal, Billy Ray Valentine (Eddie Murphy), into a successful businessman. A hooker-with-a-heart-of-gold (Jamie Lee Curtis) helps them out, as does a faithful butler, Coleman (Denholm Elliott). The high quality of the comic performances helps to drive this ridiculous plot, but director John Landis's particular blend of deadpan direction with broad comedy turns it into something extra.
The Dead (Netflix)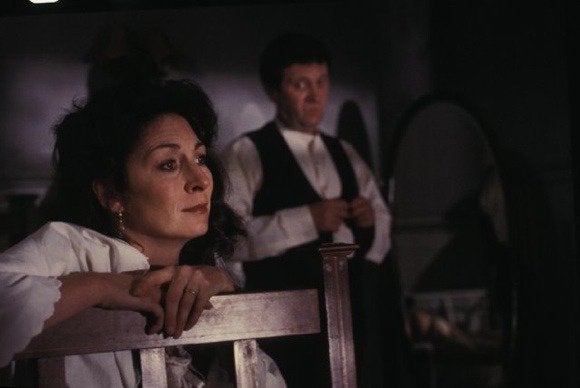 ★★★★★
John Huston began his remarkable, maverick career with The Maltese Falcon (1941) and ended it with this beautiful, wintry, introspective holiday masterpiece, based on the great short story by James Joyce. The Dead (1987) takes place a few days into January, during a traditional Irish family feast. Various family members arrive, each with their own little dramas. Freddy (Donal Donnelly) has been drinking too much, and the kindly Gabriel (Donal McCann) worries about his dinnertime speech. As the events unfold over the course of the evening, it causes Gabriel's wife Gretta (Anjelica Huston) to remember a past event that she finally chooses to share with Gabriel. Huston directed from a wheelchair while breathing through an oxygen tank, and the movie has a patient, quiet feel. His son Tony adapted the screenplay.
National Lampoon's Christmas Vacation (Netflix)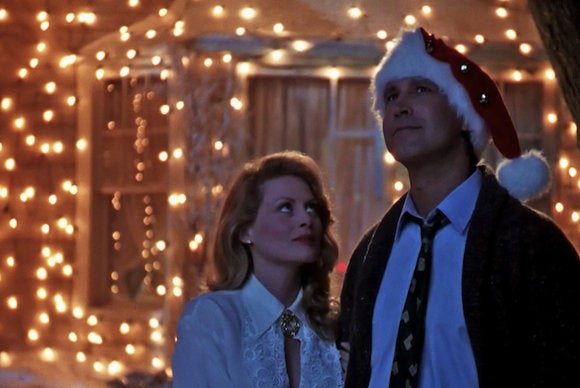 ★★★★☆
A sequel to the summertime National Lampoon's Vacation, the sublimely funny National Lampoon's Christmas Vacation (1989) stands all on its own. Chevy Chase stars as Clark W. Griswold, a cheerful, accident-prone fellow who loves his family and Christmas more than anything else. A nightmarish holiday ensues, with grandparents and cousins coming to stay, rodents in Christmas trees, an overloaded electrical grid, etc. But worst of all is that elusive Christmas bonus that just doesn't seem to be arriving on time. Chase captured a perfect blend of slapstick idiocy and lovable doofus, making him someone that you'd actually like to spend the holidays with. Beverly D'Angelo is wonderful in the straight role as Clark's wife, and, in one of her first roles, Juliette Lewis plays his daughter. Randy Quaid, Diane Ladd, E.G. Marshall, Doris Roberts, William Hickey, Mae Questel (the voice of Betty Boop), Julia Louis-Dreyfus, and Brian Doyle-Murray round out the great cast. Mavis Staples sings the cheerful title song.
Far from Heaven (Netflix)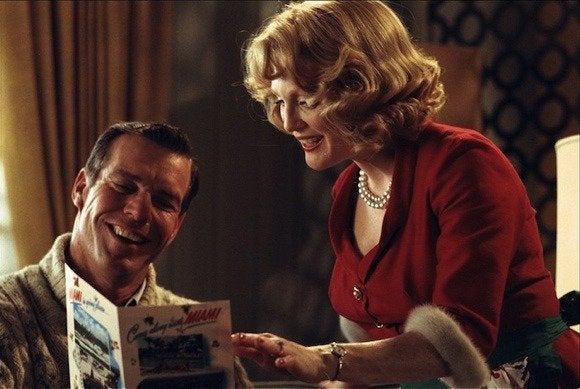 ★★★★★
Indie director Todd Haynes paid tribute to director Douglas Sirk and All That Heaven Allows with this nostalgic, but updated vision of suburban angst. Far from Heaven (2002) stars Julianne Moore in an amazing performance as Cathy Whitaker, a 1950s-era housewife who forms an illicit friendship with her African-American gardener Raymond Deagan (Dennis Haysbert). Meanwhile her husband, Frank (Dennis Quaid) tries to wrestle with his repressed homosexuality, sneaking out and visiting secret bars at night. Haynes bathes everything in a gorgeous Technicolor-like sheen, making it appear not so much like the 1950s, but like a 1950s movie, where things are supposed to be even more perfect and perfectly aligned than in life. Part of the movie takes place at Christmas, and though it's not exactly a joyous holiday, it's very beautiful.
Morvern Callar (Netflix)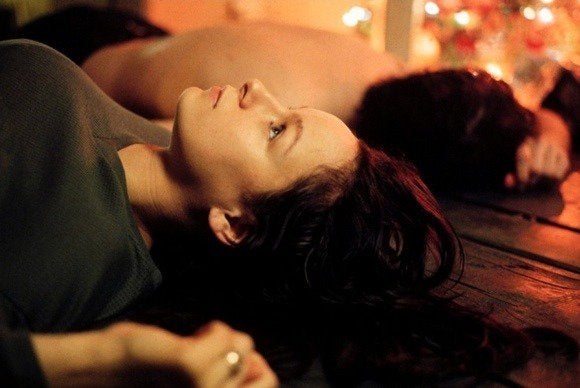 ★★★★★
One of the most downbeat Christmas movies ever made, Morvern Callar (2002) nonetheless touches on a certain kind of sad beauty that movies very rarely achieve. Morvern (Samantha Morton) is a young Scottish woman who wakes up on Christmas morning to find that her boyfriend has committed suicide. He has left her some presents, and his finished manuscript with instructions on how to publish it. She erases his name, puts in her own, submits it, and sets out on a road trip with her friend Lanna (Kathleen McDermott). They flirt with boys, and Morvern ponders death. There are noisy moments, ugly moments, reflective moments, and beautiful moments, but the film is ultimately hopeful. Lynne Ramsay directed.
Love Actually (Netflix)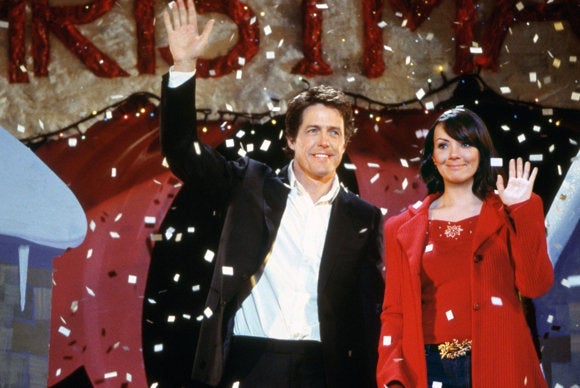 ★★★★☆
Screenwriter Richard Curtis's directorial debut, the sprawling Christmastime romantic comedy Love Actually (2003), didn't have the impact of his earlier scripts Four Weddings and a Funeral, Notting Hill, or Bridget Jones's Diary, but it's unwaveringly funny and touching over an implausibly long 135 minutes. Focusing on several disparate groups of characters, the movie sometimes unexpectedly slips into pathos, but just as effortlessly slips back into comedy, or heartfelt romance, or very simple moments of joy. Hugh Grant leads the huge cast as the Prime Minister of England, with Keira Knightley, Bill Nighy as an egotistical pop singer, Liam Neeson, Emma Thompson, Martin Freeman, Colin Firth, Chiwetel Ejiofor, Alan Rickman, and token American Laura Linney.
Tokyo Godfathers (Netflix)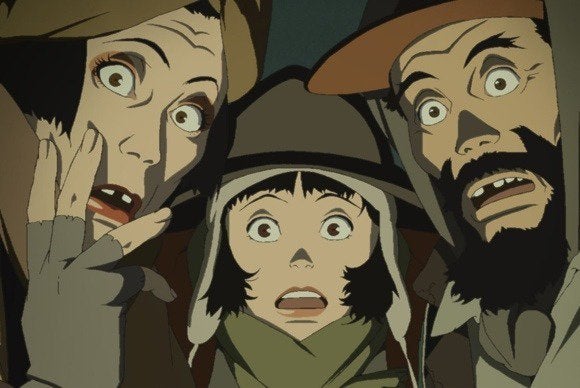 ★★★★☆
Based on a 1913 story Peter B. Kyne, the anime Tokyo Godfathers (2003) tells the story of three homeless people who find an abandoned baby on Christmas Eve. The trio forms a kind of twisted nuclear family. The alcoholic ex-bicycle racer Gin is the father, drag queen Hana is the mother, and young 20-something runaway Miyuki is the child. Together they travel all over Tokyo looking for help and clues. Of course, it's supposed to mirror the Nativity story, and usually movie versions of this old tale—such as John Ford's 3 Godfathers (1948)—end up being very sappy. But director Satoshi Kon is a gifted storyteller and balances the sentiment with humor and fantasy, as well as a muted, moody look.
In Bruges (Netflix)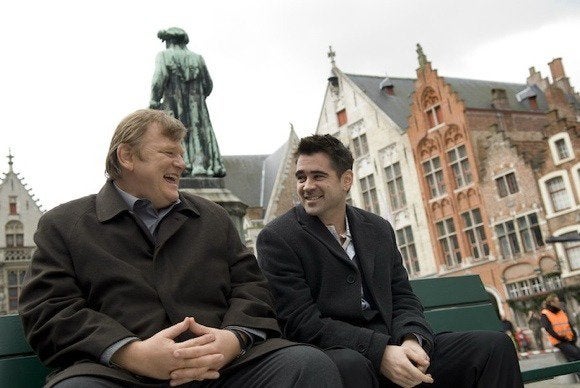 ★★★★☆
The feature debut of playwright and Oscar-winning short filmmaker Martin McDonagh, In Bruges (2008) tells the story of two hitmen who have been sent to Bruges by their hard, sinister boss (Ralph Fiennes), for a reason as yet unknown to them. If you've never heard of Bruges, neither has Ray (Colin Farrell); it's in Belgium. His older partner Ken (Brendan Gleeson) tries to see the Christmastime sights, but Ray becomes involved with a pretty girl working on a local movie shoot. Eventually trouble comes to town, and everything becomes riddled with bullets and F-bombs. But it's a lot of fun.
The Warrior's Way (Netflix)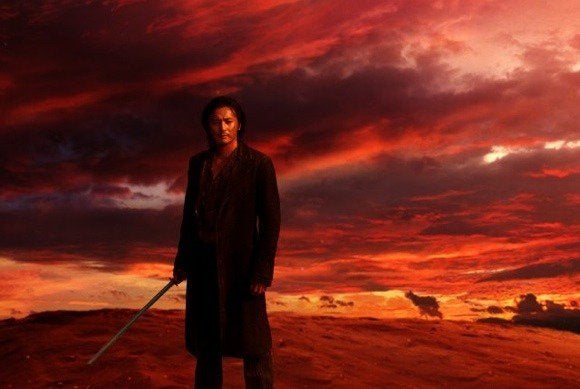 ★★★☆☆
This strange English-language martial arts Western hybrid was an international production with a Korean director and star, and with English and American costars. The Warrior's Way (2010) was fairly expensive to produce, but its American release barely registered a blip, and it lost a fortune. Yet it's a slick, bright, brisk, and highly entertaining movie with a fun little Christmas sequence at its center. A skilled swordsman (Jang Dong-gun) succeeds in wiping out an entire enemy clan, but refuses to kill a baby, choosing instead to go into hiding and raise the child himself. He heads for a remote Western town, where he opens a laundry, meets the spunky Lynne (Kate Bosworth), and befriends "8 Ball" (Tony Cox), and the town drunk (Geoffrey Rush). But a local villain, the sadistic Colonel (Danny Huston), comes in to cause trouble, and the swordsman's past isn't too far behind.
More Streaming Christmas Movies
Holiday (1938) (Hulu Plus)
Mr. Arkadin (Hulu Plus)
The Nightmare Before Christmas (Netflix)
Rare Exports: A Christmas Tale (Netflix and Hulu Plus)
Santa Claus: The Movie (Netflix)
Silent Night, Deadly Night (Hulu Plus)
Smoke (Netflix)