Knock, knock. Who's there? It's Google, and it wants to automate your home.
Imagine if you could control the temperature in your house right from your Android phone? Well, Google's working on it.
The news struck Monday when The Information reported that Google may be working on a smart thermostat, similar to the popular Nest Lab's learning thermostat. There's not much information on the project provided by Google just yet, but there's plenty of speculation about what would be Google's second attempt at home automation after its previous attempt with the failed PowerMeter.
Android Police caught an early glimpse of the service, dubbed Energy Sense. The service would be accessible via an Android app or the Web, and you would be able to easily control your home's temperature with just the slide of a finger, as well as create scheduled presets for different criteria. Presets won't be automated at launch, though there's the possibility Google would work some of the contextual abilities of Google Now into its home automation scheme.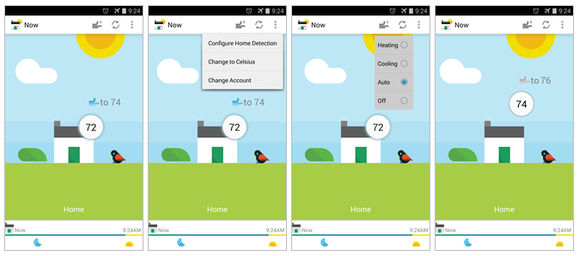 The tipster at the Android fan blog also mentioned that Google is not yet producing a separate device for the service, but that it will be compatible with systems you can already buy.
There is no information on when the service would go live, though there is a screenshot floating around of the app in the Google Play Store. We imagine Google would release the app beforehand as a "beta" service, and then follow up with more features later on. We'll keep you posted as details emerge.