It's almost the end of the year, which means soon we'll start seeing various tastemakers trotting out those traditional lists of the best music, books, and of course movies. But this year is better than usual—as it happens five of the best, most enjoyable movies of 2013 are newly available streaming on Netflix. We also picked some of the best films from past years, from 2009 all the way back to 1950, also new to Netflix. Of course, it's all a game, choices are personal, and opinions change over time. But for now, these 10 are a great start—see if any make your own best-of-all-time list.
Crystal Fairy
★★★☆☆
Former child actress Gaby Hoffmann (Field of Dreams) received an Independent Spirit Award nomination for her performance as the title role in Crystal Fairy (2013). She plays a carefree, earthy hippie type who goes along on a road trip in South America. American Jamie (Michael Cera) wishes to find a certain cactus that contains mescaline and provides a special kind of drug trip. His guides are three local brothers (actually the three brothers of director Sebastián Silva), who eventually come to appreciate Crystal Fairy's honesty, even as they grow to disdain Jamie's eager, entitled behavior. The movie has a loose, summery rhythm in which the characters are allowed to make mistakes, explore, apologize, and come to life.
Computer Chess
★★★★☆
Writer/director Andrew Bujalski was a trailblazer in the "mumblecore" movement, making realistic films about smart but idle young characters. Yet his fourth feature Computer Chess (2013) is something else entirely. Set in the early 1980s at a convention for chess-playing computers, it initially plays like a fake documentary, shot on actual early-1980s smeary, black-and-white video. But it eventually rides some truly bizarre and unpredictable brain waves. The hotel is overtaken by cats, as well as a group that performs "adult births," and some of the characters begin exploring their own ideas with unexpected, surreal results. Certainly Computer Chess is not for all tastes, but for some adventurous viewers it may become a funny, smart, cult classic.
Frances Ha
★★★★☆
New York intellectual and Oscar nominee Noah Baumbach wrote the screenplay for Frances Ha (2013) with his girlfriend Greta Gerwig, who stars. Together they achieve a very funny, rhythmic movie that relies more on potent little disconnected scenes rather than a logical plot. Frances (Gerwig) loses her best friend/roomie to a new boyfriend, loses her own boyfriend, meets some new roommates, goes to France, goes to work for her old college, and learns a little something about life. Baumbach and Gerwig don't exactly write jokes, but their dialogue is nonetheless so offbeat and musical that it simply sounds funny. It helps that Frances is such a loveable kook. The meaning of the title is revealed in the wonderful final shot.
The Iceman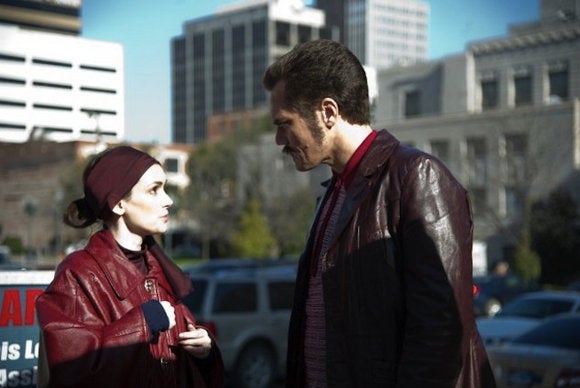 ★★★☆☆
Biopics and "true stories" often go onto year-end glory, though you probably won't be seeing many awards for The Iceman (2013). It's a dark, brutal story of Richard Kuklinski (Michael Shannon), a cold-blooded contract killer who, in the 1960s and 1970s, somehow managed to hide his day job from his wife Deborah (Winona Ryder) and their two daughters. The very intense Shannon has one of his best roles, but it's Ryder who really stands out. She totally re-invents herself from a saucy Gen X pinup girl to a mousy, naïve housewife. Ryder's small touches in her performance completely sell the implausible idea that Deborah would fail to suspect her husband of foul play. Ariel Vromen directs.
What Maisie Knew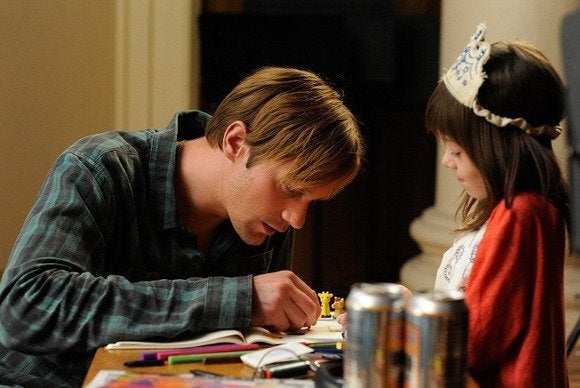 ★★★★☆
The directing team of Scott McGehee and David Siegel, who met in film school, never fails to make thoughtful, intelligent, understated independent dramas. Their fifth feature, What Maisie Knew (2013), may be their best. Based loosely on a Henry James novel, it's updated to modern-day New York. Young Maisie (Onata Aprile) is a young girl caught between her parents' disintegrating marriage. Her mother, Susanna (Julianne Moore), is a rock star from the Chrissie Hynde/Patti Smith mold, and her father, Beale (Steve Coogan) is a snooty art dealer. Things get complicated, and emotionally wrenching, when Maisie winds up spending more time with her parents' new, younger lovers, bartender Lincoln (Alexander Skarsgård) and nanny Margo (Joanna Vanderham). The filmmakers tell their story entirely through Maisie's point of view, giving the movie a unique sense of curiosity and wonder, while toning down the story's soap opera aspects.
I Am Love
★★★★☆
Tilda Swinton stars in the romantic melodrama, I Am Love (2009), giving a remarkable performance as a Russian-born woman, Emma, who marries into a wealthy Italian family (she speaks Italian throughout, presumably with a Russian accent). Emma becomes smitten with a younger man and embarks upon an affair with him. Her lover, Antonio (Edoardo Gabbriellini), may also have designs on her son Edoardo (Flavio Parenti). Meanwhile, a daughter has come out of the closet, and another son wants to sell the family textile business. Director Luca Guadagnino handles all this in the best possible way, highlighting emotions rather than actions. A passionate love scene is a standout, shot outdoors, wherein shots of the lovers mingle with shots of nature.
Russian Ark
★★★★★
In the digital age, no longer saddled with 10-minute film reels, the Russian director Alexander Sokurov created, with Russian Ark (2002), the first unbroken 96-minute shot in movie history. Thankfully the movie is more than just its gimmick. It's a powerful, meditative exploration of the past and its resonance on the present. Two "guides," one from the present and one from the 19th century, suddenly find themselves in the early 1700s. They walk through the Hermitage museum in St. Petersberg, moving through 33 rooms, looking at art, and meeting people. They discuss what they've seen from two opposing points of view. But even if the movie starts to get too brainy, it climaxes in a lovely ball, with hundreds of dancers. It's so transfixing that even the time-travelers clam up and watch.
Gods and Monsters
★★★★☆
Writer and director Bill Condon had been working in the lower depths of horror (Strange Behavior, Candyman: Farewell to the Flesh) when he paid tribute to an old horror master, James Whale, in the terrific Gods and Monsters (1998). Brendan Fraser stars as Clayton Boone, a gardener who goes to work for the aged, retired Whale (Ian McKellen) years after he made The Invisible Man and Bride of Frankenstein. Having suffered a stroke, Whale now experiences all kinds of flashbacks, his real experiences of war mixed up with the monsters from his movies. He asks to paint Boone's picture, and forms a friendship with him. Even though Whale is gay and Boone is not, the two men find great comfort in their growing bond. Lynn Redgrave is terrific as Whale's cranky housekeeper, and received an Oscar nomination. McKellen received an Oscar nomination for Best Actor, but lost to… wait for it… Roberto Benigni.
Targets
★★★★★
After spending years studying and writing about film, and interviewing the great Hollywood directors of the past Peter Bogdanovich began working with Roger Corman. After paying his dues, he was allowed to make Targets (1968), his feature directorial debut. Drawing from one of Corman's horror films, Bogdanovich cast Boris Karloff as an aging horror star promoting his latest film—Corman's The Terror—at a drive-in. Meanwhile, a more modern-day monster, clean-cut Bobby Thompson (Tim O'Kelly) starts shooting and killing random innocents with a sniper rifle. Bogdanovich intelligently juggles and crosses these two elements, and then brings them together with a satisfying click at the conclusion. It was one of Karloff's final roles, and one of his best performances. Samuel Fuller reportedly helped Bogdanovich with the screenplay.
All About Eve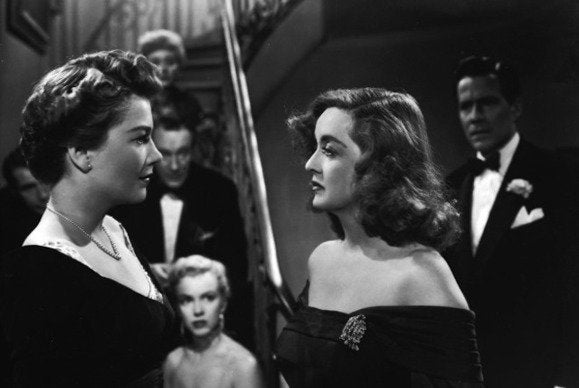 ★★★★★
The winner of the Oscar for Best Picture, All About Eve (1950) has held up remarkably well as a model of sophisticated entertainment for grown-ups. Bette Davis stars as Margo Channing, a successful, aging Broadway star. Anne Baxter plays the young upstart, the sweet, unobtrusive Eve Harrington, who insinuates herself into Margo's life. She begins showing a cold cunning, calling the shots, messing with Margo's relationships, and trying to become a star herself. George Sanders is the most memorable male cast member, playing theater critic Addison DeWitt, a wry and cynical soul who writes in his bathtub. The great Thelma Ritter plays Margo's street smart maid, and Marilyn Monroe had one of her early breakout roles in a few scenes at a party. Writer/director Joseph L. Mankiewicz focuses on the characters and dialogue ("Fasten your seatbelts. It's going to be a bumpy night!") first and foremost, but he manages a subtle visual scheme that enhances the characters' relationships.
What's New on Netflix
Another Day in Paradise
Apocalypse Now
Apocalypse Now Redux
Bad Lieutenant
Bandits
Barbara
Beach Blanket Bingo
Bronson
But I'm a Cheerleader
Coffy
Cry Baby
Dances With Wolves
The Endless Summer
The Ghost and Mrs. Muir
Hammett
Hannibal
Hard Eight
Hondo
Internal Affairs
Kalifornia
The Lair of the White Worm
Love and a .45
Ondine
One from the Heart
Outrage
Robin Hood (Disney)
A Shot in the Dark
Star Trek IV: The Voyage Home
Star Trek: First Contact
Star Trek: Generations
The Sword in the Stone (Disney)
Tetro
The Warlords
World's Greatest Dad