Zune may be dead, but Microsoft's Xbox-branded media stores and expanding to fill the void. On Wednesday, the web version of Xbox Video went live, just in time to stream A Charlie Brown Thanksgiving.
The Xbox Video website offers the same deep selection of movies and TV shows as the Windows 8 and Xbox One apps of the same name, with one crucial difference: The browser-based Xbox Video won't dish out high-definition streams. If you want to bask in pixel-packed HD video glory, you'll need to tune in from a dedicated Xbox Video app on an official Microsoft device. Laaaaaaaaaame.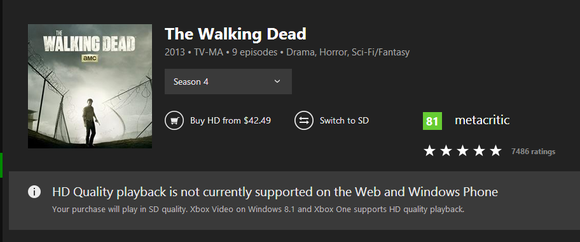 Speaking of Microsoft devices, an Xbox Video app is expected to soon grace Windows Phones, though it will also lack HD playback if the warning above is any indication. On the plus side, Xbox Video titles you buy are viewable in any Xbox Video app or on the website itself, thanks to the power of streaming and those cloud-connected Microsoft accounts. Just make sure you have Silverlight installed before heading over to Microsoft's new website.
Browser-loving media fanatics don't have to stick to just TV shows, either; Microsoft also offers tunes via its Xbox Music website.