The holidays are here. And as home owners across the land put out their mistletoe and menorahs, Santa won't be the only one committing home invasions. According to the FBI, some 400,000 burglaries will hit American homes between now and the new year. So if you're planning to travel, you might want to beef up your home security before you go.
This year, a variety of cloud-based recording services are making it easier than ever to monitor your domicile from afar. With almost any kind of webcam, you can stream live images of your home over your wireless network, and monitor them from your laptop, phone, or tablet. Many cameras include motion-detection capabilities, so they can alert you when something's afoot in your absence, and give you a chance to respond by calling the cops and alerting your neighbors.
In this article, I'll describe how to set up a simple surveillance system using cloud-based cameras, so you can keep an eye on your castle no matter where you celebrate the season.
To get started, all you need is a web-connected camera and a cloud-based video-recording account. Many newer webcams now include features and services that let you monitor the video stream remotely. There are also stand-alone cloud recording services that let you use your existing camera. So if you've already got some gear, you can be up and recording in minutes.
Camera options
Good: Computer webcam
If you've got a laptop or an all-in-one desktop, chances are you've got a functional webcam already. You could use that webcam in conjunction with a service like Camcloud to get surveillance set up right this second. If your PC has a clear view of the most likely entry point your burglars might take, it can at least capture that dastardly activity and alert you in time for you to take action.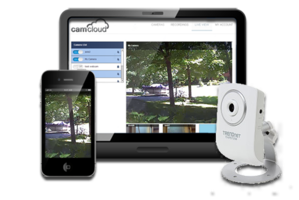 Oh, and in case you were wondering about the likelihood of thieves stealing the very laptop that's capturing evidence of their break-in, that's a valid concern. But while the crooks might be able to get away with your camera, they won't get the video—it's stored safely in the cloud. Indeed, as they reach in to take the hardware, the camera will capture an even tighter close-up of the person's face.
Better: Wireless webcam with cloud-based viewing/recording
A wireless webcam will give you better flexibility than a built-in laptop webcam, because you can place it anywhere you like, and possibly even hide it so that potential robbers won't know they're being watched. Some webcams, like the $120 Trendnet Wireless Day/Night Cloud Camera TV-IP751WIC, include basic cloud viewing services out of the box. Others, like the $149 Dropcam, give you more-powerful features like motion-detection, automatic recording, and two-way audio, for an additional monthly fee.
Best: Multiple Wireless Webcams with Cloud Viewing/Recording
If you can swing it, grab three or four cameras and place them around your house, making sure to cover all the likely ingress points. Unify all the cameras in a single cloud monitoring account with motion-detection alerts, and it'll be nearly impossible for a potential intruder to walk past your place without your knowing about it.
Our Pick: Dropcam
For simplicity and sophistication, Dropcam's $149 day/night camera is an awesome home surveillance option. The standard version gives you 4X zoom and two-way audio, so you can let people know you're watching them if you so choose. The low-light recording quality is excellent, so you can detect facial features even in the dark.
For $50 more, the Dropcam Pro gives you an 8X zoom, even better low-light performance, and better audio quality. Dropcam's mobile apps for iOS and Android will alert you whenever one of your cameras detects motion, so you can see what's happening in real time. If it's the UPS driver, you can use the camera's built-in speaker to, say, give them permission to drop a package at your neighbor's house while you're away.
Dropcam uses continuous video recording to capture everything your cameras see, then stores those recordings for your later perusal. The service comes in two tiers: The $99/year seven-day plan saves up to 168 hours of video for your ongoing review, while the $299/year 30-day plan saves 720 hours of recordings. For typical home users, the 7-day plan ought to be plenty.
A la carte service
If you're using your existing webcam, chances are you can use it with Camcloud's recording service. Like Dropcam, Camcloud lets you watch live streams of activity from any of your connected cameras. There's a free tier for users with only one camera, and it lets you record up to 30 minutes of footage. For $5 per month, you can connect up to four cameras and store up to four hours of video. For $15 per month, you can hook up an unlimited number of cameras and store up to 24 hours of video.
A number of basic security strategies apply whether you're using an a la carte service or a more fancy-pants system like Dropcam. Pay attention to the following to get the most from your cloud-based system.
Cover all the approaches. If there's more than one way into your place, make sure you're monitoring them all. If possible, mount a camera outside your home, or in a window with a view of the street or driveway. This can boost your odds of capturing license-plate numbers or other vehicle information that can be useful in a police report.
Conceal your cameras. If burglars can see your cameras, they'll probably just add them to their loot. The better you hide the cameras, the better your odds of capturing incriminating footage. Sure, whatever your camera captures will be saved on a secure server and inaccessible to the thieves, but don't you want video of their entire caper?
Set up motion-detection alerts. Good cloud surveillance services will immediately alert you when one of your cameras detects movement. That can give you enough time to call 911 and send the police to your door, even when you're thousands of miles away.
Use an uninterruptible power supply. Savvy burglars may cut the power to your house before entering, rendering your off-the-shelf surveillance system useless. But an uninterruptible power supply can keep your cameras, router, and modem working, even during a power outage.