Thanksgiving is a wonderful time to get together with family, feast to our heart's content, and sit around in front of the TV. Regrettably, some of the most interesting Thanksgiving movies—including Planes, Trains & Automobiles, Avalon, and Broadway Danny Rose (with its chase scene set in a warehouse full of Macy's Thanksgiving Day Parade floats—suddenly expired from streaming in the weeks before Thanksgiving. But we still found a tasty collection of Thanksgiving movies, food movies, and even one huge turkey (i.e., a notorious box office flop). Let us be thankful for family, friends, freedom, and streaming.
Deadfall (Netflix)
★★★☆☆
Austrian director Stefan Ruzowitzky won an Oscar for his 2007 Holocaust drama, The Counterfeiters, but Deadfall (2012) is nothing like it. It's a refreshingly effective pulp drama that relies on powerful family relationships, and uses the chilly, snowy terrain of Quebec (where it was filmed) to separate characters and to bring them closer together. On Thanksgiving, a brother and sister team, Addison (Eric Bana) and Liza (Olivia Wilde), escape from a successful casino heist and head into a brutal snowstorm. After an auto accident, and after Addison kills a cop, they separate and try to make a run for it through the freezing woods. Liza meets an ex-boxer, Jay (Charlie Hunnam), who has just served a prison sentence for killing a man in the ring, and tries to get herself invited to his parents' home for Thanksgiving. But more violence is in store. Sissy Spacek and Kris Kristofferson play Jay's parents, and Kate Mara is a scrappy cop tracking the villains.
The House of Yes (Netflix)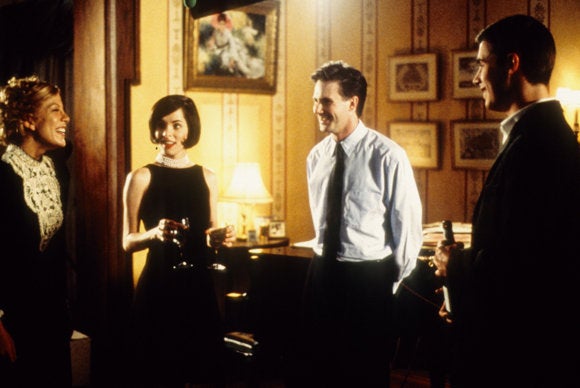 ★★★☆☆
Based on a play by Wendy MacLeod, The House of Yes (1997) is set in 1983, when Marty Pascal (Josh Hamilton) brings his fiancée Lesly (Tori Spelling) home to meet his supremely dysfunctional family on Thanksgiving. There's his odd mother (Geneviève Bujold) and his fresh-faced younger brother Anthony (Freddie Prinze Jr.), but the emotional center of the household is Marty's twin sister Jackie (Parker Posey), who is obsessed with Jackie Kennedy as well as with her brother. Over the course of a night, a thunderstorm, and several bottles of rum, many old, dark, and twisted family secrets come out, as well as some new ones. There's not much Thanksgiving feasting here, unless you count Ms. Posey's amazing scenery chewing; she's irresistibly, dangerously kooky (she won an acting prize at Sundance for the role). Rachael Leigh Cook plays the young Jackie in flashbacks. It was the debut feature of director Mark Waters (Mean Girls).
American Movie (Hulu Plus)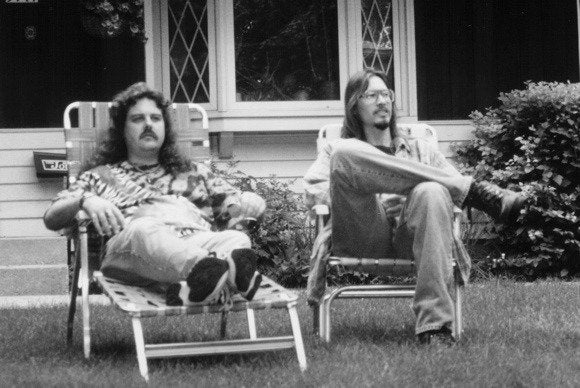 ★★★★☆
One of the most entertaining documentaries ever made, American Movie (1999) tells the story of amateur Milwaukee filmmaker Mark Borchardt and his attempts to make a short horror film called Coven, and, he hopes, a subsequent feature. (Borchardt continually pronounces it "COE-ven.") We also meet Mark's helpful, but slightly dazed pal Mike Schank, and his 82-year-old uncle Bill, who has only a few faculties left, but who becomes a producer of the movie anyway. Director Chris Smith adroitly maintains his footing on the narrow line between ridicule and respect, and the movie is alternately funny, moving, and inspiring. A memorable scene takes place at Thanksgiving dinner. A recent IMDb search shows that Borchardt is in production as the director of (and an actor in) a new feature film called Scare Me, scheduled for release in 2014.
Babette's Feast (Hulu Plus)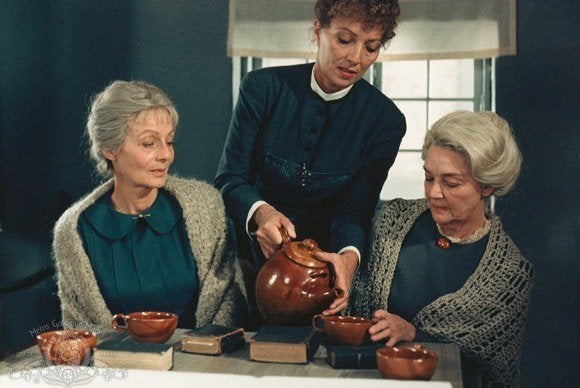 ★★★★☆
It's not a Thanksgiving movie, but Babette's Feast (1987), from Denmark, is arguably the greatest food movie ever made. Babette (Stéphane Audran) is a Frenchwoman who comes to live with and work for two elderly spinster sisters in an obscure 19th-century Danish village. When she wins the lottery, she decides to use the money to prepare a magnificent French feast. The sisters, Filippa (Bodil Kjer) and Martine (Birgitte Federspiel), have always lived simply and meagerly, and such a feast seems completely alien—and slightly irreligious—to them. Director Gabriel Axel creates subtle drama in the meal itself, while his camera lovingly lights and captures the colors and textures of the various courses. Yum. The movie won the Oscar for Best Foreign Language Film in 1988.
Big Night (Netflix)
★★★★☆
Actors Campbell Scott and Stanley Tucci codirected what many people consider the second-greatest food movie ever made, Big Night (1996). It concerns two Italian brothers, chef Primo (Tony Shalhoub) and manager Secondo (Tucci), who run a restaurant together in New Jersey in the 1950s. Despite their magnificent, authentic food, business is not good. When they learn that jazz musician Louis Prima has been invited to dine at the restaurant, they spend everything they have to create a fabulous meal and a memorable night. The meal's centerpiece is a timpano, an awesome, towering pasta dish packed with flavors. The movie has a wonderfully low-key, gentle feel, focusing on the interplay of characters rather than on big plot turns. Minnie Driver plays Secondo's girlfriend, and Isabella Rossellini plays his illicit lover. Ian Holm is the owner of a rival restaurant.
Haute Cuisine (Netflix)
★★★☆☆
Christian Vincent directs this French movie with that familiar light, sweet Miramax-style arthouse sheen, and not much is ever at stake—but the food looks amazing, and it's prepared with passion and precision. Haute Cuisine (2012) tells the true story of self-trained chef Danièle Delpeuch, who, in 1988, was suddenly summoned to Paris to become the president's personal chef. Here she is known as Hortense Laborie (a wonderful Catherine Frot), a tough, stubborn soul whose ideas tend to clash with the established rules. She makes pâté, stuffed cabbages, sauces, and delectable desserts for the president's special meals, but trouble arises when the president must change his diet for health reasons (gasp!). Certainly the film could have devoted more effort to developing the drama and the characters, but that would have taken time away from the food.
My Dinner with Andre (Hulu Plus)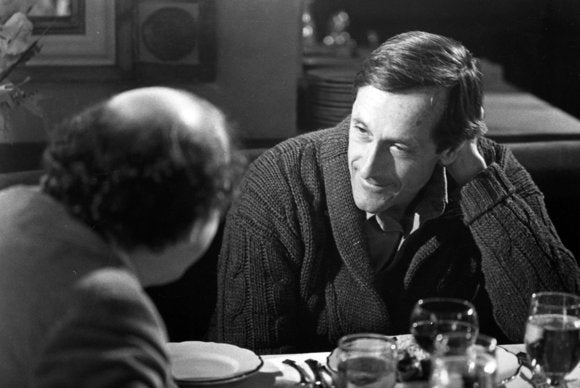 ★★★★☆
The small-budgeted wonder My Dinner with Andre (1981) was famously rescued from obscurity when Gene Siskel and Roger Ebert enthusiastically praised it on their TV show. And indeed, it's far more than just a two-guys-sitting-and-talking movie. Struggling playwright/actor Wallace Shawn reluctantly agrees to have dinner with his old—and now very successful—friend, theater director Andre Gregory. Gregory relates some amazing tales of bizarre travels and theater exercises throughout the world, and eventually Shawn shares his reactions to these tales. The dialogue is amazingly visual and descriptive, and you may come away feeling as though you've seen some of the stories. The screenplay—written by the two men—follows a natural three-act structure, with its own logical, dramatic turning points. Celebrated director Louis Malle ties it all together (although the food is not the primary focus). The trio reunited years later for the equally impressive Vanya on 42nd Street (1994).
Kings of Pastry (Netflix)
★★★☆☆
Legendary husband-and-wife documentary filmmakers Chris Hegedus (Startup.com) and D.A. Pennebaker (Dont Look Back, The War Room, etc.) directed Kings of Pastry (2009), a light-as-a-cream-puff film about a pastry competition in France. The winners become lifetime members of an elite club, but the harrowing three-day competition is a race against the clock wherein contestants must build fragile, delicate, towering sugar sculptures in the kitchen and transport them to the showroom. There are also pastries, cookies, and chocolates, all of which are heartlessly discarded for having any small flaw. The movie is fluffy fun, and at times takes an interesting look at the lives of some of the competitors, but it has little to do with the art of cooking and even less to do with the joy of eating.
The Cook, the Thief, His Wife, and Her Lover (Netflix)
★★★★☆
Despite its NC-17 rating and disturbing subject matter, Peter Greenaway's The Cook, the Thief, His Wife, and Her Lover (1989) was the biggest hit of his career. The thief, a violent, nasty gangster (Michael Gambon) takes over a restaurant and dines there regularly, behaving monstrously. His silently suffering wife (Helen Mirren) begins an affair with the lover, a bookstore owner (Alan Howard), in the restaurant, right under her husband's nose. The cook (Richard Bohringer) and his staff help the lovers. Greenaway cooks up some startling images, such as the lovers hiding naked in a truck full of rotting, maggoty meat, but also layers the film with rich art direction, and a strange, left-to-right method of movement. It's a striking, unforgettable experience, though it may not stimulate the appetite.
Gigli (Netflix)
★☆☆☆☆
At some point many decades ago, people began calling Hollywood's giant, expensive flops "turkeys." So what could be better to watch at Thanksgiving than Martin Brest's insanely misguided Gigli (2003)? It even contains the lines, "It's turkey time! Gobble, gobble!" Costing $75 million and grossing about $7 million, the movie tells the story of Larry Gigli (pronounced "JEE-lee," and played by Ben Affleck), a gangster who is hired to kidnap the mentally challenged younger brother (Justin Bartha) of a powerful lawyer. Lesbian mobster Ricki (Jennifer Lopez) is brought in to keep an eye on him, but it's not long before Gigli "converts" her to his "team." Al Pacino plays a mob boss (not to be confused with The Godfather), and Christopher Walken plays a detective; in one scene, he delivers a monologue about pie that must be seen to be believed. The phrase "What were they thinking?" was practically invented for this movie.
What's new on Netflix
The American
Blancanieves
Computer Chess
Dead Man Down
Europa Report
Flight
The Iceman
My Week with Marilyn
Only God Forgives
Pirates of the Caribbean: The Curse of the Black Pearl
Robot & Frank
Skyfall
What Maisie Knew