Silicon Valley is ripe for a television comedy, and it's fitting that tech giant Amazon would tackle the subject of startups for one of its first original shows, Betas.
Betas follows four brogrammers as they develop their social networking app, BRB, in a Silicon Valley accelerator. BRB is similar to a slew of location-based dating apps on the market right now.
"We thought we were being novel when we invented BRB," Betas co-creator Evan Endicott told TechHive. "During the course of actually getting [the show] set up and producing it, a few apps came along that do similar things."
So it goes. Endicott said Betas imitates real life: Future episodes feature the BRB bros pivoting to something a little different.
Betas will make its first three episodes available on Friday, with further episodes added each week. Amazon is avoiding the binge-oriented release strategy that Netflix has used successfully. As a result, people will have to remember to sign into Amazon Instant Video every week to catch another episode.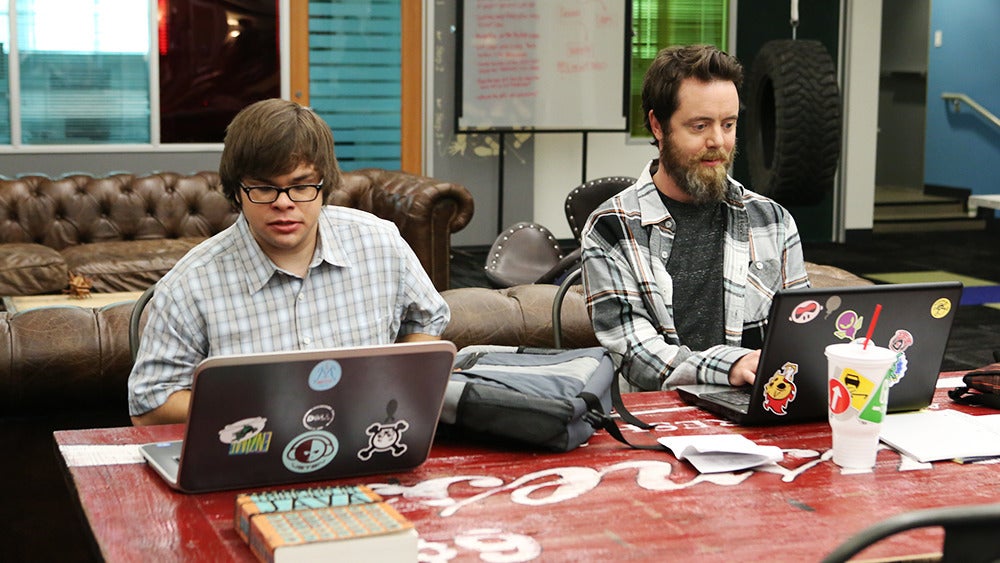 The startup saga
Betas gets off to a rocky start. All of its main characters are stereotypes: an annoyingly ambitious entrepreneur; a geeky, lovelorn coder; a perfectionist Indian developer; and a rogue 30-something hacker. There's a lady developer, Mikki, but she serves only as a love interest for Charlie (the lovelorn coder). The early humor veers from gross (hacker Hobbes, played by comedian Jon Daly, watching porn in front of children at a laundromat) to offensive (an early Asperger's joke that's just plain unfunny).
But that was all in the pilot—and while I didn't love it, other viewers did. (The episode has received glowing ratings on Amazon, currently 4.3 out of 5 stars.) Betas gets better as the characters become more nuanced. A situation that could have gone off the rails, when Nash's traditional Indian parents set him up on a blind date, turns out to be unexpectedly hilarious. Ed Begley Jr. turns up as a venture capitalist who gives BRB a spot in his tech accelerator and provides many of the show's funniest moments. Moby makes a strangely funny appearance. Expect Sandra Oh, a guest star we have high hopes for, to appear in future episodes as Mikki's mom.
The show faces a big challenge: how to make the insular startup scene and inside jokes about San Francisco appeal to a mass audience that has no idea why someone would slap a giant pink 'stache on their car fender. Producer Alan Freedland wasn't worried.
"I think [the show] will have broad appeal—60 percent of people in the U.S. now have smartphones," he said. "People are involved in this world, whether it's on apps on their phones or it's in the news. People know about this world, and I think they'll be interested to find out more about the world. It's about going for a ride with this group of five friends as they follow they dreams."
The Amazon approach
Before previewing the show's first three episodes, I expected more of a satirical send-up of San Francisco's tech culture. Endicott said that Amazon "steered us toward areas we would have ignored," but I wonder what the show would have been without Amazon's guidance. The world still needs a Christopher Guest–style mockumentary about Silicon Valley. Betas isn't it.
"We were looking at this culture, and it is pretty easy to parody," said Betas co-creator Josh Stoddard. "What we didn't want to do was sketch comedy about nerdy guys in the tech world. If you're in your early twenties and you're really smart and you're good at technology…what would your life be about? How can we make that funny?"
Amazon helped the Betas creators flesh out their idea to make it a little less alienating to techies, and then put the pilot up for a vote. Viewers picked Betas and the political comedy Alpha House as their favorites from a pack of 14 shows. The Amazon approach to television development—crowdsourcing feedback from customers—offered the show's writers and actors audience reaction before the show had even filmed a second episode. What worked? What didn't?
"I totally read all the comments and the feedback," said actor Charlie Saxton, who plays the lovable coder Mitchell. "I thought it was a really cool and innovative way to show people a potential new TV series. The people that were really excited about the show, I think they're going to be 10 times more excited."
We'll never know exactly how many people are really excited about Betas. Amazon said its first original comedy, Alpha House, was the most-watched TV series on Instant Video last weekend, but that distinction seems predictable enough—the company promoted the show all over the place.
The problem with Amazon Instant Video might not be its shows, but its accessibility. Everyone knows how to use Netflix. But not even Alpha House star John Goodman can explain how to watch his show. To be clear, you can watch Amazon's original shows on the Web or by downloading the Amazon Instant Video app on various devices. The first three episodes of Betas are available for free on Friday. You'll need a Prime membership to access future episodes.