Your local library is like that sad kid you grew up with who would do anything to have friends. He would let you borrow out all his stuff—for free—as long as you promised to bring it back.
While he said he'd charge you 10 cents per day if you didn't return his stuff on time—you and he both knew that was a completely idle threat.
Now it looks like he may be back and wanting to give you free stuff—all 2013 style.
Introducing Hoopla, a Netflix-like service that allows users to stream or temporarily download movies, music, and audio books to their computer or mobile device (available via iOS or Android), all for free. The only catch: You must have a library card from a participating library.
A familiar layout
While customers shouldn't expect a Netflix or Hulu level of variety, Hoopla boasts a surprisingly robust—if somewhat random—selection of movies. You know, kind of like what you might find at your local library's donation-fueled DVD/VHS section.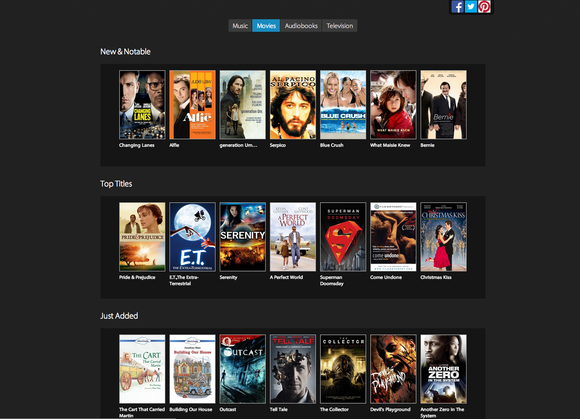 The service offers a wildly eclectic selection that includes everything from a documentary on Joan Baez to the 1996 Matt LeBlanc chimpanzee movie Ed to some seemingly torture porn movie called Slaughter Creek.
Hoopla claims it has numerous agreements with various major studios and distributors. There are even some films not currently available on Netflix streaming, such as the 2013 Julianne Moore indie film What Maisie Knew.
The layout is very Netflix-like in that it offers different categorized verticals, which include everything from "Featured Children's Movies" to "Dark Futures" (dark sci-fi movies) to instructional "Yoga Movies." Once you click on the title, you are given a brief description, as well as the film's score on Rotten Tomatoes.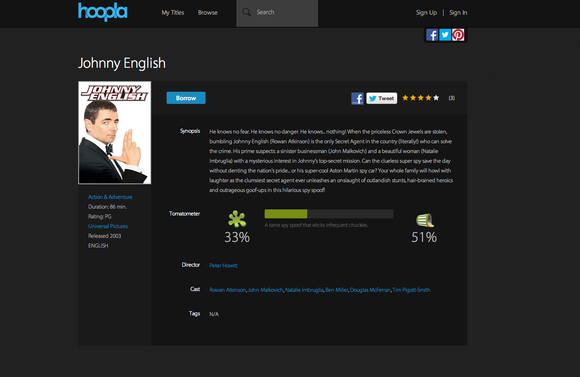 The service's music section is similarly eclectic and even boasts new picks like the recent releases from Pearl Jam or Lana Del Rey. While most of this music content is already available for free on an all-you-can-eat music service like Spotify, the format may be comforting to newer digital users.
During my visit, the main music site even had an "Artist Spotlight—Eminem" which includes the complete unedited suite of Slim Shady's studio albums. You certainly won't find that at your local library—at least not yet.
The similarly laid-out audiobook section features a bounty of audio books, including the complete Hunger Games series. Fans of back binge-watching, however, may be disappointed by Hoopla's television section, which mostly consists of PBS and National Geographic documentaries, along with the occasional animated kids series.
A new purpose for public libraries
Hoopla does not provide its services out of the goodness of its heart. The company is a for-profit entity. It does not charge any set-up or annual maintenance fees, but participating libraries wil be charged for the content as it is consumed by members.
Libraries do have the ability to place a limit on how much content is consumed (to keep a grip on their costs). A Hoopla rep says films will cost libraries between $0.99 and $1.99 per title borrowed. On its website, Hoopla says "This [pay model is] a departure from the physical-lending model, but we offer several ways to manage your budget, including item limits and hard budgetary stops."
The public library's mission statement is to provide free access to all the world's information. The Internet has more than taken care of the access part. However, the local library may find it useful to lower the financial bar to using digital content.