Just one day after Sony revealed its list of the third-party entertainment apps available on the PlayStation 4's launch day, Microsoft has done the same.
Unfortunately, unlike Sony—which listed 11 entertainment apps that are all slated to be available on the day the PlayStation 4 goes on sale—Microsoft listed 19 entertainment apps for the Xbox One that will be available sometime between the Xbox One's November 22 debut and spring 2014.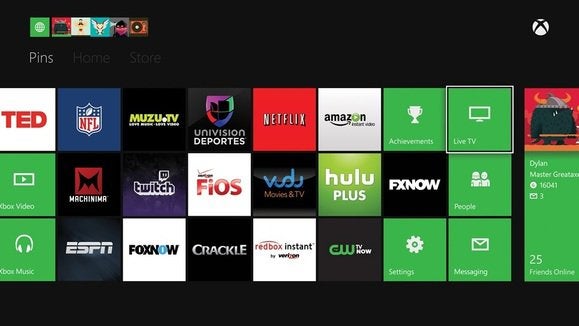 To be fair, Microsoft used one blog post to release third-party app lists for all the global markets slated to get the Xbox One on November 22—so it may be that the apps listed for the United States will be available on launch day. But come on: Would it be that hard to put a stinkin' release date next to each app?
Anyway, without further ado, here are the 19 apps headed to U.S. Xbox One consoles at some point:
Amazon Instant Video
Crackle
CWTV
ESPN
FOX NOW
FXNOW
HBO GO (coming soon)
Hulu Plus
Machinima
MUZU TV
Netflix
Redbox Instant by Verizon
Target Ticket
TED
The NFL on Xbox One
Twitch
Univision Deportes
Verizon FiOS TV
VUDU
As you'd expect, accessing all of these apps requires an Xbox Live Gold subscription.
In addition, Microsoft has a selection of its own apps that will be available for the Xbox One, including:
Xbox Fitness
Xbox Video
Xbox Music
Internet Explorer
Skype
SkyDrive
Upload
Apples to apples
The Xbox One will have more than one music choice with Xbox Music and independent music video site Muzu TV—early PS4 adopters will only have Sony's Music Unlimited for pumping tunes through their console. The Xbox One also supports audio CDs, MP3s and DLNA streaming, unlike the PS4.
Netflix and Hulu Plus subscribers will be covered with the Xbox One, but HBO Go's "coming soon" tag suggests the pay TV streaming app may take a little longer to roll out.
We already knew the NFL was planning exclusive content for the Xbox One, and we got a good peek at the upcoming gridiron goodies in September.
If you're looking for hoops and hat-tricks, however, that's the domain of the PS4 during the launch period. Both NBA Game Time and NHL GameCenter Live are headed to the PS4 later in November, but not the Xbox One. The NBA and NHL apps recently landed on Xbox 360 consoles, however, so it's possible that we'll see them hit the Xbox One relatively soon—perhaps in time for the league's respective 2014 seasons.
Sneak peek
Beyond the first wave of Xbox One apps, Microsoft also posted an almost boringly long 12-minute tour of the Xbox One in action. Nevertheless, it was interesting to see the console actually being used. Microsoft says the demo features live code from an Xbox and it certainly looked like an honest representation. For starters, Skype had that tell-tale lag before completing a video connection.