I don't miss the days of storing dozens of DVDs, but I do miss how easy it was to loan them to friends, or borrow one knowing that all I had to do to watch it was pop it in a DVD player and press Play. Digital files are convenient to own, but moving them around can be a minor hassle, especially if you have to convert the files to play nice with various devices.
Stream Nation is a private cloud service built to hold your photos, all the little videos you shoot with your smartphone and camera—oh, and your collection of movies and TV shows too. Everything is private by default, but as you share, or "loan" items with friends and family, they're coaxed to join the service too, and then they can loan items in their own collections with you.
This borrowing/lending model has some restrictions—you can only share with people you know, either folks on your friends list or people whose email address you know. Those people can only stream your content, not download it. And while they have it "borrowed," it's not available for you to watch, or to loan to anyone else.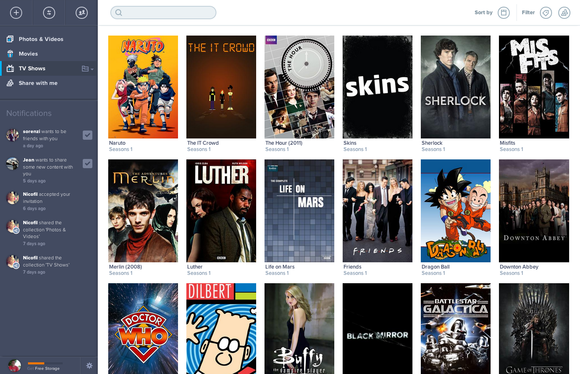 Already, that's a lot more rules than you'd encounter simply ripping a DVD, uploading to Dropbox or YouSendIt, and then sharing that link. But your friends would have to download it before they could see it, and potentially convert it if it's not in a format their device will play.
Stream Nation takes care of the conversion for you. Videos play in any browser, or in Stream Nation's iOS app. In fact, the iOS app will even let you queue items for offline viewing—even borrowed items, although those expire automatically after 24 hours. (No Android app yet, unfortunately.)
Can they do that?
The other downside to freely passing around DVD rips is, uh, it's illegal. You are allowed to make, for yourself, a copy of a movie you own, but you aren't allowed to spread that copy around. Stream Nation's "borrowing" model attempts to get around that (and, as founder Jonathan Benassaya pointed out, its servers are all based in Europe where there laws about user privacy are stricter than here).
Also, Stream Nation doesn't break the copy protection for you—if you try to upload a DRM-laden file from the iTunes Store or another digital retailer, it won't work. But as long as the file type is supported, Stream Nation doesn't concern itself with where you got it, wink, nudge, ahem. It'll be interesting to see if they run into any legal roadblocks, but the service isn't actually new.
Version 2.0
Stream Nation launched in July for photos and videos, racking up 50,000 users since then. Tuesday's launch of version 2.0 brings a completely new interface and the addition of Movies and TV Shows as "shelves" in your virtual media library, although video support and the lending feature were in the service from day 1.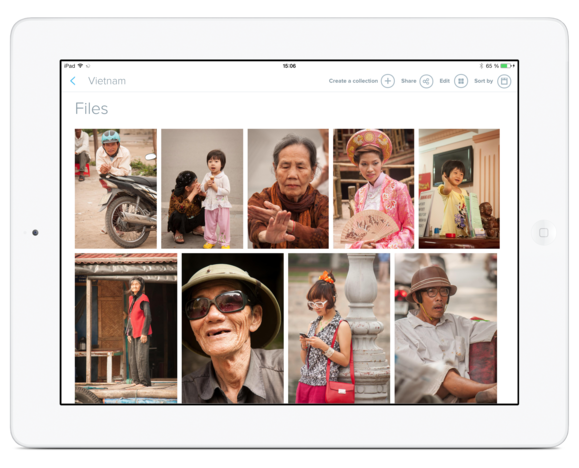 The first version turned heads for its flexibility. Stream Nation supports Raw files from many cameras, for example, as well as AirPlay and casting to a Chromecast from the Chrome browser.
Uploads are flexible too. You can use the OS X or Windows uploader, or add files from the iPad app, your Dropbox, or the web interface. You can even paste in a URL to download a video from sites like YouTube, Vimeo, and FunnyOrDie, but I had mixed results with that in my brief testing. Grabbing a YouTube URL didn't work, and a video from FunnyOrDie showed up in the iOS app but wasn't visible in the web interface.
Everything you upload is private by default, and saved in two places. You can grab your original files anytime, or view it from any device. Once you're confident your video is stored in the cloud, you can even delete it from your local device, since Stream Nation lets you stream or download it again anytime.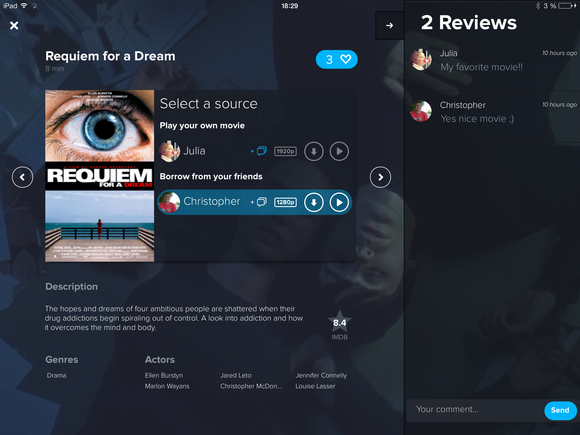 To compare, Dropbox will let you stream your own videos from its site, but people you share them with can only watch the first 15 minutes. Of course, Dropbox can keep all your work projects too, so it's not exactly apples and oranges—Stream Nation wants to be Dropbox for your media collection and photo library.
The prices are competitive when compared with Dropbox, Google Drive, SkyDrive, and Amazon Cloud Drive. Everyone gets 2GB for free, and if you jump through various hoops you can earn another 8GB of free space, for 10GB total. (Install the app, like us on Facebook, send a tweet, invite friends, that kind of thing.) The first paid tier is 100GB for $4/month if you bill annually, or $5 month-to-month. To compare, Dropbox charges $8.25/month billed annually, or $10 monthly. Stream Nation's unlimited tier is $20/month, or $228/year (which is $19/month), something Dropbox doesn't even offer.
The free iOS app lets you access your entire account, and upload content from your device. You can even use auto-upload to keep your Camera Roll sent up to the Stream Nation cloud any time you launch the app. The app also lets you download items from the cloud to local storage for offline viewing, add tags, add a cover image, even write little notes and reviews.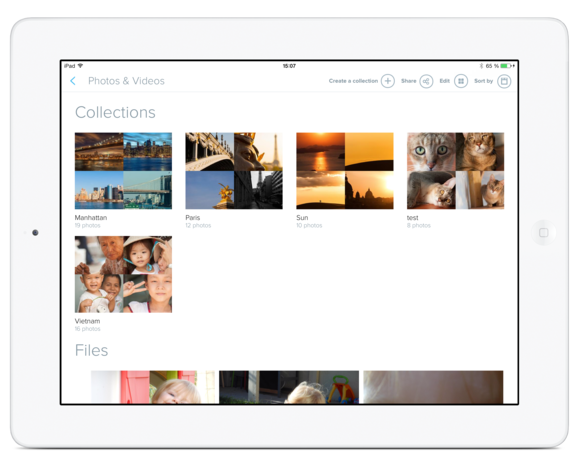 Hands-on impressions
I only had a few hours to play with the 2.0 version of Stream Nation, and I found a slick interface and most of the promised features working correctly. Uploading movie files in AVI and MP4 formats over a 6Mb/s Wi-Fi connection seemed sluggish, taking nearly an hour, although smaller files like MOV videos shot with an iPhone sped right along.
Streaming video looked good but not amazing, and there was some stuttering when I selected 1080p playback. But the version I had was technically still beta, on the day before the 2.0 rollout, so some bumps can be forgiven.
With 2GB free for the asking, Stream Nation is definitely worth a look, especially if you need an excuse to finally rip the last of your DVD collection. And then tell your friends to do the same—boom, more videos to borrow.